Pullman Chisel Re-Distribution Tool - Australian Oak
ACC-PM-CH-AO
Pullman Chisel Re-Distribution Tool - Australian Oak
See More by Pullman
Earn

540

Reward Points worth

CA$5.40

!
Description
Overview
The tool's purpose is to aid in gaining an even surface, prior to tamping.
In an extremely finicky and complicated nutshell; an evenly dense coffee-puck, is going to give you a more balanced, higher extraction.
How is this different to other distribution methods?
Consistency
Example: a café has 4 different baristas on bar throughout the day, all have different experience, different technique, different heights, skills, knowledge… list goes on… Even a barista can distribute many different ways throughout the day. Using a re-distribution tool, ensures more consistently extracted espresso.
Teaching beginners good habits.
Do you remember a time where you would spray grinds in to your basket and tamp them with all your might? Well, we know we have all come a long way in coffee (and still have a long way to go) so having a tool in place to demonstrate the idea of even density, is something we advocate.
Re-Distribution. Meaning, check your initial distribution!
The biggest thing that many users discount is the way in which the coffee is delivered into the basket. (Initial distribution)
For example, if your grinder is delivering the grind into one corner of the basket, the density in that area will increase and adversely the density in the other areas of the basket will decrease.
Attention must be paid to the way the coffee falls into the basket and must be cared for and coaxed into an even delivery where possible, regardless if a re-distribution tool is being used or not. A distribution-tool is not going to make a difference if you are not considering these things first.
Specifications
Tech specs and other details
Questions & Answers
Customer Reviews
(19)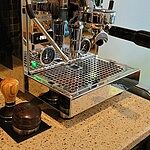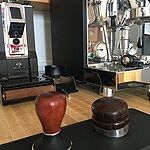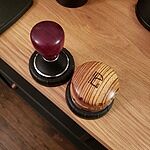 Great tool
Went with the full pullman system (basket, tamp and chisel) and it works great. Seems expensive but the tamp is an important step in the process so a ...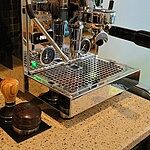 Reviewed on 6/28/2021 by Jason Q.
Was This Review Helpful?
Great distribution tool
I had a Chinese copy of this, and I can assure that the original one is a lot better, works better and the wood is beautiful.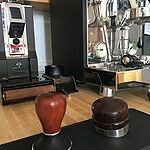 Reviewed on 2/20/2021 by Nicolas B.
Was This Review Helpful?
Beautiful tool but not sure it's necessary
The chisel tool is beautiful, especially if you get a nice wood pattern, but I don't think it's absolutely necessary. If you WDT and tap a f...
Reviewed on 2/2/2023 by Mark H.
Was This Review Helpful?
Bought for my son, he
Bought for my son, he loves it!
Reviewed on 9/29/2023 by Janice P.
Was This Review Helpful?
The Pullman chisel is not
The Pullman chisel is not only very functional for leveling the portafilter but also very handsome. Well worth the money and idrinkcoffee was very goo...
Reviewed on 2/20/2023 by Doug K.
Was This Review Helpful?
Nice quality and super easy
Nice quality and super easy to adjust! Stays where you adjust it to.
Reviewed on 3/14/2022 by Craig T.
Was This Review Helpful?
Pullman Chisel Rreview
Bought this in combination with the Pullman Big Step Tamper and have been really pleased with the results, more consistent extractions and less channe...
Reviewed on 8/6/2021 by Steven L.
Was This Review Helpful?
Works like a charm!
Pullman makes terrific products! My recently purchased Re-Distribution tool assists me every morning .Highly recommend it,
Reviewed on 4/15/2021 by Danny V.
Was This Review Helpful?
Amazing product
Wow, it really does make all the difference! Seems a bit expensive for such a small product but after using it I can say it is well worth the money!
Reviewed on 1/28/2021 by Jennifer M.
Was This Review Helpful?
Pullman redistribution tool
Beautiful and works as intended
almost no need to tamper anymore!
Reviewed on 1/8/2021 by Joel D.
Was This Review Helpful?