Breville Barista Touch BES880BSS Espresso Machine - Damson Blue
SA-BRE-BES880BBS-DB
Breville Barista Touch BES880BSS Espresso Machine - Damson Blue
See More by Breville
Earn

3840

Reward Points worth

CA$38.40

!
Free Shipping
Ships Tomorrow if you order in 22 hours and 16 minutes
Quality First
This item is covered by our satisfaction guarantee.
Buy this machine before Dec 31st and get a free barista kit as a bonus! To redeem your gift, visit https://www.breville.ca/redeem after your purchase.
Description
Overview
Create great tasting espresso "from bean to espresso" in less than a minute. The Barista Touch allows you to grind the beans right before extraction, and its interchangeable filters and a choice of automatic or manual operation ensure authentic cafe style results in no time at all.


Fresh is Best
In the world of coffee, freshness can be measured in seconds. By the time even five minutes has passed, ground beans have started to lose their flavor. Grinding beans every time you want fresh espresso takes time, though, and oftentimes it becomes a tradeoff between taste and convenience. The Breville Barista Touch solves this problem, delivering fresh, quality espresso at remarkable speed, thanks to its integrated burr grinder. Go from beans to espresso in under a minuteall in the comfort of your own home.
Cafe quality espresso in your home
Espresso making is notorious for being both an art and a science, requiring you to carefully adjust each of the inputs (grind size, grind amount, etc.). But even complete beginners and aspiring baristas can pull a perfect shot from the Breville Barista Touch. For beginners, it comes with two dual-wall, pressurized filters that regulate pressure and help optimize the extraction. For more experienced baristas, the Barista Touch includes two single-wall, non-pressurized filters that give you more room to experiment with different grind sizes, grind amounts, and tamping pressure. As either a crash-course or a continuation study, the Barista Touch gives you free rein to explore the art of espresso.
In addition to its integrated burr grinder, the Breville Barista Touch has an Italian-manufactured 15 bar pump and thermocoil heating system that ensures accurate regulation of water temperature for a full-flavored espresso. A pre-brew function and flat shower head make sure that the water is optimally distributed through the coffee puck. The Barista Touch also has several helpful features, such as a cup warmer on the top of the machine and a feature that removes excess water from the filter basket after coffee extraction, so the used grounds form a dry puck for quicker cleanup. Lastly, it has a stainless steel 360 degree swivel-action steam wand for lattes and cappuccinos.
For beginners and aspiring baristas alike, the Barista Touch makes good espresso accessible and easy to make.
Designed with the consumer in mind
The Breville Barista Touch is built from high-quality materials so the resulting machine is as sturdy as possible. No-slip feet keep the machine from sliding across the counter when the burr grinder is activated. The Barista Touch is housed in a sleek stainless steel casing, making it an attractive and timeless addition to any kitchen. The entire unit is easy to clean and comes with a hideaway storage compartment for the included cleaning tools, in addition to an easily removable drip tray.
Features
Intuitive Touchscreen Display:
Simplifies how to make your favourite cafe coffee in 3 easy steps - Grind, Brew and Milk. You can easily adjust the coffee strength, milk texture or temperature to suit your taste. Then save it with your own unique name. Create and save up to 8 personalised coffees.

Automatic Microfoam Milk Texturing:
Auto steam wand, allows you to adjust the milk temperature and texture to suit your taste. Delivering barista quality micro-foam that enhances the flavour of the coffee and essential for creating latte art. Then it cleans itself for you.

Precise Espresso Extraction:
Digital Temperature Control (PID) delivers water at precisely the right temperature, ensuring optimal espresso extraction.

Faster Heat Up Time:
Innovative ThemoJet - heating system achieves the optimum extraction temperature in 3 seconds. Ready to make your best coffee without the wait.

Hands Free Operation:
Innovative grinding cradle allows any at-home Barista to grind directly into the espresso portafilter.

Integrated Coffee Grinder:
With a single touch, the integrated conical burr grinder with dose control,delivers the right amount of coffee,on demand, for maximum flavour. Adjustable grind size and dose.
Please note that we cannot ship Breville products outside of Canada
Specifications
Tech specs and other details
Questions & Answers
Customer Reviews
(74)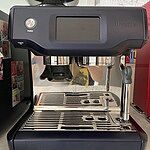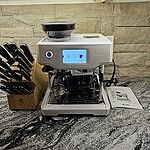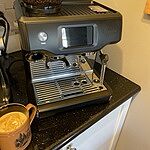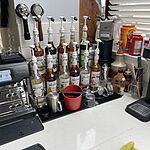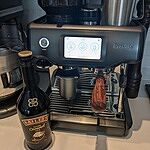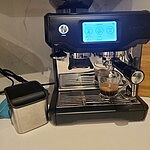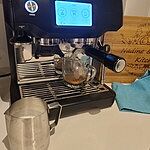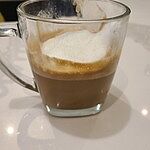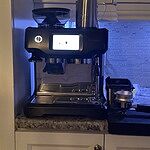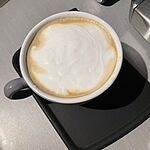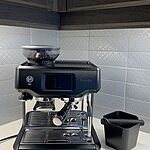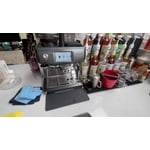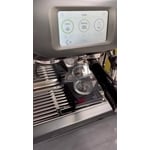 I Love My New Breville Esspresso Machine
Great product! I bought this to replace a Nespresso machine. There is no comparison and I have no regrets! This machine uses automated drink selection...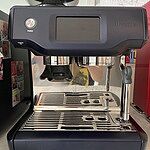 Reviewed on 7/28/2023 by DENNIS C.
Was This Review Helpful?
Barista in a box
This machine makes a near coffee shop quality coffee but with no effort learning the trade. Figure out the bean grind and amount and the machine does ...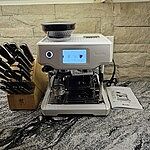 Reviewed on 10/15/2023 by Matthew D.
Was This Review Helpful?
Makes the best lattes
Excellent machine. I had this machine for about two weeks so far. I've made espresso and lattes so far. They are perfect. It took some minor tweaking ...
Reviewed on 10/11/2023 by Mike C.
Was This Review Helpful?
Breville Touch Black Stainless
Loving my new Breville Touch, from the black stainless steel finish to the yummy easy espresso & frothing. My delivery was so fast I was surprised...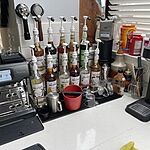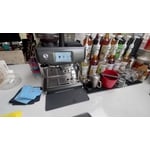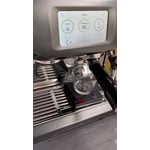 Reviewed on 4/18/2023 by Terry K.
Was This Review Helpful?
Great machine, made me enjoy lattes !
Love the machine, easy to use and produce good coffee. I especially enjoy the automatic milk frother. I wasn't a big latte fan, this changed my m...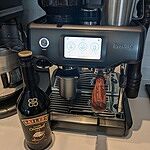 Reviewed on 1/16/2023 by André-Claude G.
Was This Review Helpful?
This machine has taken our
This machine has taken our coffee to another level. We love it. The cappuccino is amazing, we never used to drink late or cappuccino but this machine ...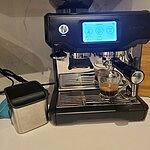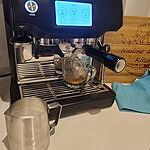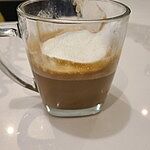 Reviewed on 4/8/2022 by nadin a.
Was This Review Helpful?
Un incontournable
Très content de mon achat !!! La machine fonctionne très bien et elle est facile à utiliser. Les étapes de préparation et de nettoyage sont très clai...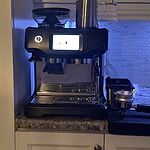 Reviewed on 2/20/2022 by Catrina M.
Was This Review Helpful?
Great service. Great shipping. Great
Great service. Great shipping. Great product so far. Little messy when grinding coffee but that's about it.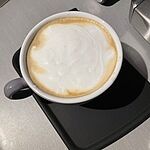 Reviewed on 7/1/2021 by Joe T.
Was This Review Helpful?
I had never made espresso
I had never made espresso before this purchase so I was apprehensive. The demo on the touch screen was so helpful and offered suggestions if it didn't...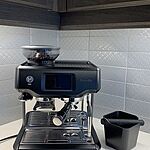 Reviewed on 4/14/2021 by Hilary H.
Was This Review Helpful?
I just love this machine!
I just love this machine! I haven't been to a cafe since I bought it. No learning curve as it guides you. Makes excellent lattes, even with non dairy ...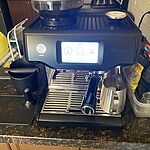 Reviewed on 4/11/2021 by Alison H.
Was This Review Helpful?