Pullman Barista Tamper - Jarrah - w/ BigStep Base
ACC-PM-T-JA
Pullman Barista Tamper - Jarrah - w/ BigStep Base
See More by Pullman
Earn

696

Reward Points worth

CA$6.96

!
Return Policy
This item is an accessory and is subject to our return policy with a restocking fee
Description
Overview
The Handle
 Most widely grown in Western Australia, Jarrah is a timber that is very popular for home furniture and floor boards. 
It's also the most common material used for garden stakes, so it's capable of withstanding a lot of punishment!
Warm and natural to the touch
Clean with care
The hardwood handles are  very popular and provide a great contrast with stainless steel machines and work surfaces.
The Base
The BigStep refers to the design of the larger diameter 'stepped edge' measuring in at 58.55mm (+/-0.02mm).
This increases the surface area of extractable coffee to be covered, including the prevention of a pinched edge of coffee grind that can occur when using such a large (or incorrectly) sized base. Mainly designed for ridgeless precision baskets ( Example,Pullman Filtration, VST, IMS and Strada, Synesso and some LM baskets  ).  If unsure please contact us with the details or a photograph of your basket and we can confirm if it will work with the bigstep base.

This base is made from an extremely high strength (min 43 Rockwell) 440C Grade Stainless steel in Australia from premium grade materials. This design produces incredible results for extraction in all applications.
As Pullman cannot control the large spectrum of different internal diameters across many brands and weight ratings of precision filter baskets, please note that the BigStep base may not fit in some production batches. 
We strongly suggest purchasing Pullman Filtration Baskets, which are fitted to the BigStep Base, and are each manually checked for consistency. 
Complete Your Pullman System
We highly recommend the entire Pullman system that consists of this tamper + Pullman Filtration Baskets and The Pullman Chisel.
Why the Pullman System?
The Pullman System effectively covers; 
Tamping
Distribution
Filtration
These are the essential variables between the grinder and the machine - Ensuring the best possible extraction each time.
Specifications
Tech specs and other details
Questions & Answers
Customer Reviews
(13)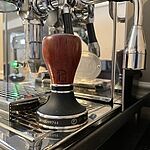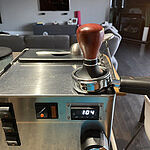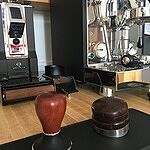 Best Tamper
Best tamper you can buy. It fits so nicely in the hand and you can notice a more snug fit versus other tampers. The jarrah was out of stock but the i...
Reviewed on 4/4/2022 by Michael K.
Was This Review Helpful?
Love it!
Fits perfectly with my 18gr VST basket! What a difference with a perfect fitting tamper, no more extra cleaning the walls of the basket and I was gett...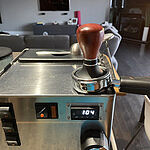 Reviewed on 3/4/2021 by Marko B.
Was This Review Helpful?
Pullman tamper with bigstep: wow
Great tamper, the big step is really making a difference. Also, the ajustable handle is a good feature since I have small hands.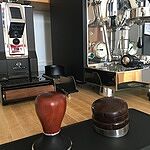 Reviewed on 2/20/2021 by Nicolas B.
Was This Review Helpful?
Amazing tool for espresso
This is a seriously well made tamper with extraordinary fit and finish. If you are using precision baskets this is a great tool. Tamping along the out...
Reviewed on 2/19/2023 by Robert C.
Was This Review Helpful?
Good quality
This tamper is amazing ever in my coffee life
Reviewed on 12/23/2022 by Songhee I.
Was This Review Helpful?
Perfect fit
I had to replace my Cafelat tamper after about 3 years and it did me well for the price. I treated myself to this beautiful Pullman for it's look and...
Reviewed on 11/7/2022 by Alan F.
Was This Review Helpful?
Game changer
It's expensive, as most high espresso equipment are, but totally worth it. It fits perfectly the VMS baskets making it easy to have an even and l...
Reviewed on 11/18/2021 by Marcel D.
Was This Review Helpful?
Fantastic Results
This item was a gift, so price was not an obstacle, which I recognize is quite high for a tamper. However, after using this for several weeks, the re...
Reviewed on 11/4/2021 by Trevor T.
Was This Review Helpful?
Great tamper
I've used this tamper with the Pullman chisel and the 22-55g Pullman basket. It works great and I have consistant results. The fit between the ta...
Reviewed on 2/12/2021 by Pierre-Olivier G.
Was This Review Helpful?
Awesome!
This tamper change my espresso shot! It fit perfectly into my vms basket.
Reviewed on 10/9/2020 by Jonathan R.
Was This Review Helpful?