Pullman Barista Tamper - Olive - w/ BigStep Base
ACC-PM-T-OL
Pullman Barista Tamper - Olive - w/ BigStep Base
See More by Pullman
Earn

774

Reward Points worth

CA$7.74

!
Return Policy
This item is an accessory and is subject to our return policy with a restocking fee
Description
Overview
The Handle
Olive is a cream or yellowish brown, with darker brown or black contrasting streaks. Color tends to deepen with age. 
Olive is sometimes figured with curly or wavy grain, burl, or wild grain.
Warm and natural to the touch
Clean with care
The hardwood handles are   very popular and provide a great contrast with stainless steel machines and work surfaces.
The Base
The BigStep refers to the design of the larger diameter 'stepped edge' measuring in at 58.55mm (+/-0.02mm).
This increases the surface area of extractable coffee to be covered, including the prevention of a pinched edge of coffee grind that can occur when using such a large (or incorrectly) sized base. Mainly designed for ridgeless precision baskets ( Example,Pullman Filtration, VST, IMS and Strada, Synesso and some LM baskets  ).  If unsure please contact us with the details or a photograph of your basket and we can confirm if it will work with the bigstep base.

This base is made from an extremely high strength (min 43 Rockwell) 440C Grade Stainless steel in Australia from premium grade materials. This design produces incredible results for extraction in all applications.
As Pullman cannot control the large spectrum of different internal diameters across many brands and weight ratings of precision filter baskets, please note that the BigStep base may not fit in some production batches. 
We strongly suggest purchasing Pullman Filtration Baskets, which are fitted to the BigStep Base, and are each manually checked for consistency. 
Complete Your Pullman System
We highly recommend the entire Pullman system that consists of this tamper + Pullman Filtration Baskets and The Pullman Chisel.
Why the Pullman System?
The Pullman System effectively covers; 
Tamping
Distribution
Filtration
These are the essential variables between the grinder and the machine - Ensuring the best possible extraction each time.
Specifications
Tech specs and other details
Questions & Answers
Customer Reviews
(12)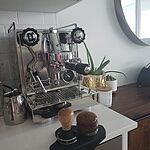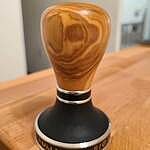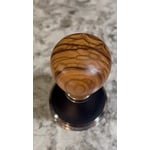 Big Step = less channeling
Beautiful contrast of dark grain against the light colour of the Olive wood on the handle. This wood essence is more light then dark. Comes with 2 rin...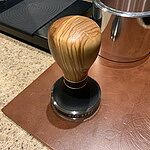 Reviewed on 3/6/2023 by Melyssa F.
Was This Review Helpful?
Perfect tool
I now have the Pullman level and big step tamper. Combined it really does make a difference. I am excited to see the results after adding in the Pullm...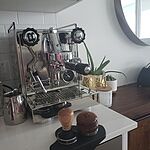 Reviewed on 2/28/2021 by Jennifer M.
Was This Review Helpful?
a thing of beauty
just look at this thing!! yes it's substantially more expensive than the competition but you really get what you paid more. The quality, weight a...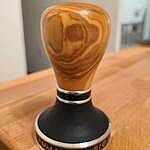 Reviewed on 12/1/2020 by Jake G.
Was This Review Helpful?
Eye candy with functionality to boot
Solid weight base with awesome looks. It's a bit expensive for a tamper but what in coffee isn't?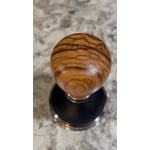 Reviewed on 4/12/2023 by Michael M.
Was This Review Helpful?
Pullman Barista Tamper-w/ BigStep Base
The weight of the tamper is very solid and stable when tamp the espresso in the basket, the 58.55mm is perfect size and cover all edge of the basket. ...
Reviewed on 12/21/2022 by Huayi N.
Was This Review Helpful?
Great Tamper!
Reviewed on 10/28/2022 by Darren R.
Was This Review Helpful?
Pullman Tamper
Quality tamper. Nice weight. Would highly recommend. Works well with my VST baskets.
Reviewed on 8/18/2022 by Lee A.
Was This Review Helpful?
Nice tamper
Pleasant to handle and very efficient
Reviewed on 12/14/2021 by Serge C.
Was This Review Helpful?
Perfect fit
Perfect fit for precision basket.
Beautiful and fun to use
Reviewed on 2/24/2021 by Phil
Was This Review Helpful?
truly amazing
Long ago I noticed substantial wiggle room when my old tamper was in the basket and thought there had to be a better way to tamp the basket edge. This...
Reviewed on 12/8/2020 by Joe G.
Was This Review Helpful?