ECM C-Manuale 54 Burr Grinder
CG-ECM-C54
ECM C-Manuale 54 Burr Grinder
See More by ECM
Earn

2397

Reward Points worth

CA$23.97

!
Free Shipping
Ships Today if you order in 9 hours and 9 minutes
Premium Care
Free additional warranty benefits
Quality First
This item is covered by our Premium Care Program.
The ECM Manuale 54 is the ideal grinder to use in those twilight hours of the morning.
Simplicity at its finest to use, but complexity with the espresso produced, delighting the palate while preparing the mind to take on the rest of the day.
Description
Overview
The Manuale 54 takes classic espresso design, and mixes it with German engineering to create a grinder that is going to beautifully grind espresso like you would find in an Italian cafe at home. With an easy to use stepped collar adjustor, dialing in and getting started has never been easier.
Wolfgang Hauck starts the story of ECM 25 years ago with designing the ECM Technika, which to this day is still one of their most loved machines. Now for over 10 years it's into the family's second generation of beautifully designed machines with German engineering backing them up. The Technika is no exception to this fine craftsmanship with every detail being taken into account. Truly these machines are crafted for the espresso enthusiast with the utmost care and quality.

The Manuale 54 is no exception to ECM's meticulous engineering to bring a premium espresso experience to your kitchen. Easy to adjust from the collar, selecting the perfect grind setting is comfortable with the grip around the adjustor. The average single shot grinds in 5 seconds, and double shot in 10 seconds.

Quiet for its size, the Manuale 54 allows for coffee to be enjoyed whenever, on the fly with no regrets. Early birds can enjoy espresso at dawn, while letting the night owls continue to sleep in peace.

Key Features:

Espresso                 
Stepped with 53 grind settings        
54mm Flat, Stainless Steel Burrs
Features
Grind and go Grind and go for easy use out of the box
Removable grind chute for easy cleaning
Stepped collar adjustment for effortless espresso dialing in
Frequently asked questions
(3)
What's Inside The Box
User Manual
Catching tray
250 gram bean hopper
Warranty
Warranty: 1 year of parts and labour
Who provides the warranty for this product?: iDrinkCoffee.com is an authorized service centre for ECM
Premium Care Eligible: Yes! - This product includes our amazing Very Important Machine Service. Should your product require service during the warranty period we will pay for the shipping charges to ship the product to us. We will issue you a prepaid label and arrange for a courier to collect the package. Your machine will then be repaired by our skilled technicians and returned to you at our cost. With our Premium Care program your machine also gets priority service for the repair. All we ask is that you keep the original packaging material for safe transport.*

* Click here to get full details of the Premium Care program
Questions & Answers
Customer Reviews
(7)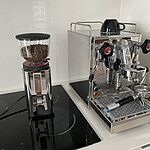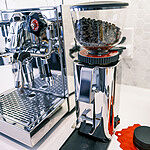 Great grinder
Recently purchased the ECM C Manuele 54 Burr grinder. Very satisfied. I was having all kinds of problems with my previous grinder with a smaller burr....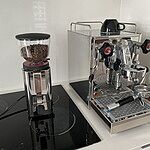 Reviewed on 7/10/2023 by Paul B.
Was This Review Helpful?
Sweet little grinder
The form factor of this grinder is small, matches perfectly with my Mechanika V Slim. The unit itself feels looks and feels high quality. I like it wi...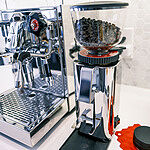 Reviewed on 7/8/2020 by Kelvin C.
Was This Review Helpful?
Good build and nice looking
I pair this grinder with ECM Mechanika. It looks really good. This grinder doesn't have advanced features such as programable timed dose control....
Reviewed on 9/15/2020 by Qiang C.
Was This Review Helpful?
Solid, very basic grinder without
Solid, very basic grinder without all the extras , focusing on it's purpose: delivering a good grind. The lever that starts the grinder is a bit tight...
Reviewed on 1/6/2020 by Tobias W.
Was This Review Helpful?
Disappointed
The machine looks good and solid. Very constant grinding although I would need a "in between" setting for the beans I'm using. The major problem is th...
Reviewed on 8/31/2023 by Carl T.
Was This Review Helpful?
Good grinder with limitations
The Manuale 54 is a very solid and high quality grinder. It performs well and looks great. The machine is strictly manual without timers or dose contr...
Reviewed on 11/2/2020 by David H.
Was This Review Helpful?
Disappointing
Loved the grinder originally , had it for about 1 year. In that year I have replaced the Bean hopper twice due to cracks in the throat of the hopper. ...
Reviewed on 12/10/2021 by Matt
Was This Review Helpful?