Auber Instruments PID Kit for Rancilio - Black Edition
ACC-AUB-PID-B
Auber Instruments PID Kit for Rancilio - Black Edition
See More by Auber Instruments
Earn

747

Reward Points worth

CA$7.47

!
Free Shipping
Ships Tomorrow if you order in 18 hours and 56 minutes
Return Policy
This product is in the Parts category and is not subject to our return policy.
Description
Overview
This is a PID controller for the Rancilio Silvia (Black Edition) by Auber Instruments.

It comes in two configurations.

1) Coffee temperature only - you have control over your coffee extraction temperature

2) Coffee and Steam Temperature with Pre-Infusion - control of both coffee and steam temperatures and a preinfusion feature.

All of our PID's are in degrees Celsius and have white coloured displays.

Please note we do provide installation instructions from Auber Instruments but we do not provide technical support on installing this item. It is a self-install. If you wish to have us install your PID please contact us.
Questions & Answers
Customer Reviews
(3)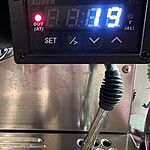 Rancilio and Auber - match made in heaven
So much utility in so little a box! I purchased the Auber PID- Coffee, Steam & pre-infusion along with installation, and think it was money more t...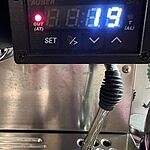 Reviewed on 2/8/2023 by Elizabeth G.
Was This Review Helpful?
Must have for RC
I liked that they have a black version that matches the matte black RC look that I have. The PID functions as it is supposed to and it's straigh...
Reviewed on 11/21/2022 by Moataz M.
Was This Review Helpful?
Cool little device.
This device takes a lot of the work out of making my morning espressos and flat whites. I suggest getting it installed by idrink coffee. A warning th...
Reviewed on 9/29/2022 by Ryan
Was This Review Helpful?