Ascaso Steel Duo Professional Espresso Machine w/ PID - Black
ASC-DUO-B
Ascaso Steel Duo Professional Espresso Machine w/ PID - Black
See More by Ascaso
Earn

6585

Reward Points worth

CA$65.85

!
Free Shipping
Ships Today if you order in 7 hours and 5 minutes
Premium Care
Free additional warranty benefits
Quality First
This item is covered by our satisfaction guarantee.
Why feel the need to wait for those first sips of coffee? Time is valuable, and with a sense of impatience before caffeine has entered your system, anticipation is not always a wonderful feeling. Only once have the first tastes been processed by the palate, can the rest be slowly savoured. Patience finally being achieved.
Begin your day on the right (or left we won't judge here) foot with the Ascaso Steel Duo. With minimal need to wait for your desired espressos or luscious lattes, the Duo is sure to please the eager caffeine dependent brain in the most delightful and delicious way.
Allow the Ascaso Steel Duo to bring form and function into your morning.
Description
Overview
The Steel Duo is full of convenient modern features contained in a sleek and refined body. It allows for the creation of "impulsive espresso" and is able to steam milk at the same time, making this the ideal machine for early mornings.
With an entrepreneurial dream, Jesus Ascaso entered the coffee world in 1952, working with parts. 1962 is when he started his own coffee parts company. It's not until 1997 that discussions of Ascaso creating their own espresso machine came from Jose Luis Ascaso. In 2000, the Ascaso dream was born, and since has only seen improvements and innovations such as the Steel Uno.

Convenient features can be seen throughout the entire machine. From the conservatively sized machine being achieved with carefully chosen parts, to the PID and volumetric controls for easily replicated shots, the Ascaso Duo sets itself apart from other similar machines in the dual boiler category. Combining these advantageous features with contemporary aesthetics absolutely lets the Steel Duo stand out of the competition.

Ascaso's thermoblock boiler allows for a quick heat up time, and having two allows for simultaneous espresso extraction and milk steaming. This boiler ideally is for someone who desires coffee on the fly or someone with little time to wait for coffee.

Key Features:

Two Thermoblock boilers
58mm Saturated Grouphead
Vibratory pump
PID temperature control
Volumetric Controls
Compact design
Features
Built with two thermoblock boilers, this allows for near instantaneous heat up time with no wait time between espresso and steaming.
An elegant modern design that is also compact to fit in any space.
Wooden accents bring the entire aesthetics of the machine together in an elegant manner.
A 58mm commercial sized portafilter with the same tastefully chosen wooden handle.
20 Amps - The Ascaso Duo is a 20 amp machine and comes with a NEMA 5-20P Plug and requires a 20amp receptacle
A PID that controls the temperature in 1°C increments as well as allows for the customization of shots with preinfusion and volume of water used for the shot.
A professional steam wand dedicated to steaming milk to the desired texture.
Frequently asked questions
(3)
What's Inside The Box
Double spouted portafilter designed for level tamping
Single and double shot pressurized baskets
Single and double shot unpressurized baskets
ESE Pod basket
Blind Basket
Metal Tamper
Coffee scoop
Warranty
Warranty: 2 years of parts and labour
Who provides the warranty for this product?: iDrinkCoffee.com is an authorized service centre for Ascaso
Premium Care Eligible: Yes! - This product includes our amazing Very Important Machine Service. Should your product require service during the warranty period we will pay for the shipping charges to ship the product to us. We will issue you a prepaid label and arrange for a courier to collect the package. Your machine will then be repaired by our skilled technicians and returned to you at our cost. With our Premium Care program your machine also gets priority service for the repair. All we ask is that you keep the original packaging material for safe transport.*

* Click here to get full details of the Premium Care program
Specifications
Tech specs and other details
Questions & Answers
Customer Reviews
(26)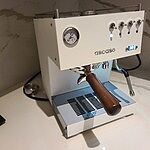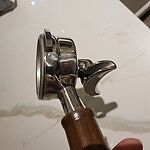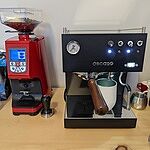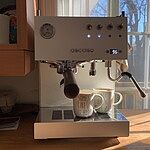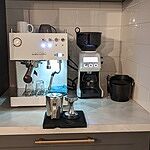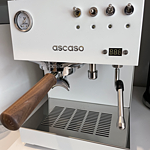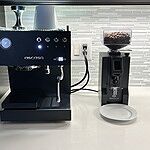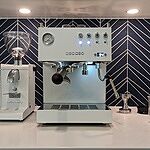 Thermoblock is the way to go
The one unique feature that this machine has that puts it head and shoulders ahead of its class is the THERMOBLOCK. This means you can turn the machin...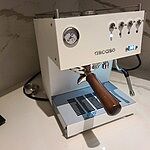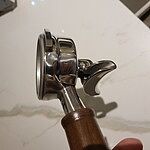 Reviewed on 2/25/2022 by Ara H.
Was This Review Helpful?
Better than Breville Dual Boiler
Purchased this unit to replace a Breville Dual boiler. Very satisfied with the unit so far. Quieter than the Breville and faster to heat up. I love th...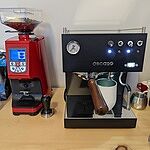 Reviewed on 1/3/2022 by Eric G.
Was This Review Helpful?
A dream come true
Looks just like we dreamed of ! The coffee is creamy, all the filters are amazing and from very good manufacture. The whole machine is perfect for a s...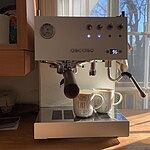 Reviewed on 12/11/2021 by Laurent S.
Was This Review Helpful?
I love this machine! Consistent
I love this machine! Consistent and powerfull! Good looking also!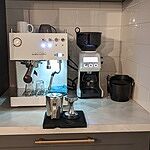 Reviewed on 12/5/2021 by Olivier C.
Was This Review Helpful?
Impressive set of features and good design!
This machine is impressive. It is silent, has volumetric control, a PID, a pressure gauge and 2 boilers. I can pull multiple Latte in a row easy-peasy...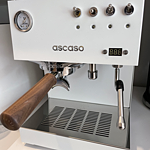 Reviewed on 6/8/2021 by Jonathan B.
Was This Review Helpful?
Purchased this as an open
Purchased this as an open box model and it was totally brand new. Very happy with the purchase. Heats up extremely quickly returns to temperature ve...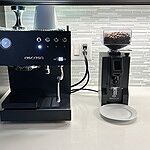 Reviewed on 7/30/2022 by Matthew L.
Was This Review Helpful?
Shipping was incredibly quick! The
Shipping was incredibly quick! The Ascaso Steel Duo arrived and was incredibly easy to set up. It took only a short while to dial it in. The build qua...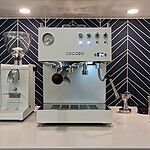 Reviewed on 6/23/2022 by Tyler M.
Was This Review Helpful?
Great
I m really happy whit this machine , great control and easy to make a really beautiful and tastefull frothing milk.
Reviewed on 8/1/2023 by Gilbert B.
Was This Review Helpful?
Just an amazing purchase! I
Just an amazing purchase!
I recommend to everyone!!
Reviewed on 8/11/2022 by Pete G.
Was This Review Helpful?
Ascaso Steel Duo vs. E61
This review is based on 10 years of owning an E-61 HX machine with a flow control, and a full year with the Steel Duo. Overall, I'm really happy ...
Reviewed on 6/29/2022 by tom f.
Was This Review Helpful?