Filter Reviews
5 star rating

4 star rating

3 star rating

2 star rating

1 star rating
a decaf pleasure
Review by John W. on 18 Jan 2020
review stating a decaf pleasure
enjoy this roast when you require a decaf brew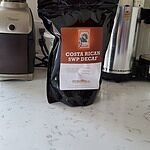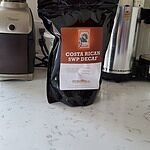 sometimes disappointing, occasioanlly quite good. inconsistent
Review by Andrew F. on 8 Jun 2020
review stating sometimes disappointing, occasioanlly quite good. inconsistent
i have a love hate realtionship with this bean. some batches where really not good, and others quite good. flavour is good, albeit usually flat. espresso extractions are all over the place. it frequently needs recalibration, as been sizes fluctuate. lots of flawed beans un some bags. Nothing like the coffee i remeber in costa rica, and nothing like what i brought back. every once in a while though, i have a really satisfying cup of espresso, and generally when a good extraction occurs that isn't too thin, or slow, it holds up to milk quite well. I just find it a finicky bean to keep dialed in. ill keep this decaf in my back pocket but im going to keep looking for a better option, if one exists. to be fair, its very hard to find a decaf that can exceed this though. its more of a good commodity grade coffee, than a premium one, in my opinion.
smooth+chocolate
Review by Andrew M. on 12 Oct 2019
review stating smooth+chocolate
It's our new decaf favorite. This one is very smooth and chocolate tasting. We drink it as drip, with heated milk. We just bought two more bags.
Decaf or not decaf
Review by Yvetta B. on 11 Apr 2019
review stating Decaf or not decaf
I love the Costa Rican coffees. I think I never had such a freshly roasted decaf coffee that taste so real and I love indulging into a couple espressos in the afternoons.
coffee price increase
Review by RJ on 18 Apr 2020
review stating coffee price increase
I agree with Andrew. the increases are large. Coffee prices from what I see are lower in the futures market which sets the world price in general. Prices go up and down but never at retail.Controlling those costs at certain levels are needed, with many middle persons in the mix for some sellers to be competitive. Starbucks have increased their prices over the years, but the result has been bigger profits for the company.