Filter Reviews
Taste
Body
Selection
Notes
Coffee
Brew
5 star rating

4 star rating

3 star rating

2 star rating

1 star rating
Very nice coffee
Review by Tim B. on 19 Aug 2017
review stating Very nice coffee
I make coffee using the chemex system. I find it brings out the natural flavour of the coffee and strips away unnecessary bitterness. This particular coffee has a nice complex flavour and good roasted notes. It's rich and has a nice crisp finish. I enjoyed it quite a lot. While not the best coffee I've had it's quite nice.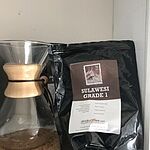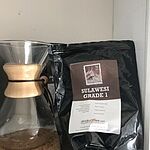 Excellent Coffee
Review by Anwar A. on 3 Oct 2019
review stating Excellent Coffee
Smooth dark coffee of high quality.
Great discovery!
Review by Marie D. on 2 May 2017
review stating Great discovery!
I really like this coffee with the light earthy taste typical of Indonesia. As good in French Press as espresso it is a very good choice for those who prefer low acidity and full body.
Marie D.
Great coffee
Review by Benoit B. on 28 Jun 2020
review stating Great coffee
Very nice smooth coffee.
Good basic variety
Review by Dyna V. on 31 May 2019
review stating Good basic variety
I was expecting a rich earthy brew, but didn't get exactly that. It offered good body and nice taste, but I would never have guessed it was Sulawesi.