Planetary Designs Airscape Glass Coffee Bean Canister - 32 oz
PD-AIR-32OZ-GLS
Planetary Designs Airscape Glass Coffee Bean Canister - 32 oz
See More by Planetary Designs
Earn

114

Reward Points worth

CA$1.14

!
Fast Shipping
Ships Tomorrow if you order in 18 hours and 35 minutes
Return Policy
This item is an accessory and is subject to our return policy with a restocking fee
Description
Overview
Air is the enemy of many things, including numerous food items. Unlike canisters that lock the air inside with the contents, the AirScape is an innovative container that removes substance-eating air. Great for storing coffee, tea, brown sugar, cookies and much more.
The patent-pending valve forces air out, then locks the lid in place
While the top lid is clear, to easily see your content amount, the AirScape lid will not allow harmful ultra-violet light to reach the contents.
The canister is made from glass
Durable construction resists staining as well as odor and taste transfer
Available in:
32 fl.oz. - 4 3/4" base D., 4"H.
64 fl.oz. - 4 3/4" base D., 7"H.
160 fl. oz. (1 Gallon): 7 Base, 8 Tall (holds apprx. 5 lbs. of sugar or flour and over 2 lbs. of coffee)
Questions & Answers
Customer Reviews
(11)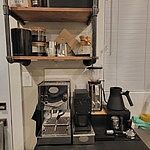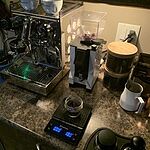 Very esthetically pleasing
I love the design of this cannister! It fits well with my coffee station esthetic, when you open it you can really smell that its been sealed, i write...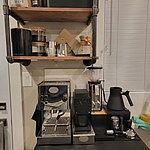 Reviewed on 4/11/2022 by Virginia s.
Was This Review Helpful?
BUY THIS PRODUCT
So good … love opening them in the morning and have this amazing fresh smell of coffee as you pull the plunger out…. MMMMMmmmm!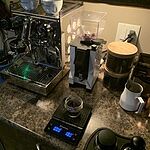 Reviewed on 12/31/2021 by Brad D.
Was This Review Helpful?
Exactly what it's supposed to be
The smaller bin will not fit many beans. The 64 oz. is great. I will be buying 2 more for myself and 2 for a family member.
Reviewed on 2/20/2021 by IanP L.
Was This Review Helpful?
Easy and pleasant
simple, elegant and clean. Works very well.
Reviewed on 8/4/2020 by Kyle A.
Was This Review Helpful?
Super product — well worth every penny
I'm so glad I bought a couple of the 64 oz Airscape glass storage canisters. The sealing lid fits absolutely perfectly and squishes out the air, while...
Reviewed on 3/21/2020 by Martyn B.
Was This Review Helpful?
Keeps beans fresh
I couldn't be happier with this canister. I buy a pound at a time which I use over about a week. Keeps my beans fresh and humidity free
Reviewed on 7/19/2019 by Graham B.
Was This Review Helpful?
64 oz size for bean storage
Glass version was well packed. Idc delivery was fast per usual. From another review I expected the wood lid to be a bit loose and I found same thing. ...
Reviewed on 7/21/2023 by Chris
Was This Review Helpful?
Works great but maybe upgrade to the medium size.
Works as advertised. Nice solid design. I got the 32oz version and maybe the only downside to the smallest size is that it doesn't quite fit a sm...
Reviewed on 11/8/2020 by David Y.
Was This Review Helpful?
Good, but big!
Lot bigger than I expected. But it does seem to work fine and is a nice canister.
Reviewed on 4/8/2019 by Michel R.
Was This Review Helpful?
Good, not great.
These are okay. They do what they are intended to,but the for factor is a bit awkward with the rather large diameter making single handed used close t...
Reviewed on 6/2/2020 by Mihir G.
Was This Review Helpful?