Flair Signature Manual Espresso Maker with Pressure Gauge Kit - Chrome
FLA-SIG-C
Flair Signature Manual Espresso Maker with Pressure Gauge Kit - Chrome
See More by Flair Espresso
Earn

987

Reward Points worth

CA$9.87

!
Quality First
This item is covered by our satisfaction guarantee.
Flair Espresso is founded on a simple question: "What is the minimum needed to make a great espresso?". Flair has eliminated the complexity of high end espresso machines, and created a product that can provide perfectly pressed espresso without the high price tag.
Few things are as rewarding as those done by hand. Flair Espresso makers are crafted for those that like to slow things down and appreciate the ritual of preparing espresso.
Description
Overview
The Pro 2 is Flair's original espresso machine and more, with added aesthetic beauty and functional features such as the included pressure gauge. The Flair is the perfect match for someone who wants all the artistry of a Flair manual espresso maker plus more insight to achieve a better result. Available in black, white, or chrome, the Signature is instantly recognizable by its copper-plated portafilter base, making it a standout on any kitchen countertop.
Flair shook up the espresso industry when they introduced the Classic in 2016. Manual espresso machines are not a new invention, but innovations like the removable brew group and excellent pricing sets Flair apart.

The Flair Signature is a completely manual machine. As an updated take on their original entry for Flair machines, its 2-in-1 portafilter gives you the opportunity for an easier shot in its spouted configuration, or lets you gain insight into the extraction process with the bottomless portafilter configuration. Its included pressure gauge kit gives you more insight into the extraction process, and allows you to ensure you're always brewing at the right pressure for the perfect shot.

The Signature is also modular. Its brew head can be used with the Neo's flow control brew head (for when you don't have access to a high quality espresso grinder or freshly roasted beans). New models of the Signature (recognizable by the removable brew head adapter ring), can even use the more advanced Pro Brew Head, a larger, stainless steel brew head that also comes standard with a pressure gauge.

Note: The Signature comes with the Standard Brew Head and 2-in-1 Portafilter included in the box. All other compatible brew heads and portafilters are a separate purchase.
Key Features:

Completely manual operation
2-in-1 portafilter (bottomless or spouted configurations)
Dose 12-18 grams of ground coffee
Yield of up to 40ml of espresso
Portafilter can be changed out for flow control version
Brew head can be upgraded to Pro 2 version on new models
Features
Completely manual operation - no electricity involved, making this an extremely eco-friendly espresso machine.
2-in-1 Portafilter - brew without the mess using the clip on spout, or get insight into your extraction using the bottomless configuration.
Cafe Quality Espresso - the Signature has been designed to brew cafe quality espresso using freshly roasted, freshly ground coffee.
Removable Brew Head - the only manual machine on the market that allows you to completely remove the brewing head for easy cleaning and maintenance.
Copper-Plated Portafilter Base - the Signature stands out on any countertop with this stylish accent piece.
Upgradeable/Interchangeable Brew Head - swap out the Standard Brew Head for a Pro 2 version or the flow control version to get more out of your machine.
Frequently asked questions
(3)
What's Inside The Box
Matte Black, White or Chrome Base
Matte Black, White or Chrome Post & Lever with Copper-Plated Portafilter Base
Custom pressure gauge, stem, stainless steel plunger and pressure gauge guard
Bottomless 2-in-1 Portafilter
Stainless Steel Dispersion Screen
Brewing Cylinder
Dosing Cup
Funnel
Drip Tray
Stainless Steel Tamper
Carrying Case
Screw for Affixing Post to Base Permanently
Brewing Guide
Warranty
Warranty: 1 year of parts and labour
Who provides the warranty for this product?: iDrinkCoffee.com is an authorized service centre for Flair Espresso
Specifications
Tech specs and other details
Questions & Answers
Customer Reviews
(11)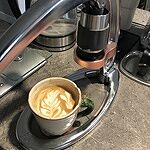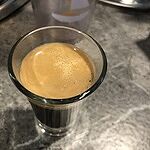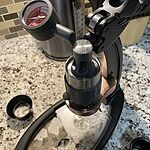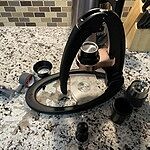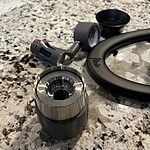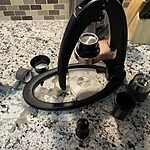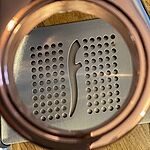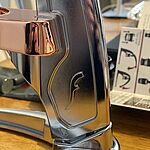 Flair a dream!
I own three fantastic (Heat exchange and double boilers) semi-automatic machines and the Flair Signature rivals the shots they make! Our go-to drink i...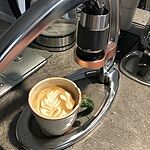 Reviewed on 8/2/2022 by Jack C.
Was This Review Helpful?
Well built
Well built and study espresso maker. Pulls great shots and lets you pressure profile and have a lot of control.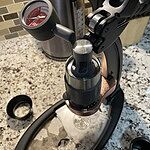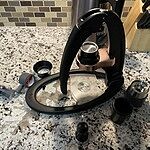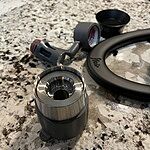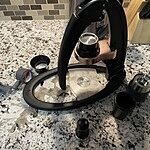 Reviewed on 2/10/2022 by Naman G.
Was This Review Helpful?
Durable
Came very fast and it's made with a very sturdy material. Easy to use, straight forward and easy to clean also. Very good product.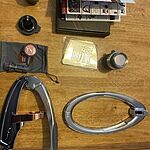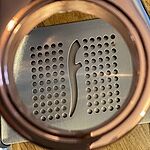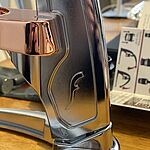 Reviewed on 12/5/2021 by Shyle D.
Was This Review Helpful?
Idiot-proof, fun, and looks great
It's pressure gauge makes it pretty much idiot-proof, allowing a newbie like me to make decent espresso. The 100% manually process makes espresso...
Reviewed on 3/25/2023 by Charles M.
Was This Review Helpful?
Works great
I use it everyday. Works great, only a little bit tedious on the clean up if I want to make multiple espressos.
Reviewed on 3/14/2023 by Cyrill D.
Was This Review Helpful?
Great little espresso maker!
After getting the grind right for four different coffees ( the grind is slightly DIFFERENT for each) — the resulting espresso's were great.
Reviewed on 3/18/2022 by Mary M.
Was This Review Helpful?
The best manual espresso machine
I have numerous manual type espresso in the past and the Falir is my favourite. Started with the original a few years ago and upgraded the the Signatu...
Reviewed on 1/8/2022 by John M.
Was This Review Helpful?
Flair
One of the very few machines with 100% hands on interaction. You are in complete control of temperature, pressure and extraction time. Absolutely uniq...
Reviewed on 6/8/2021 by Jack R.
Was This Review Helpful?
Take it slow
Make sure you listen to the instructions when it says to 'lightly' tamp the grounds. You're really just tucking them in. Makes great es...
Reviewed on 9/24/2023 by Cory K.
Was This Review Helpful?
Go slow.
Make sure you follow the instructions when it says ''lightly' tamp the grounds. You're really just leveling them and tucking them ...
Reviewed on 9/24/2023 by Cory
Was This Review Helpful?