ECM Synchronika Espresso Machine - Dual Boiler w/ PID - Stainless Steel
SA-ECM-SYN
ECM Synchronika Espresso Machine - Dual Boiler w/ PID - Stainless Steel
See More by ECM
Earn

13797

Reward Points worth

CA$137.97

!
Free Shipping
Ships Today if you order in 1 hours and 9 minutes
Premium Care
Free additional warranty benefits
Quality First
This item is covered by our Premium Care Program.
Let the ECM Synchronika invoke the desire and need for perfection in every cup.
With its attention to detail with uniting the joystick and portafilter design, it's sure to impress everyone who sets their eyes on it.
Fall in love with the art of espresso again with the ECM Synchronika.
Description
Overview
The Synchronika unites eye-catching designs with the engineering skills that the Germans are known for. It lets you extract espresso with temperature precision and steam your milk at the same time for perfect drinks to be enjoyed by you and your loved ones.

Wolfgang Hauck starts the story of ECM 25 years ago with designing the ECM Technika, which to this day is still one of their most loved machines. Now for over 10 years it's into the family's second generation of beautifully designed machines with German engineering backing them up. The Synchronika is no exception to this fine craftsmanship with every detail being taken into account. Truly these machines are crafted for the espresso enthusiast with the utmost care and quality.

Every feature selected to be used with this machine has been well thought out such as a commercial rotary pump that allows for the machine to be plumbed in and a discrete PID that doubles as a shot timer for consistent shots pulled at a precise temperature. It's without question that no details have been ignored.

The Synchronika's dual boiler will allow you to extract your espresso with temperature precision and steam your milk at the same time. This is going to allow you to enjoy your professional quality coffee with your friends and family instead of spending hours behind your machine. This is also going to make it so that your espresso is extracted at a precise temperature each time for the espresso connoisseur.

Features
PID controls that allows for precise temperature control of the steam and coffee boiler for this machine.
An E61 grouphead which is an universally used grouphead.
A rotary pump which allows for the machine to be plumbed into a direct waterline
4 inches of cup clearance to fit most traditionally shaped ceramic cups.
A cup warmer on top of the machine to preheat cups so the cups keep your drinks warm.
Joystick toggles for both the steam wand and hot water wand for instantaneous power.
Frequently asked questions
(3)
What's Inside The Box
Single and Double spout portafilter
Single, double and blind basket
Metal tamper
Cleaning brush
Metal hose with BSP threading
Detailed manual
Warranty
Warranty: 2 years of parts and labour
Who provides the warranty for this product?: iDrinkCoffee.com is an authorized service centre for ECM
Premium Care Eligible: Yes! - This product includes our amazing Very Important Machine Service. Should your product require service during the warranty period we will pay for the shipping charges to ship the product to us. We will issue you a prepaid label and arrange for a courier to collect the package. Your machine will then be repaired by our skilled technicians and returned to you at our cost. With our Premium Care program your machine also gets priority service for the repair. All we ask is that you keep the original packaging material for safe transport.*

* Click here to get full details of the Premium Care program
Questions & Answers
Customer Reviews
(134)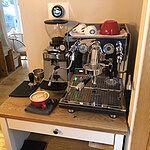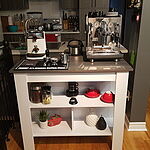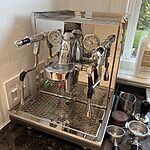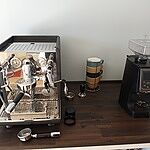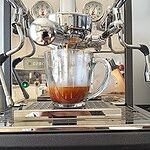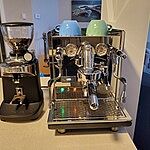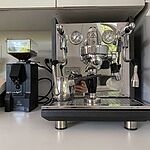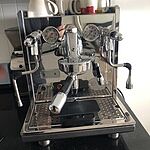 Dream setup achieved!
A big thanks to iDrinkCoffee for allowing me to unexpectedly obtain my dream setup during 2022! First, a great sale on Ceado grinders in the summer, f...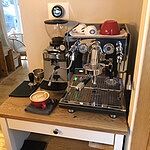 Reviewed on 2/14/2023 by Nicholas B.
Was This Review Helpful?
High quality German engineering
I have had the unit for 3 weeks now am am thoroughly impressed with the build quality and ease of use. I had been looking at the Rocket Giotto for abo...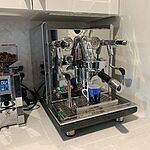 Reviewed on 1/28/2023 by John E.
Was This Review Helpful?
Love it
Awesome machine. I love it.
I got it as I an upgrade of the profitec pro 600. No regrets.
Excellent service of idrinkcoffee.com team.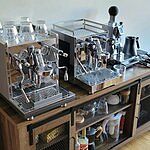 Reviewed on 1/28/2023 by Karim G.
Was This Review Helpful?
Amazing espresso machine
Just upgraded from Breville dual boiler to this amazing ECM Synchronika. The Breville started to have a leaking boiler & nonfunctioning pre-infusi...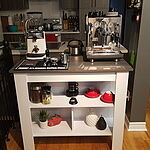 Reviewed on 7/21/2022 by Patrice M.
Was This Review Helpful?
Great looking machine.
Bit of a learning curve coming from a Jura but that's on me and not the machine. Looks awesome in the counter and was easy to plumb in. So far so good...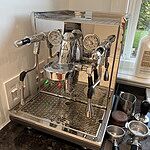 Reviewed on 6/2/2022 by Ryan D.
Was This Review Helpful?
Ecm synchronika
Très heureux vraiment une bonne machine fait un excellent café et très bon service de i drink coffee et Dominique pour avoir répondu à toutes mes ques...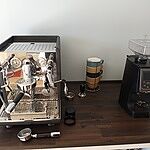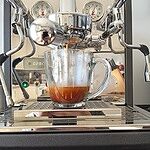 Reviewed on 2/18/2022 by Olivier B.
Was This Review Helpful?
Dream setup!
Purchased my dream setup last week! ECM synchronika in anthracite and a ceado e37s grinder! I honestly couldn't be happier with the setup after the l...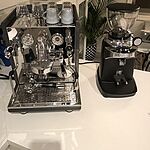 Reviewed on 1/7/2022 by Marc R.
Was This Review Helpful?
This was a machine I
This was a machine I wanted for a long time. The fit and finish is second to none. It produces consistent coffee everytime and I don't need to wo...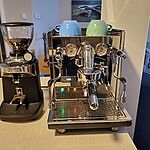 Reviewed on 7/29/2021 by Kory M.
Was This Review Helpful?
What a beautiful machine! The
What a beautiful machine! The quality is obvious straight from unpacking. I bought it as a gift for my husband and he loves it and was able to make co...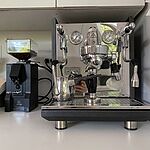 Reviewed on 6/12/2021 by Melissa S.
Was This Review Helpful?
So glad I made this choice!
I love this machine. Temperature stability with the PID is amazing. It looks great and you can tell it's fantastic build quality. The dual boiler...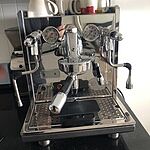 Reviewed on 4/6/2021 by Andrew M.
Was This Review Helpful?