ECM Puristika Espresso Machine - Cream
ECM-PUR-C
ECM Puristika Espresso Machine - Cream
See More by ECM
Earn

6717

Reward Points worth

CA$67.17

!
Free Shipping
Ships Today if you order in 1 hours and 43 minutes
Premium Care
Free additional warranty benefits
Quality First
This item is covered by our Premium Care Program.
Here is the ECM Puristika - a fusion of contemporary elegance and exceptional German engineering poised to become your new kitchen's crowning glory.
To capture the true essence of espresso mastery, this state-of-the-art creation expertly combines precision and space-saving design. With its PID-controlled single boiler, iconic E61 grouphead, and stunning external glass water tank, the Puristika consistently delivers sublime, velvety espresso shots that transport you to a charming Italian café.
The Puristika is the quintessential espresso machine for the discerning espresso aficionado who demands nothing but perfection in every detail, without compromising on aesthetics or functionality.
Description
Overview
A shining example of ECM's cutting-edge innovation, the Puristika seamlessly combines eye-catching design and German engineering precision. This new addition to ECM's lineup allows you to extract espresso with temperature precision, and also affords you the ability to adjust pressure without occupying too much space.

Each ECM machine, including the Puristika, is a testament to their dedication to fine craftsmanship, with every detail meticulously considered. These machines are crafted for the espresso enthusiast with the utmost care and quality.

The Puristika's unique features include a vibratory pump for a smaller footprint and a stunning external glass water tank for space flexibility. Additionally, it is equipped with a dial that controls the expansion valve. This allows the maximum pressure exerted on the espresso puck to be set, ensuring no detail is overlooked.

Equipped with a single boiler and a PID for espresso precision, the Puristika simplifies espresso shot replication. Its PID also doubles as a shot timer. Designed exclusively for pulling espresso shots, this machine boasts a speedy heat-up time for an e61 grouphead, providing you with the tools to create professional-quality drinks without sacrificing counter space.
Key Features:

0.75L Single Boiler
Commercial E61 Grouphead
Vibratory Pump
Adjustable expansion valve
External glass water tank
PID that doubles as a shot timer.
Exceptional German Engineering
Features
PID controls that allows for Precise temperature control of the single boiler for this machine.
An E61 grouphead which is an universally used grouphead.
Beautifully balanced and weighted portafilter.
4 inches of cup clearance to fit most traditionally shaped ceramic cups.
A cup warmer on top of the machine to preheat cups so the cups keep your drinks warm.
Externally accessed expansion valve to customize the maximum pressure
Frequently asked questions
(3)
What's Inside The Box
Slim double spout portafilter
Single, double and blind basket
Metal tamper
Cleaning brush
Glass water tank with lid
2 connection hoses
1 connection cable
Silicone hose
Detailed manual
Warranty
Warranty: 2 years of parts and labour
Who provides the warranty for this product?: iDrinkCoffee.com is an authorized service centre for ECM
Premium Care Eligible: Yes! - This product includes our amazing Very Important Machine Service. Should your product require service during the warranty period we will pay for the shipping charges to ship the product to us. We will issue you a prepaid label and arrange for a courier to collect the package. Your machine will then be repaired by our skilled technicians and returned to you at our cost. With our Premium Care program your machine also gets priority service for the repair. All we ask is that you keep the original packaging material for safe transport.*

* Click here to get full details of the Premium Care program
Specifications
Tech specs and other details
Questions & Answers
Customer Reviews
(13)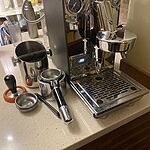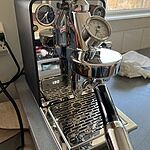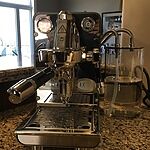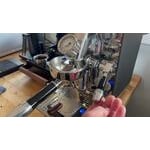 New travel machine!
This is my new travel machine - it works great, and is much smaller than full boiler / heat exchanger machines. I froth milk in a separate frother so ...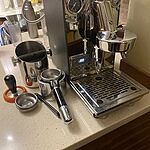 Reviewed on 3/27/2023 by Matt Y.
Was This Review Helpful?
Incredible Machine, Great Service!
Being an espresso only family, the Puristika fit the bill. Incredible espresso, quiet operation, beautiful machine. Makes the morning even better. An...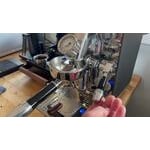 Reviewed on 5/22/2022 by Trevor N.
Was This Review Helpful?
Only 3 weeks in…
Arrived at my door on March 25, 2022, so this is a very early review. It is a beautiful and solid (heavy) machine. But there is a steep learning curve...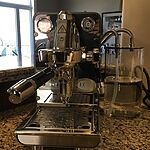 Reviewed on 4/16/2022 by Iain M.
Was This Review Helpful?
Beautiful, strong and warm.
Beautiful aesthetic and I am now THE FASTEST SHOT PULLER around. Designed with incredible detail and built like a tank. A very short learning curve to...
Reviewed on 7/15/2023 by Marc M.
Was This Review Helpful?
Just Wow!
Have to say, this Cream Puristika in incredibly beautiful to look at. Looks way better in person than in photos. I honestly can't stop looking at...
Reviewed on 3/29/2023 by Scott G.
Was This Review Helpful?
Merveilleuse machine
C'est ma première ECM. J'adore la grosseur minimale. J'adore la qualité de finisson. J'adore mon espresso du matin avec cette ECM....
Reviewed on 8/31/2023 by Louy
Was This Review Helpful?
ECM Puristika
Great machine that does what i want, quality espresso. The visible external water tank, PID temperature, shot timer, pressure regulator .... are perfe...
Reviewed on 5/25/2023 by Paul R.
Was This Review Helpful?
Great machine for espressos
Very happy with the purchase. Set-up and start-up were very easy. Instructions are clear. Adjusting coffee grind to get a good extraction was fairly s...
Reviewed on 2/14/2023 by Henri M.
Was This Review Helpful?
Great Puristika
E61 group, PID, small footprint, easy adjustment of brew pressure, well-built, sturdy and easy to use. The Puristika makes great espresso shots and lo...
Reviewed on 11/7/2022 by Serge R.
Was This Review Helpful?
Real neat machine. Im happy
Real neat machine. Im happy
Reviewed on 9/17/2022 by joel c.
Was This Review Helpful?