Breville The Oracle Touch BES990 Espresso Machine - Black Stainless Steel
SA-BRE-BES990-BSS
Breville The Oracle Touch BES990 Espresso Machine - Black Stainless Steel
See More by Breville
Earn

12900

Reward Points worth

CA$129.00

!
Free Shipping
Ships Today if you order in 0 hours and 14 minutes
Quality First
This item is covered by our satisfaction guarantee.
Buy this machine before Dec 31st and get a free barista kit as a bonus! To redeem your gift, visit https://www.breville.ca/redeem after your purchase.

Description
Overview
Until now you have been asked to choose between a manual and an automatic.
The Oracle Touch is the worlds first automatic manual espresso machine that brings true cafe quality to your home without the barista. The Oracle has automatic grinding, dosing, tamping and milk texturing, automating the two most difficult parts of manual espresso.
The hands free automatic grind, dose and tamp works with the integrated conical burr grinder to deliver the required amount of coffee, mess free, into the filter basket. The automatic milk texturing then textures milk to the selected temperature and style, from silky smooth latte (less texture) to creamy cappuccino (more texture). Finally, the innovative One Touch Americano feature delivers a double espresso, then separately through a dedicated spout, fills the cup with hot water, the same way as any good cafe.
At the heart of the Oracle are its dual stainless steel boilers and patent pending triple heat system. The Oracle has a dedicated espresso boiler with PID technology to extract the espresso shot to within +/- 2F (1C) of the selected temperature. The Oracle also has a dedicated steam boiler to deliver instant and continuous steam on demand. You can extract espresso and texture milk simultaneously, allowing you to capture the delicate aromatics of the espresso in your coffee by having the espresso and milk ready at the same time.
The Oracle also features an Over Pressure Valve (OPV). This commercial feature limits the maximum pressure throughout the extraction, helping to prevent bitter flavors in the shot. It also has true low pressure pre-infusion, which gradually increases the pressure to gently expand the grinds for an even extraction.
The Oracle provides the taste benefits of a manual with the simplicity of an automatic.
Automated, touch screen operation simplifies how to make your favourite cafe coffee in three easy steps - grind, brew and milk. You can easily adjust the coffee strength, milk texture or temperature to suit your taste. Then save it with your own unique name. Create and save up to 8 personalised coffees.
Please note that we cannot ship Breville products to the United States
Features
Auto Grind Dose and Tamp
Automatically grind, dose and tamp coffee in the portafilter for a consistent and precise amount every time... mess free.
Low Pressure Pre-Infusion
Low pressure pre-infusion gently delivers water pressure at between 2 to 4 bar to allow the coffee grinds to expand prior to extraction at the optimal full pressure of 9 bar. This enhances the release of the delicate oils to produce a balanced espresso. This pressure and its duration is user programmable.
Hands Free Milk Texturing
From silky latte to creamy cappuccino. Automatically textures milk to the selected style and temperature at the touch of a lever.
PID Temperature Control
Delivers precise water temperature (+/- 1 C) to the coffee puck for more consistent flavours in your cup.
Conical Burr Grinder
After grinding coffee beans, the delicate oils and aromatics found in coffee begin to dissipate immediately. A built-in grinder allows beans to espresso in under a minute, helping to capture the full flavour of the bean in your cup.
Over Pressure Valve
Commercial style feature to limit maximum extraction pressure to 9 bar for optimal espresso flavour.
What's Inside The Box
Double Portafilter
Cleaning Kit
Milk Jug
Water Filter
Detailed Manual
Water Hardness Test

Warranty
Warranty: 2 years
Who provides the warranty for this product?: The warranty for this product is provided directly by Breville.
Specifications
Tech specs and other details
Accessories Included
Double Portafilter, Tamper, Cleaning Kit, Milk Jug, Water Filter, Detailed Manual, Water Hardness Test
Questions & Answers
Customer Reviews
(44)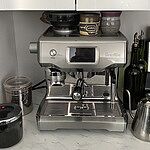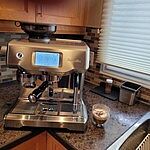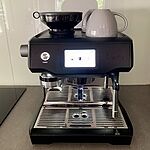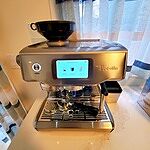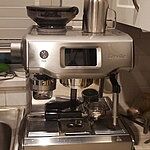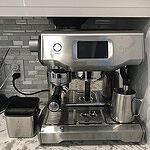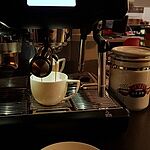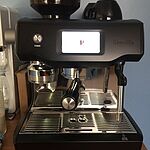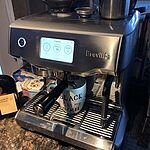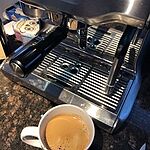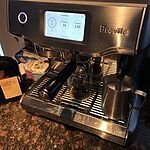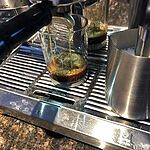 Just what I was looking
Just what I was looking for some of the best coffee I have had in years, no more driving around town to find a latte, have it right at home keeps me h...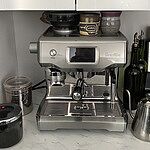 Reviewed on 4/27/2023 by Gordon S.
Was This Review Helpful?
Absolutely Amazing
Excellent machine, I love the Breville's Oracle touch machine, it makes nice hot coffees. While it takes a few minutes to heat up, it is easy to set u...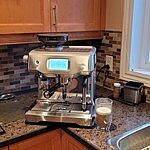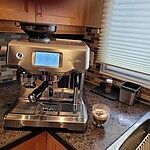 Reviewed on 1/1/2022 by thérèse k.
Was This Review Helpful?
Wow!
Best espresso ever!

Coffee is soooo good…

Shipped fast, well packed.

Thank you so much for such a pleasant buying experience!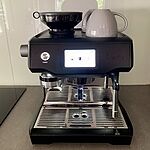 Reviewed on 7/17/2021 by Frederic C.
Was This Review Helpful?
Happy new year everyone! Excellent
Happy new year everyone! Excellent customer service from idrinkcoffee, best machine to make easy espresso! Def gonna purchase coffee subscription from...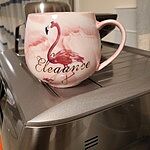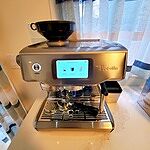 Reviewed on 1/1/2021 by Jeff H.
Was This Review Helpful?
Amazing!
Loving our new Breville Oracle Touch. We previously had the breville barista express so having a machine that automatically does everything perfectly ...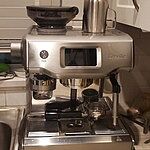 Reviewed on 12/6/2020 by Carmelita M.
Was This Review Helpful?
Very good
After some time was spent dialling in the grind/brew time settings it produces great shots and the auto steam wand is very good. Overall quality of th...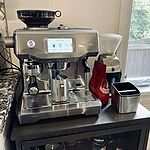 Reviewed on 10/11/2020 by Spencer H.
Was This Review Helpful?
Great machine
Really enjoying the coffee this machine produces. We are new to making espresso drinks at home. This machine makes it really easy. The only issue we h...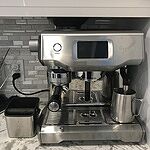 Reviewed on 5/15/2020 by Kristen R.
Was This Review Helpful?
Birthday Gift
I decided to replace my old espresso machine (not a Breville) after 12 years of good service. It took me a few days to adjust the machine to my taste....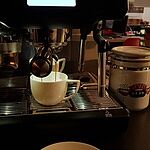 Reviewed on 5/7/2020 by Michel L.
Was This Review Helpful?
Breville Oracle Touch
The machine is fantastic. This is my first espresso machine and it's everything i thought it would be. Makes great espresso drinks. Customer serv...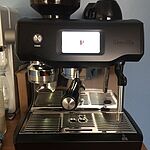 Reviewed on 5/6/2020 by Orlton L.
Was This Review Helpful?
Life is Too short to drink bad Coffee
What an amazing machine I love Americano's Or as I call my perfect one a Craigicano and having the machine pour the right amount of water after the sh...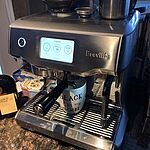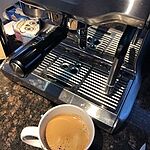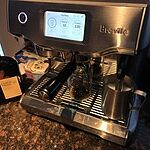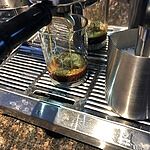 Reviewed on 12/8/2019 by Craig M.
Was This Review Helpful?