Breville The Dual Boiler BES920 Espresso Machine
SA-BRE-BES920-B5
Breville The Dual Boiler BES920 Espresso Machine
See More by Breville
Earn

7200

Reward Points worth

CA$72.00

!
Free Shipping
Ships Today if you order in 9 hours and 5 minutes
Quality First
This item is covered by our satisfaction guarantee.
Description
Overview
Began their journey in 1932, Australia-based Breville is highly admired worldwide for its innovative household products. The company launched its first espresso machine - ESP10 for domestic consumers in 2001. In 2004, the Breville launched ESP8XL in the United States and the company has been serving the coffee lovers with top-notch coffee since then. 
Espresso perfection, requires precision temperature and pressure control, consistently, every time. At the heart of this machine is it's Dual Stainless Steel Boiler heating system. The brew boiler, for the espresso shot, extracts to within 1'C and a separate steam boiler, which offers instant and powerful steam on demand. So you can extract your shot, at the right temperature, delivering optimal flavor and steam your milk to cafe quality, at the same time. What's more, there is another element in the group head, ensuring the entire system offers a consistent temperature.
The Dual Boiler also features an Over Pressure Valve, which comes standard on almost all commercial cafe machines. This commercial feature limits the maximum pressure throughout the extraction to 9 bar, preventing bitter flavors in the shot. It also offers a true low pressure pre-infusion, which gradually increases the pressure to gently expand the grinds for an even extraction.
But there's much, much, more to this machine for the coffee geek. Brew temperature and pre-infusion pressure and duration are all programmable. But at the same time we kept it simple, with a quick heat up, front fill water tank and programmable dose. And a shot clock and pressure gauge to help you improve your barista skills over time.
All you'll need are some freshly ground beans and a bit of practice to rival the best cafe.
FEATURES

Dual Boiler
Separate boilers for steam production and for espresso production. Not only can you perform both functions simultaneously, but you have full control over the temperature of each boiler. Boilers are made of stainless steel.
Advanced PID
The Breville Dual Boilers' PID (Proportional, Integral, Derivative) is an advanced and sophisticated device which allows you to control temperature of the group/brew boiler and the steam boiler.
Pulse Pre-Infusion
The 15 bar pump initially pulses to expand the grinds prior to extraction. Providing a more balanced espresso shot.
Programmable Features
What differentiate the BES920XL from the rest, is a full array of handy features that are easy to program. Most important of them are: shot length and temperature, auto-start timer, pre-infusion length and water hardness.
Easy Descaling
Finally, the BES920XL is fully capable of being descaled by a user. Just simply select the "Descale" feature and follow the manual. It is quick, effective and extens the lifespan of the machine.
Extended Warranty
Breville the Dual Boiler BES920XL comes with a 2-year warranty for your piece of mind. It is worth mentioning that iDrinkCoffee.com is an authorized Breville Repair Centre.
This is the newest version for 2014 which is now the 920XL. The updates over the BES900 are the ability to descale at home, the ability to control steam temperature to increase or decrease steam pressure and an improved 2 year warranty.


Please note that we cannot ship Breville products outside of Canada
Features
LCD Display
Allows easy programming and has a shot clock for timing the extracti
Flexible Shot Control
Choose between one shot, two shots or manual control over how much espresso ends up in your cup for the perfect dose every time.
Micro-Foam Milk Texturing
Steam wand, powered by a dedicated boiler, delivers micro-foam texture of commercial machines that enhances flavor and is essential for creating latte art.
Precise and Repeatable Extraction
Dual stainless steel boilers and heated group head controlled by digital temperature control (PID) brings water to precisely the right temperature (+/- 2⁰F) to extract maximum flavor potential, shot after shot.
What's Inside The Box
Stainless steel milk jug

1 CUP & 2 CUP single wall filter baskets


1 CUP & 2 CUP dual wall filter baskets

Cleaning disc

The Razor™ precision dose trimming tool

Water hardness test strip

Espresso cleaning tablets

Cleaning tool for steam wand tip

Allen key
Questions & Answers
Customer Reviews
(103)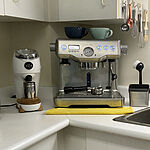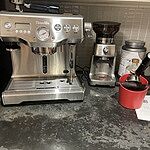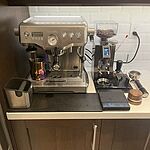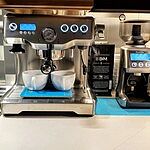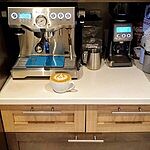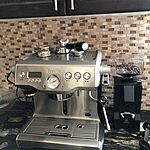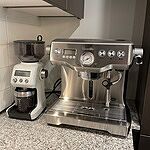 Great machine!
Great machine. Purchase price was $1900. Sales seem to happen often. I do wish it was easier to adjust the pressure release spring as mine is 10 bar f...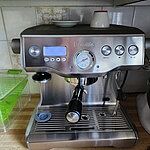 Reviewed on 6/27/2023 by Thomas R.
Was This Review Helpful?
Great next-step up from Infuser
Upgraded from the Breville Infuser. I don't think I would appreciate the higher end machines as much later if I skipped this step. The water level vi...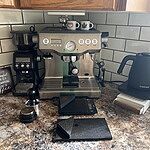 Reviewed on 5/27/2023 by Duane B.
Was This Review Helpful?
The Breville Dual Boiler is Future Loaded.
I bought the Breville Dual Boiler on line from iDrink Coffee December 21/22.It arrived at my door on Dec.22/22.I traded up from my previous purchase o...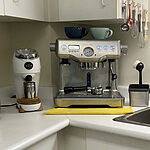 Reviewed on 1/1/2023 by Herman R.
Was This Review Helpful?
I bought the new dual
I bought the new dual boiler to replace our older dual boiler. Our first machine was fantastic. Lasted us for almost seven (7) years with only one ser...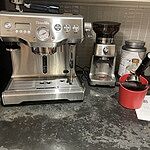 Reviewed on 7/25/2022 by David K.
Was This Review Helpful?
Great!
Loving the machine so far, took many peoples advice and paired this unit with a eureka mignon specialata, big upgrade from my superautomatic.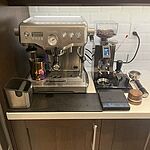 Reviewed on 1/14/2022 by Chris S.
Was This Review Helpful?
Excellent Machine
Excellent machine with great temperature stability. Add in the countless features and programmability and it's certainly unparalleled in value. Addi...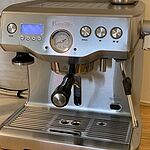 Reviewed on 12/22/2021 by Terence L.
Was This Review Helpful?
Amazing so far !
I was using the Breville Infuser before and now the BDB and I like the instant steaming, the ability to pull a shot while frothing milk, the 3-holes s...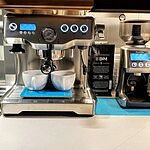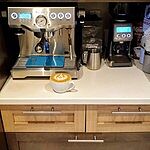 Reviewed on 10/30/2021 by Jocelyn R.
Was This Review Helpful?
Great machine
I like this machine. Very easy to operate. Lots of features to customize volume, temperature. Can operate in manual and automatic mode. I am getting g...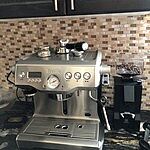 Reviewed on 10/11/2021 by Dimitry S.
Was This Review Helpful?
Superb Technology, Hard to Beat!
Superb temperature stability, quick warm up time (10 minutes), power-on timer, excellent user experience, very easy to dial in quickly. Saturated grou...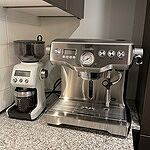 Reviewed on 10/7/2021 by Sam P.
Was This Review Helpful?
Great value for money
What a great machine. I looked at other Dual Boilers and this is by far the cheapest with loads of features. You can't go wrong with this machine...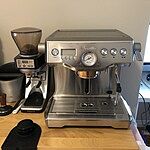 Reviewed on 9/2/2021 by Matt Z.
Was This Review Helpful?