Bottomless (Naked) Portafilter for Bezzera Strega - 58mm
ACC-PORT-BEZST-BL
Bottomless (Naked) Portafilter for Bezzera Strega - 58mm
Earn

330

Reward Points worth

CA$3.30

!
Free Shipping
Ships Today if you order in 1 hours and 49 minutes
Return Policy
This item is an accessory and is subject to our return policy with a restocking fee
Description
Overview
The Bottomless (Naked) Portafilter is a must-have tool, if you want to watch perfection of coffee extraction at its best. A bottomless portafilter clearly exhibits how the extraction is progressing, so that you could make required changes on time to achieve the perfect extraction. This equipment is simply marvelous for training purpose since you can easily notice if channeling occurs - a sign of uneven tamping or grind levels. Its excellent for pulling a perfect shot of espresso every time. This chrome-plated 58mm portafilter can be used with a single, double or triple shot basket.
Basket is not included.
Compatible with
: All Bezzera Lever Machines including Strega, B2006AL etc.
Questions & Answers
Customer Reviews
(4)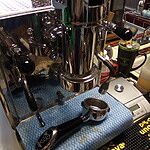 Strega machine and portafilter
Thanks for everything. The bottomless portafilter is great as is the Bezzera Strega espresso machine that I just got from you as well. The only proble...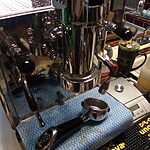 Reviewed on 8/16/2019 by Brian C.
Was This Review Helpful?
Love my new bottomless portafilter!
Love my new bottomless portafilter!
Reviewed on 3/31/2023 by miroslaw w.
Was This Review Helpful?
Satisfied as expected!
Bezzera quality as usual. Exactly match original portafilter style. Super happy to have more room to install a weight scale under my cups. And I mus...
Reviewed on 1/1/2021 by Nathalie B.
Was This Review Helpful?
Thank you
Great product and easy transaction
Reviewed on 8/31/2019 by Keith N.
Was This Review Helpful?