Bezzera Unica Espresso Machine w/ PID
BEZ-UNICA
Bezzera Unica Espresso Machine w/ PID
See More by Bezzera
Earn

5847

Reward Points worth

CA$58.47

!
Free Shipping
Ships Today if you order in 8 hours and 58 minutes
Premium Care
Free additional warranty benefits
Quality First
This item is covered by our Premium Care Program.
Each morning has its own unique origin story. Just like a fingerprint, even with the same person, same hand, each one is going to leave its own mark with ink and paper.
Espresso has distinct characteristics. From the rich and full mouthfeel, to those sweet intense tangy notes, no two shots are going to ever be the same. That's the beauty and charm of coffee.
Milk can turn espresso into something extraordinary. It can tone down some of the intensity, and it can bring out some truly special depths of sweetness.
Let the Unica be the vehicle as your palate is your guide through the world of coffee.
Description
Overview
The Unica continues to unite classic Italian design with modern innovations. Further building on Bezzera's mission for creating divine espresso, its modest single boiler allows for a fast heat up time so you will be pulling shots in no time.
Luigi Bezzera is the original creator of Espresso. Invented in 1901, it wasn't until 1906 that the original espresso machine was shown in a public setting at the Milan International Fair. Now 4 generations later, Bezzera still continues to innovate on what was created over 100 years ago with modern designs for the modern home.

Premium features can be seen in all parts of the machine. Its PID allows for precise temperature control, and the joystick controls that Bezzera is so incredibly fond of allows you to harness your machine's steam boiler easily. This machine has continued to keep classic designs while bringing them into a modern light.

If you're someone who enjoys precision, the Unica is a machine that will give you professional quality drinks. It's large water tank means you won't need to spend a lot of time refilling your machine. The single boiler is going to provide the ability to precisely extract your espresso at the correct temperature. It will easily swap between being ready for espresso and steaming milk, and you will know since it's equipped with a visible PID.
Key Features:

0.5L Single Boiler
Commercial E61 Grouphead
Vibratory Pump
Joystick control
PID temperature control
Traditional Italian design
Features
A modest copper single boiler for a faster heat up time while being incredibly thermal stable.
The E61 Grouphead is a staple in the espresso community that will provide temperature stability with the opportunity to grow with your machine.
The Unica uses a vibratory pump, which allows for a smaller internal footprint and easier replacement.
The Bezzera Unica uses a PID which will accurately heat up the boiler to the desired steam temperature.
Joystick controls for the steam wand allows you to go immediately from 0 to 100 in terms of power.
Frequently asked questions
(2)
What's Inside The Box
Single and Double Portafilter,
Plastic Tamper,
Blind Basket,
Grouphead Brush,
Detailed Manual
Warranty
Warranty: 2 years of parts and labour
Who provides the warranty for this product?: iDrinkCoffee.com is an authorized service centre for Bezzera
Premium Care Eligible: Yes! - This product includes our amazing Very Important Machine Service. Should your product require service during the warranty period we will pay for the shipping charges to ship the product to us. We will issue you a prepaid label and arrange for a courier to collect the package. Your machine will then be repaired by our skilled technicians and returned to you at our cost. With our Premium Care program your machine also gets priority service for the repair. All we ask is that you keep the original packaging material for safe transport.*

* Click here to get full details of the Premium Care program
Specifications
Tech specs and other details
Questions & Answers
Customer Reviews
(11)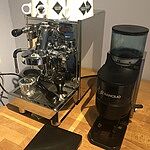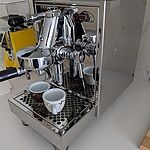 First of all it's a
First of all it's a great looking machine. Steam is also powerful. So the milk heats up in few seconds. Have to learn how to froth properly though. Bu...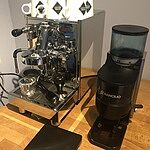 Reviewed on 8/4/2021 by Ron B.
Was This Review Helpful?
Amazing Machine
Amazing machine. I have been using this machine for 3 weeks now and it makes consistently great espresso. It is the best value for a machine that come...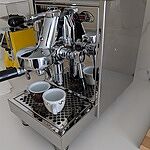 Reviewed on 4/19/2021 by Anthony I.
Was This Review Helpful?
Works great!
Looks great and works great. If you're a fan of a more tactile experience when making espresso this is probably the machine for you if your ok with si...
Reviewed on 1/2/2022 by Stephen C.
Was This Review Helpful?
Amazing quality in fit and
Amazing quality in fit and finish. Amazing steaming quality.. what a machine!
Reviewed on 5/7/2021 by David R.
Was This Review Helpful?
Vraiment content de mon achat,
Vraiment content de mon achat, super machine avec un super look et chaque matin, j'apprécie mes deux double expresso qui sont de même intensité à...
Reviewed on 4/30/2021 by Jean T.
Was This Review Helpful?
Wow! Absolutely love it!
Wonderful machine. Exceptional quality construction. I highly recommend it. Perfect true espresso shot every time. Powerful steam. Single boiler per...
Reviewed on 4/17/2021 by Thomas P.
Was This Review Helpful?
Stream outputs pretty constant and
Stream outputs pretty constant and stable. I can froth milk as a pro easily.
Reviewed on 4/16/2021 by George L.
Was This Review Helpful?
Great. Feel like a pro.
Reviewed on 4/13/2021 by Michael L.
Was This Review Helpful?
Powerful, fast and built to last.
I am primarily an espresso drinker, so a single boiler is perfect for me. I also wanted a PID and E61 group, so it came down to this model, ECM Classi...
Reviewed on 3/25/2021 by Tyler R.
Was This Review Helpful?
Awesome machine!
We were going to purchase the Rocket Appartamento but after careful review realized we did not need a heat exchanger because we mainly drink an americ...
Reviewed on 1/26/2021 by Michael E.
Was This Review Helpful?