Stojo Collapsible Pocket Cup - White/Dove
STO-CPC-2WD
Stojo Collapsible Pocket Cup - White/Dove
See More by Stojo
Earn

60

Reward Points worth

CA$0.60

!
Return Policy
This product is in the Glassware & Pitchers category and is not subject to our return policy.
Description
Overview
The simple way to reduce disposables
A revolutionary design that combines flexible, food-grade silicone and food-safe, recycled materials, resulting in a cup that's collapsible and reusable for drinking on the go.
Equipped with a convenient heat sleeve and leak-proof lid with stopper.
Cleverly collapses from a height of 14cm down into a 5cm leakproof disk, making it ultra-portable to fit into any pocket, purse, glove compartment or backpack.
BPA FREE. LEAD FREE. Contains no phthalates or glues. Microwave and dishwasher safe.
Specifications
Tech specs and other details
Questions & Answers
Customer Reviews
(6)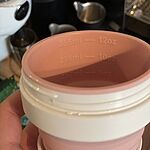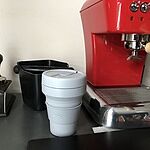 Great for coffee on the go
Love using this cup when I need to take a coffee on the go. It's not the best at retaining heat but it being collapsible is a huge plus. Also it's got...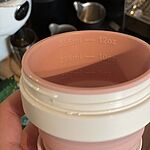 Reviewed on 11/8/2022 by Nicholaas M.
Was This Review Helpful?
Stojo
Excellent little cup, convenient and easy to carry. Environmentally friendly. I keep it handy in my laptop bag.
Reviewed on 3/28/2020 by Minesh C.
Was This Review Helpful?
Amazing
The cup works as intended. Nothing to complain about 5 stars.
Reviewed on 6/26/2023 by Jason
Was This Review Helpful?
Great for travel and in car
I use this every time I have to drive to my office. The cupholder in my commuter car is quite restrictive in what it allows with regards to width and ...
Reviewed on 11/11/2022 by Dennis W.
Was This Review Helpful?
Cute
Reviewed on 4/27/2020 by Nana M.
Was This Review Helpful?
Exactly the product I was looking for!
This is exactly what I've been looking for! Perfect size to keep in my bag so I don't have the use a single use cup if the urge for coffee s...
Reviewed on 11/25/2019 by François
Was This Review Helpful?