Mazzer Super Jolly V Pro Grinder - Black
MAZ-SJ-VPRO-B
Mazzer Super Jolly V Pro Grinder - Black
See More by Mazzer
Earn

5985

Reward Points worth

CA$59.85

!
Free Shipping
Ships Tomorrow if you order in 23 hours and 48 minutes
Return Policy
This is a commercial product and not subject to our return policy.
Conventional design meets modernized features with the Mazzer Super Jolly V Pro. From its classic aesthetics with the doser funnel, the Super Jolly V Pro is eye-catching with its iconic silhouette.
Modern features such as the digital interface for easily repeatable shots makes this an easy-to-use grinder both at home and in the cafe.
Description
Overview
Reinventing the most iconic product a company carries is an incredibly daunting task. Mazzer manages to successfully achieve this with the introduction of the Super Jolly V Pro. Efficiently grinding beautiful, fluffy grinds directly into the portafilter means espresso is faster to prep for extraction with no sacrifice to quality.
Mazzer started as a precision machine company under a different name until 1948 when there was the shift over to espresso grinders. Fronted by Luigi Mazzer, he would come to innovate espresso grinders for years to come. Heading the company until 1988, Giovanni Mazzer, his son, would take the reins and make Mazzer a commercial name.

The Super Jolly V Pro is a revitalized interpretation of Mazzer's most iconic grinder. Created in honour of Venice's 1600th birthday, the body of the Super Jolly has been filled with premium parts that have been engineered to improve each espresso shot. From improved burrs to be 20% more efficient to the touch screen rotating off if you need to clean out the doser funnel instead of being pulled off, no details have been overlooked.

Mazzer is constantly striving to innovate and improve upon its grinders. With their hands-on every step of the construction and parts, perfection is the only thing they strive for. The super jolly v pro truly displays this feat with no small details being unaddressed and ultimately being a noteworthy upgrade to its predecessor. Perfect for medium commercial use.

Features
Protect your coffee beans from temperature exposure and preserve your bean's fresh roasted flavor with the double fan cooling system.
Uniform coffee grounds and consistent dosing to keep consistent results.
64mm flat burrs have been re-engineered to speed up the dosing time by 20%. 100% made in Italy by Mazzer.
GFC Reduces the electrostatic charge which causes the coffee powder on tray and counter and prevents clumping.
93% of the grinder weight comes from premium materials like stainless steel, aluminum, brass, and copper, to make it not only durable but also easy to recycle and eco-friendly.
Low retention grinder to save time and coffee each time you change your settings.
Frequently asked questions
(3)
What's Inside The Box
User Manual
1.1Kg hopper
Grinds catching tray
Warranty
Warranty: 1 year of parts and labour
Who provides the warranty for this product?: iDrinkCoffee.com is an authorized service centre for Mazzer
Specifications
Tech specs and other details
Questions & Answers
Customer Reviews
(1)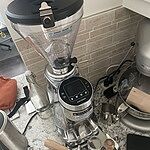 Great Grinder
Great grinder with new digital update. Retention is not bad and it works like a machine!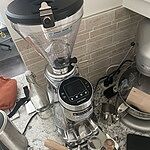 Reviewed on 1/27/2022 by Hyun-Joon K.
Was This Review Helpful?