Lelit Mara X PL62X Espresso Machine - v2 (2022)
SA-LEL-MARAX-22
Lelit Mara X PL62X Espresso Machine - v2 (2022)
See More by Lelit
Earn

7185

Reward Points worth

CA$71.85

!
Description
Overview
The Lelit Mara X is a compact and powerful heat exchange espresso machine for your home. With dual PIDs to monitor the temperature in both the steam boiler and the heat exchanger, the Mara X offers espresso extraction a cut above the competition. Italian manufacturing and advanced technology make this small and mighty home espresso machine capable of impressing even the most discerning coffee drinker.
Lelit espresso machines are 'Made for Performance.' They've been manufacturing machines since 2002, with a focus on delivering high-quality products without breaking the bank. Every Lelit model will surprise you with the extra features and attention to detail they bring to each machine.
The Mara X combines a heat exchange boiler system, E61 grouphead, and dual PIDs to deliver incredible milk-based drinks like lattes and cappuccinos and quality espresso shots with a temperature-controlled coffee system that rivals even dual boiler machines.
The E61 grouphead is the gold standard for delivering espresso at home. This machine's heat exchange boiler system allows you to steam milk while brewing your espresso for speedier cappuccinos and lattes. The Mara X improves the design by implementing two PIDs: one on the steam boiler and the other on the heat exchanger. Unlike other HX machines, the Mara can adjust the temperature based on the reading in the heat exchanger, getting closer to precision than a dual boiler system.
Key Features
The Lelit Mara X combines the features below to provide you with cafe-quality milk drinks and espresso shots.
A heat exchange boiler system with advanced PIDs means you can steam milk and pull espresso simultaneously, plus benefit from a unique design that implements better temperature stability than a typical HX machine.
The E61 Grouphead is a commercial standard that provides perfect temperature stability and an almost indefinite service life.
The Mara uses a vibratory pump that gradually builds to full pressure, helping pre-infuse your espresso shots.
The Mara X uses two PIDs, one on the steam boiler and one on the heat exchange. You can choose which of these two PIDs is active, putting the machine into steam priority mode (like every other HX machine) or coffee priority mode (unique to the Mara X). Coffee priority mode provides temperature precision, usually only available with a dual boiler system.
New in the 2022 version: 
The OPV hose has been redirected and incorporated into the hoses for the water tank and pump. As a result, water will be released into the drip tray less frequently.
Note
: we cannot ship Lelit products to the United States
Features
Stainless Steel heat exchange boiler.
Dual PID temperature control offers the ability to choose between steam and coffee priority.
The Lelit portafilter has a unique design featuring a gradual inclination, a long spout, and several open areas carefully calibrated for optimal performance.
The E61 grouphead offers optimal temperature performance at the group. It is the gold standard for prosumer espresso.
Choose between warm, hot, or extra hot extraction temperatures.
Monitor both pump pressure and steam pressure with the dual gauge system.
The Mara X comes equipped with an ECO mode to save power when the machine is idling between morning and afternoon coffees.
Frequently asked questions
(3)
What's Inside The Box
Double spout portafilter & double shot basket
Stainless steel tamper with red handle
Cup raiser
Blind basket for backflushing
User Manual
Warranty
Warranty: 2 years of parts and labour
Who provides the warranty for this product?: iDrinkCoffee.com is an authorized service centre for Lelit
Premium Care Eligible: Yes! - This product includes our amazing Very Important Machine Service. Should your product require service during the warranty period we will pay for the shipping charges to ship the product to us. We will issue you a prepaid label and arrange for a courier to collect the package. Your machine will then be repaired by our skilled technicians and returned to you at our cost. With our Premium Care program your machine also gets priority service for the repair. All we ask is that you keep the original packaging material for safe transport.*

* Click here to get full details of the Premium Care program
Specifications
Tech specs and other details
Questions & Answers
Customer Reviews
(2)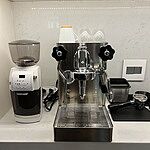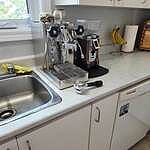 Fantastic Buying Experience, Fantastic Machine, Crappy documentation.
I've had this machine for a couple weeks now. Coming from a Breville Oracle, but I'm no stranger to the more "manual" methods of c...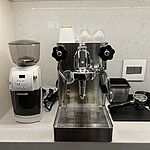 Reviewed on 8/30/2023 by Matthew R.
Was This Review Helpful?
This is the first ever
This is the first ever expresso machine I ever owned. It came VERY well packed, and worked as a charm. An easy to understand machine.
Reviewed on 6/10/2023 by Jimmy M.
Was This Review Helpful?