Jura E8 Version 2 - Piano Black
SPA-JUR-IM-E8
Jura E8 Version 2 - Piano Black
See More by Jura
Earn

8085

Reward Points worth

CA$80.85

!
Free Shipping
Ships Today if you order in 8 hours and 27 minutes
Premium Care
Free additional warranty benefits
Quality First
This item is covered by our Premium Care Program.
For a limited time, get a free starter kit with the purchase of this machine.
Description
Overview
The most successful automatic coffee machine in JURA's history – now even easier to use, with an even greater variety of specialties and an even more sophisticated design.

Whether it's the One-Touch Cappuccino function for drinks such as a latte macchiato, flat white or cappuccino or the Pulse Extraction Process (P.E.P.®) that optimises the extraction time and guarantees the very best aroma for short specialty coffees – fitted with the latest JURA technologies, the new E8 conjures up an impressive range of specialty coffees at the touch of a button.

Buttons on the front of the machine and a modern TFT display make operation incredibly simple. And the integrated maintenance programmes along with the new interchangeable milk spout ensure maximum hygiene.

CLARIS Smart provides pure taste thanks to optimum water quality. Using the filter has never been easier, as the Intelligent Water System (I.W.S.®) automatically detects it.
Please note that we cannot ship Jura products into the United States.
Features
Professional fine foam frother G2
The new professional fine foam frotherG2 is made from the highest-quality materials and has a stunning look and feel. Specially designed for the preparation of speciality coffees with milk and milk foam, it makes latte macchiato and other beverages with the very best fine-textured foam every time and never fails to impress with its particularly intuitive operating concept.
50% more specialties
JURA's most successful coffee machine has been refined even further. The E8 now prepares a total of 12 different specialized drinks at the touch of a button. It now also offers hot water for green tea, special coffee, espresso doppio and espresso macchiato at the touch of a button.
More beautiful than ever
The water tank in premium ridged design accentuates the clear design concept. The tactile qualities of the tank's metal handle convey quality. What's more, the new, chrome-plated cup grille superbly showcases the perfect speciality coffees. And on top all of these features, it's great to look at too!
P.E.P.® for espresso drinks of outstanding barista quality
A number of top innovations ensure that both classics and trend specialities can be created with breathtaking quality: The AromaG3 grinder is now twice as fast, yet preserves all the delicious aroma of the coffee beans. The Pulse Extraction Process (P.E.P.®) ensures the optimum extraction time for a short speciality and delivers a taste explosion for the ristretto and espresso.
Warranty
Warranty: 2 years of parts and labour
Who provides the warranty for this product?: iDrinkCoffee.com is an authorized service centre for Jura
Premium Care Eligible: Yes! - This product includes our amazing Very Important Machine Service. Should your product require service during the warranty period we will pay for the shipping charges to ship the product to us. We will issue you a prepaid label and arrange for a courier to collect the package. Your machine will then be repaired by our skilled technicians and returned to you at our cost. With our Premium Care program your machine also gets priority service for the repair. All we ask is that you keep the original packaging material for safe transport.*

* Click here to get full details of the Premium Care program
Questions & Answers
Customer Reviews
(29)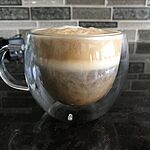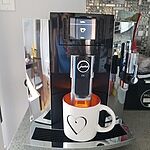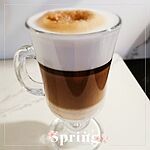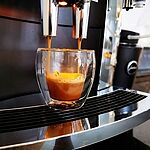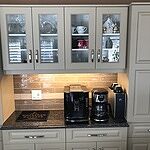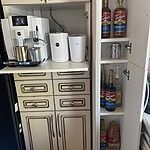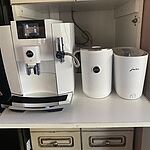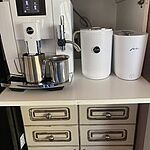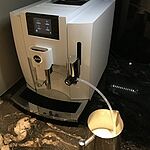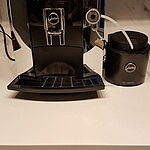 After holding off for many
After holding off for many years after experiencing the quality of some great coffee makers in the various European hotels in which we have stayed ove...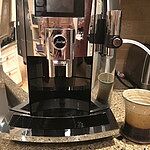 Reviewed on 10/17/2021 by Theo W.
Was This Review Helpful?
Top notch
Quality of the coffee is top notch. One improvement would be clear descriptions of the icons. You don't see the names until you select. That's really ...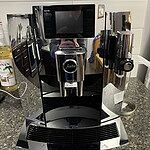 Reviewed on 10/9/2021 by Brad A.
Was This Review Helpful?
A very user friendly machine.
A very user friendly machine. The System is very easy to follow and easy to customize how your like your coffee. The quality of the coffee and present...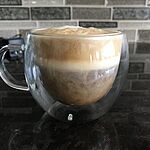 Reviewed on 8/27/2020 by Daniella S.
Was This Review Helpful?
Love this machine! Literally one
Love this machine! Literally one touch system. Easy to clean and maintain. And of course the coffe is delicious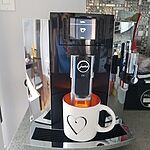 Reviewed on 8/24/2020 by Sonya F.
Was This Review Helpful?
Best quality and save the time
The E8 can save your time everyday, but I recommend add the Jura cooler . Improve the water tank make bigger than better, and the warm milk system no...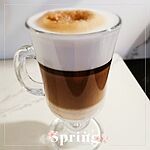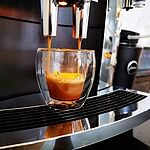 Reviewed on 5/5/2020 by Yanru G.
Was This Review Helpful?
We recently replaced our old
We recently replaced our old Espresso machine and purchased our Jura E8 from I Drink Coffee in Milton. The staff were very helpful and patient with us...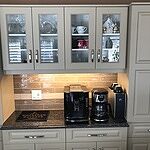 Reviewed on 1/7/2020 by Ron P.
Was This Review Helpful?
Photos to go along with
Photos to go along with my review.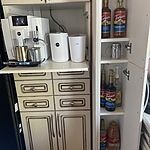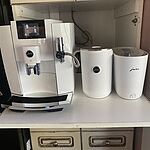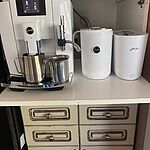 Reviewed on 3/29/2023 by Caroline L.
Was This Review Helpful?
Jura E8. 👍
I bought this unit as a replacement for a super automatic that I had for 13 years and over 36,000 shots. The Jura E8 is a significant upgrade in terms...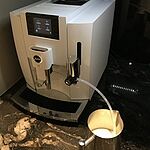 Reviewed on 9/11/2022 by Dan M.
Was This Review Helpful?
Traded in and soo happy
Coming from a gaggia babila sadly the b a Babila door hinge has gave up the fight and decided to go for Jura on the open box sale. I drink coffee even...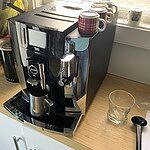 Reviewed on 5/1/2021 by Nart K.
Was This Review Helpful?
Excellent Experience
I bought Jura E8 Chrome plus the Basic Milk Cooler, the price and shipping were the best in Canada.
Highly reommended!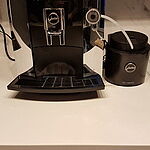 Reviewed on 8/13/2017 by Ibrahim G.
Was This Review Helpful?