Jura Cool Control Basic - 0.6 L / Black
JUR-CC-BAS
Jura Cool Control Basic - 0.6 L / Black
See More by Jura
Earn

1107

Reward Points worth

CA$11.07

!
Free Shipping
Ships Tomorrow if you order in 35 hours and 30 minutes
Premium Care
Free additional warranty benefits
Quality First
This item is covered by our Premium Care Program.
Description
Overview
With the technically and visually upgraded Cool Control, there's now an even better way to enjoy trend specialities with milk. 
The innovative milk cooler not only creates the perfect experience for the palate, but looks stylish too.
Milk cooled to an ideal temperature of 4 °C combined with optimum hygiene provides the perfect basis for preparing a wide range of trendy speciality coffees with milk.
An elegant elongated design, robust materials, high-quality aluminium details and optimum convenience make the Cool Control the perfect accessory for any automatic coffee machine.
Please note that we cannot ship Jura products into the United States.
Questions & Answers
Customer Reviews
(9)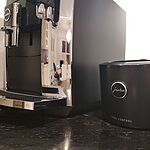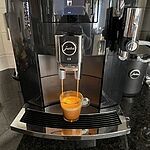 Cooler it's better than cups,
Cooler it's better than cups, and easy keep cooking whole time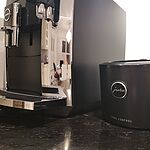 Reviewed on 5/5/2020 by Yanru G.
Was This Review Helpful?
Very easy to use
At first i wasn't sure i needed that cooler, bit this is the best choice a made with my new Jura. Very easy and quick coffee in the morning!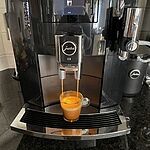 Reviewed on 1/8/2021 by Valerie L.
Was This Review Helpful?
Great Experience as always
I highly recommend IdrinkCoffee, they have always met or exceeded my expectations! So far, I bought 2 Jura's with accessories and introduced the...
Reviewed on 10/22/2021 by Ibrahim G.
Was This Review Helpful?
Great
Reviewed on 7/1/2021 by Yolanta K.
Was This Review Helpful?
Practical
Definitely a nice accessory to any Jura machine. Convenient little unit to allow your milk to be cooled to the correct temperature and make it ready f...
Reviewed on 6/1/2021 by Tashina B.
Was This Review Helpful?
Totally worth it
We were unsure on purchasing the milk control system... it turns out its the best addition to our machine! A must have.
Reviewed on 5/15/2021 by Todd F.
Was This Review Helpful?
Just a tad noisy
I should have tought about that one... It's like a mini fridge so yeah it makes a little noise when cooling.
Reviewed on 12/9/2021 by Nicolas C.
Was This Review Helpful?
1 litre Jura Cool Control Basic
Does a great job of keeping the milk cold. I use it everyday. If I could make a suggestion it would be to put the Blue "On" light on the fro...
Reviewed on 9/18/2018 by Sus
Was This Review Helpful?
Good product, but can be noisy after 2 years...
Will use this one to my office, if it become noisy, it would be less annoying! Very easy to clean, but you need to be careful if an electric shortage ...
Reviewed on 1/8/2018 by Pierre C.
Was This Review Helpful?