Joe Glo Jug - Backflush Detergent - 128oz (3.62 kg)
ACC-JOEGLO-JUG
Joe Glo Jug - Backflush Detergent - 128oz (3.62 kg)
See More by Pallo
Earn

240

Reward Points worth

CA$2.40

!
Free Shipping
Ships Tomorrow if you order in 18 hours and 60 minutes
Return Policy
This item is classified as a consumable and is not subject to our return policy.
Description
Overview
BACKFLUSHING
Joeglo is a premium quality, fast acting, low foam espresso machine backflush detergent. Joeglo completely removes residual coffee oils, odors and flavors from your group heads, lines, and valves. JoeGlo even contains a water softener to help prevent scale buildup. Give Joeglo a try and you'll see why so many top baristas prefer it. 

SOAKING SOLUTION
JoeGlo Backflush and Soaking Detergent is also an amazing multipurpose cleaning solution. Mix one tablespoon of the all mineral JoeGlo detergent in hot water and say goodbye to coffee oils, stains, residue and odors.

Joeglo for cleaning and deodorizing coffee and milk residue on portafilters, screens, shot glasses, glass coffee pots , airpots, thermos', urns, utensils, steam pitchers, milk pitchers, roaster cooling trays, stained coffee mugs, french presses, steam wands.

JoeGlo can also be used for mutipurpose cleaning and deodorizing juicer basket residue, porcelain pans, microwave dishes, glasses, ice tea pots, ice tea pitchers, flatware, metal water bottles, sinks.




Questions & Answers
Customer Reviews
(1)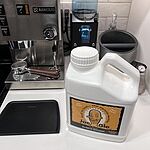 The only backflush detergent you need!
This stuff is excellent! I got the 128oz jug and I think it'll last a lifetime. I run 1 tsp in my machines blind basket weekly for longevity of the ma...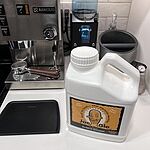 Reviewed on 3/15/2023 by Mitchell M.
Was This Review Helpful?