Overview
The E61 Flow Control Device allows you to adjust the flow of water in your brew group to manually profile your extractions. This custom component is a stainless steel needle valve, which allows the user to vary the amount of water flowing through the group. Variable flow control allows for lengthy pre-infusion for more even saturation and extraction of your espresso.
Similar to ECM's existing mushroom, the flow control device is made from stainless steel to resist corrosion. The resulting changes in pressure are reflected by an included gauge which installs on the front of the group. The E61 Flow Control Device can be installed on any ECM Espresso machine with an E61 brew group.

Included with the Flow Control Device are an ECM styled Pressure Gauge and Spring

Note: The E61 flow control device was designed by ECM/Profitec and is not guaranteed to work when installed in machines made by other manufacturers.
Please note that we cannot ship ECM products into the United States.
Warranty Information
Currently no warranty information for this product. Please contact us for more information.

4.0
4.0 star rating 4 Reviews
Thank you for posting a review!
We value your input. Share your review so everyone else can enjoy it too.
Thank you for posting a review!
Your review was sent successfully and is now waiting for our staff to publish it.
Filter Reviews
Upgrade
Pre Infusion
Installation
Upgrade
Pre Infusion
Installation
5 star rating

4 star rating

3 star rating

2 star rating

1 star rating
ECM Flow Control
Review by Aaron T. on 18 Feb 2020
review stating ECM Flow Control
ECM Flow Control is a nice and easy way to get pre-infusion if your espresso machine is not plumbed in (ie. you are using an internal reservoir). I purchased an ECM Synchronika from idrinkcoffee, and at that time, idrinkcoffee was out of stock of the flow control kit. A few weeks later, the ECM flow control was in stock and I purchased it. I installed the kit myself. Installation is very easy if you want to do it yourself. The spring that comes with the flow control kit is used to replace the spring that goes below the group head (not the spring above the group head). This replacement spring is more robust. When re-assembling parts, be careful not to over tighten anything. Firm, but not too tight. Use electrical tape or some other form of coverage to protect the mushroom head and the other part below the group head from getting scratched from your wrench. Maximum flow (at about 9 bar) should be about 6ml/sec without a porta filter (about 60ml or 60 grams if using a scale when the pump runs for 10 seconds). I tried pre-infusion for between 10 and 20 seconds, followed by a 25 to 30 second shot time (or even longer -- experiment and have fun!). I'm not an expert espresso sipper, but I did notice a difference in flavour with pre-infusion (using the same Datara Farms coffee beans). Profiling is an "art" and is not for everyone. However, the pre-infusion is great if that's all you want to use the flow control for. I pulled shots with 10 second pre-infusion, followed by full 9 bar pressure and then declining pressure to about 2 bar for total time of 50 to 55 seconds with great results. The only nit I have about the ECM flow control is that, depending on the grind setting, I had to turn the knob of the flow control about one and one-half full turns to get full pressure. Not a big deal, as the knob is easy to turn around fully. Note that the flow control may feel a little stiff to turn at first, but after several uses, the feel of the turn becomes more smooth. Enjoy your espresso passion with this wonderful upgrade! If you have any questions, the staff at idrinkcoffee are nice to deal with. If you are within a reasonable drive of the idrinkcoffee store, its worth a visit to their awesome showroom to try out the flow control (it was on display on a Synchronika).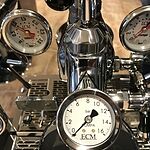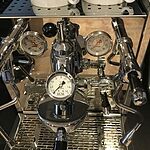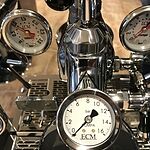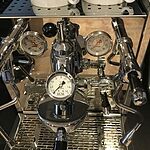 On ECM E61 Flow Control Device
An excellent, worthwhile upgrade to my Synchronika that unlocks further potential
Review by Julian G. on 16 Apr 2020
review stating An excellent, worthwhile upgrade to my Synchronika that unlocks further potential
This is a game-changing device. The FCD allows me to control pressure on my machine to an even more precise extent than the paddle on a La Marzocco GS/3 MP! I can control flow to do an extended, low-pressure preinfusion like a Slayer, or simulate a lever machine's profile. Flow profiling truly unlocks a new dimension to tinkering with brew parameters, and it's especially useful for people who prefer high-acidity, light-roast espressos. Being able to do a super low-flow preinfusion and tapering flow towards the end of the shot allows me to tame the acidity as well as the bitterness.

Installation was fairly straightforward and easy. It doesn't come with any instructions in the box, however, so I recommend consulting a YouTube video on how to properly install the device. What isn't covered in those videos is the additional spring that's included - you can swap out the spring in the LOWER chamber for the one in the kit, which is stiffer - this basically nixes the E61's native pre-infusion, so you have more immediate pressure ramping and thus can profile more precisely.

Additional equipment/supplies you'll need are an adjustable crescent wrench to remove the mushroom and lower nut, a hex key to remove the screw plugging the grouphead, some (optional) electrical tape to prevent scratches, and teflon tape to wrap around the manometer screw to create a watertight seal.

Screwing on the manometer is probably the trickiest part because it goes in at an awkward angle.

I docked one star off the rating because my manometer has condensation forming on the inside after I've pulled a shot, which (according to the techs) shouldn't happen, so working on getting that part replaced. Otherwise, quite happy with how everything works. The needle valve starts off a little stiff to turn, but loosens up considerably after a couple rotations.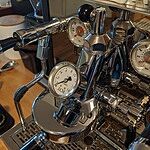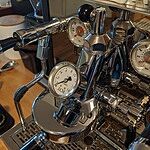 On ECM E61 Flow Control Device
S
Sulaiman D.
5 star rating
Perfect for good pre-infusion
Review by Sulaiman D. on 19 May 2020
review stating Perfect for good pre-infusion
I got this device for my machine and I really enjoy experimenting new flow profiles to see the effects it has on the taste of various coffees. I can pre-infuse my coffee effectively and choose how long I want to do it, basically it gives me more control on the machine, more options and more posibilities. That's if you're curious to try new things and discover different hidden secrets in each type of coffee beans. I really feel my machine would be incomplete without it. Installation is simple as ABC, and it's really quick. The metal that hold the nob gets really hot so be careful. You can find many videos on youtube on flow control that really help. What would be nice would be to include a few flow control profile recipes to help the beginners learn how to use it properly and to get the most out of it. But at the rate things are going, I'm sure we will soon start to see book written on the subject. I recommend this product.
On ECM E61 Flow Control Device
M
Mohammed A.
2 star rating
ECM E61 Flow Control Device
Review by Mohammed A. on 5 Mar 2020
review stating ECM E61 Flow Control Device
ECM E61 Flow Control spring not fit into flow control.
On ECM E61 Flow Control Device
share
' Share Review by Mohammed A. on 5 Mar 2020
facebook
facebook Share Review by Mohammed A. on 5 Mar 2020
twitter
twitter Share Review by Mohammed A. on 5 Mar 2020
LinkedIn
linkedin Share Review by Mohammed A. on 5 Mar 2020
Comments (1)
Comments by Store Owner on Review by Mohammed A. on 5 Mar 2020

Hi,

The spring is meant to replace the spring on the bottom valve of your E61 group not on the top where the flow control goes.
Was this review helpful?
2
3