Comandante C40 Hand Grinder MK4 - American Cherry
CG-COMAN-C40-AC
Comandante C40 Hand Grinder MK4 - American Cherry
See More by Comandante
Earn

1275

Reward Points worth

CA$12.75

!
Free Shipping
Ships Today if you order in 7 hours and 60 minutes
Quality First
This item is covered by our satisfaction guarantee.
Perfection. An icon. Transcending to another level, and elevating the whole coffee experience.
The feeling in your hands as you lovingly craft your drink only elevates the end product as those delightful sips are taken.
At home, on the road and everything in between, this incredibly important tool is available for every caffeinated situation.
The Comandante C40 MK4 is a fan favourite with a following to rival the best of the best. From espresso to french press, the flawlessly created coffee beverage fit your palate is possible.
Starting the day, the second or third cup are all a good time for your freshly ground coffee to make an appearance.
Excite your tastebuds with the coffee produced by the Comandante C40 MK4.
Description
Overview
There is no higher standard for hand grinding than the Comandante C40. With the possibilities of any brew method at the tips of your fingers, the only limitations are your other tools. Available in different colours, the perfect fit in your eyes is sure to exist.
Comandante was first produced in 2012 to provide the home barista the best tools to have the ideal coffee experience at home. The idea was to pair this grinder with the best coffee available for a more cafe-like experience. Now on its 4th iteration, the C40 has been meticulously engineered to such a high standard that home and professional baristas instinctively reach for this grinder when seeking a manual version.

The Comandante C40 MK4 is a stepped grinder with extreme accuracy. Each click increases the grind size by 30 microns. Finding your grinder's zero is key to properly dialling in. Two grind containers are included, and more can be purchased.
Perfect for travelling, each jar can hold around 40 grams of perfectly portioned out coffee beans. Doubling as the container to catch ground coffee, these jars not only perfectly fit the bottom, but when tipping beans into the grinder, precisely fits on top for no possible spills. Being away from home is not an excuse to create subpar coffee.

Features
Perfectly sized jars for storing your beans and catching the ground coffee
Custom nitro blade conical burrs for precise grinding and long lifespan
Easy to use click system on the bottom to dial in your coffee.
Improved internal grind chamber geometry for a higher bean capacity.
Frequently asked questions
(3)
What's Inside The Box
User Manual
1 clear jar
1 amber jar
1 jar lid
Questions & Answers
Customer Reviews
(122)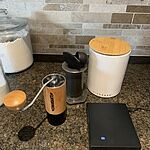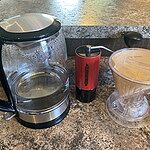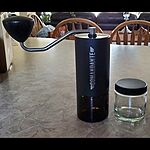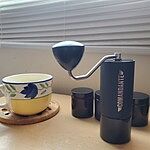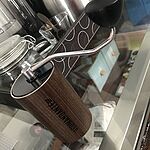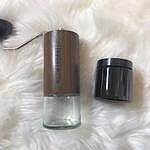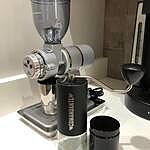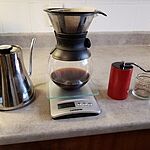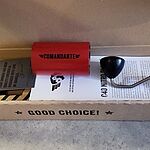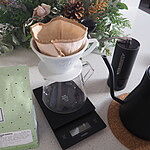 Amazing manual burr grinder. Was
Amazing manual burr grinder. Was hesitant to get the American Cherry but have no regrets after unwrapping it. It's stunning! You can feel the quality ...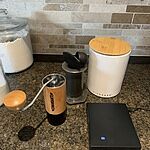 Reviewed on 12/12/2021 by Wayne C.
Was This Review Helpful?
Good choice! 🥰🥰🥰
Reviewed on 12/2/2021 by Roxana W.
Was This Review Helpful?
Excellent hand grinder
I was curious about this grinder for a while. I read some reviews on this site, One of which said " Going from my old Hario ceramic grinder to this wa...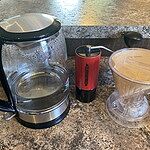 Reviewed on 9/28/2021 by Andrew L.
Was This Review Helpful?
Simply fantastic!!!
This grinder is quite possibly one of the best on the market. It works great V60 using the James Hoffmann technique. The grind quality is very consist...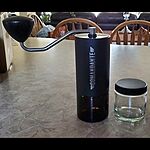 Reviewed on 9/4/2021 by Josiah D.
Was This Review Helpful?
The prices aren't insane for what you get at the end
Grinding my coffee in a Comandante every morning is more satisfying then getting to drink the end result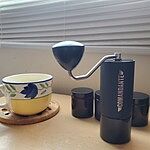 Reviewed on 8/21/2021 by Hongyue Z.
Was This Review Helpful?
Great grinder.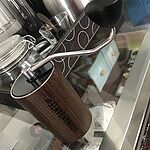 Reviewed on 7/3/2021 by Jacky L.
Was This Review Helpful?
Cannot like it more. Very
Cannot like it more. Very solid piece. High quality. Good for pourover and french press. Highly recommend .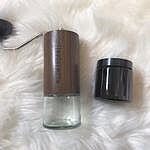 Reviewed on 4/10/2021 by Kim J.
Was This Review Helpful?
Very Clean Flavor
Really excellent grinder. Flavor very clean. Totally out of my expectation.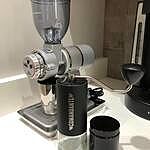 Reviewed on 1/13/2021 by Yubin J.
Was This Review Helpful?
Comandante C40
I watched a bunch of reviews on YouTube, including an actual tour of the German factory where the Comandante is made. The science and engineering put ...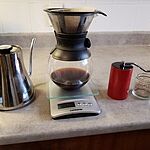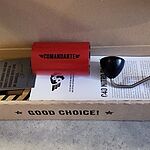 Reviewed on 12/31/2020 by Tom M.
Was This Review Helpful?
Comandante C40 Nitro Blade
A tremendous addition to my coffee routine, the Comandante is legendary for a reason. Superb performance and looks beautiful. Easy to adjust and use, ...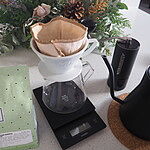 Reviewed on 12/28/2020 by Mark B.
Was This Review Helpful?