Breville Barista Express ImPress Espresso Machine BES876 - Black Truffle
BRE-BES876-BT
Breville Barista Express ImPress Espresso Machine BES876 - Black Truffle
See More by Breville
Earn

3900

Reward Points worth

CA$39.00

!
Free Shipping
Ships Tomorrow if you order in 23 hours and 48 minutes
Quality First
This item is covered by our satisfaction guarantee.
Buy this machine before Dec 31st and get a free barista kit as a bonus! To redeem your gift, visit https://www.breville.ca/redeem after your purchase.
Description
Overview
Create specialty coffee at home with the ImPress™ Puck System. For the most precise dose of freshly ground beans and microfoam milk for latte art, this machine uses the 4 keys formula used by professional cafe machines. 
This machine produces full-bodied coffee with rich and complex flavours thanks to its integrated conical burr grinder and 54mm stainless steel portafilter. 
It delivers water at exactly 93°C for balanced flavours and creates creamy microfoam milk under steam pressure in less than 30 seconds thanks to the Thermocoil heating system.
Features
Experience third wave specialty coffee at home, made possible by the 4 keys formula
Our espresso machines incorporate the 4 keys formula used by professional cafe machines. Designed to use the right dose of freshly ground beans, ensure precise temperature control, optimal water pressure and create true microfoam milk essential for latte art. You're only a touch away.
Intelligent dosing with an integrated conical burr grinder with 25 grind settings
The dose is automatically calculated based on the last grind, ensuring it's ready for the next use.
Assisted tamping
Delivers a constant 10kg impression to your dose, finishing it with a 7º barista twist for a more polished puck.
Precision measurement auto corrects the next dose
If your dose requires a bit more or a bit less, the intelligent dose system auto corrects, remembering the last dose and tamp outcome and adjusting it to ensure you achieve the perfect dose this time.
54mm stainless steel portafilter delivers full flavour with dual and single wall filters Full bodied coffee with rich and complex flavours is created using the ideal dose of 18g of freshly ground beans delivered by a professional style 54mm stainless steel portafilter.
Low pressure pre-infusion followed by 9 bar extraction
An opulent, creamy and caramel coloured espresso starts with low pressure pre-infusions, followed by a high pressure (9 bar) extraction process delivered via our 15 bar Italian pump.
Thermocoil heating system delivers 93ºC with PID temperature control
The Thermocoil heating system with PID temperature control delivers water at exactly 93ºC for perfectly balanced flavours.
Powerful 130ºc steam for fast silky microfoam
Enjoy silky, velvety microfoam milk created with powerful steam pressure.
Warranty
Warranty: 2 years
Who provides the warranty for this product?: The warranty for this product is provided directly by Breville.
Specifications
Tech specs and other details
Questions & Answers
Customer Reviews
(5)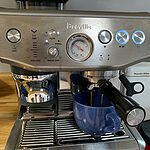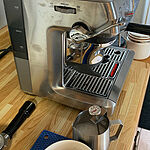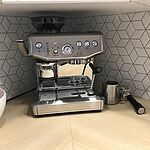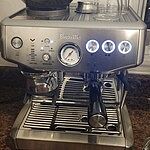 Impressive Breville "ImPress"
We've had our Breville Barista Express ImPress for over two months now during which time even some of our guests have had the opportunity to use it. A...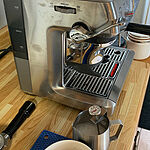 Reviewed on 8/11/2023 by Jacques B.
Was This Review Helpful?
Verry good
I love it, perfect machine for begginer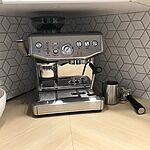 Reviewed on 12/17/2022 by Nadine S.
Was This Review Helpful?
Breville Barista Express Impress
I am so happy with this machine.
I am getting such amazing Espresso shots with ease of use, specially the tamping side of it.
Reviewed on 11/5/2022 by Fawaz J.
Was This Review Helpful?
Breville Impress
Once we got used to it , and used it for a few days it has been great . Simple and easy to use we have been experimenting with different settings espe...
Reviewed on 12/5/2023 by Alan N.
Was This Review Helpful?
Simple machine for reliable results
Simple to use for my roomates that are not espresso savvy. Good extraction, some tweakable parameters makes it quite interesting.
Reviewed on 10/19/2023 by Etienne R.
Was This Review Helpful?