Baratza Virtuoso Plus (+) Burr Grinder
CG-BAR-VIR2019
Baratza Virtuoso Plus (+) Burr Grinder
See More by Baratza
Earn

1077

Reward Points worth

CA$10.77

!
Free Shipping
Ships Tomorrow if you order in 34 hours and 49 minutes
Premium Care
Free additional warranty benefits
Quality First
This item is covered by our Premium Care Program.
There's so much to learn about the world of coffee. From the different beans, processing and origins, to the different ways to brew a cup a lifetime could be spent absorbing knowledge. Feeling the jitters of caffeine, another cup of coffee in the system, bringing you closer to enlightenment.
Familiarize yourself with the Baratza Virtuoso Plus grinder. Its unimposing size does not mean it makes simple coffee. Coffee with sophisticated flavours can absolutely be achieved with this easy to use grinder.
Description
Overview
The Virtuoso Plus offers a direct and straightforward way to grind coffee for a variety of brew methods. From on demand grinding for your usual morning filter coffee, to easily shifting over to your french press or cold brew, no opportunity has been overlooked.
Baratza started off with a simple mission in 1999. They wanted to provide high quality grinders to ensure coffee is being freshly ground for optimal performance and enjoyment. Over 20 years since the creation of their first grinder, they are known for their innovations to grinder for easy to replicate grinding and dosing.

The Virtuoso Plus is an easy to use multipurpose grinder. With its collar adjustor it's simple to change the grind size for many different brew methods. To help you not waste beans, the Virtuoso Plus comes equipped with a simple to use grind timer.

In keeping true to Baratza's mission, the Virtuoso Plus is incredibly easy to repair and maintain with accessible, affordable parts and a comprehensive troubleshooting guide.

Key Features:

Multipurpose
Stepped Collar adjustor
Conical Burrs
Features
1 programmable grind time settings for dose consistency
Integrated grinds bin to catch ground coffee without creating a mess
Stepped collar adjustment for effortless dialing in
Frequently asked questions
(2)
What's Inside The Box
User Manual
Grinds Bin
227 gram bean hopper
Warranty
Warranty: 1 year of parts and labour
Who provides the warranty for this product?: iDrinkCoffee.com is an authorized service centre for Baratza
Premium Care Eligible: Yes! - This product includes our amazing Very Important Machine Service. Should your product require service during the warranty period we will pay for the shipping charges to ship the product to us. We will issue you a prepaid label and arrange for a courier to collect the package. Your machine will then be repaired by our skilled technicians and returned to you at our cost. With our Premium Care program your machine also gets priority service for the repair. All we ask is that you keep the original packaging material for safe transport.*

* Click here to get full details of the Premium Care program
Specifications
Tech specs and other details
Questions & Answers
Customer Reviews
(79)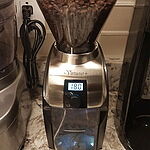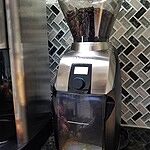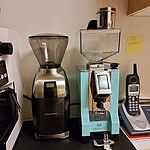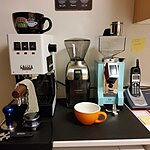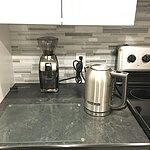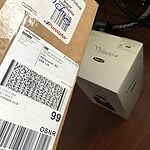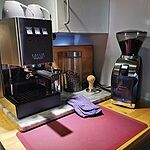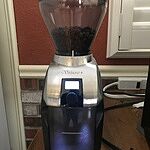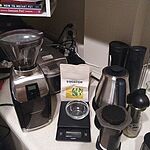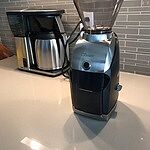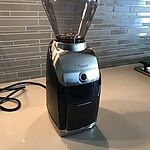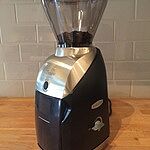 Great upgrade for my old grinder.
Good order processing updates. Quick delivery. The Baratza Virtuosa+ is doing a great job. Nice even grind. Dose is consistantly at 18 seconds. Looks ...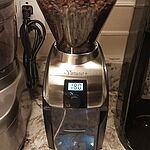 Reviewed on 5/27/2021 by Homer R.
Was This Review Helpful?
Consistent grind worth the price tag stretch
We really like the Baratza Virtuoso+. Ok, we actually love it. The short review: consistent grind, quiet(er) operation, good bean flow, friendly user...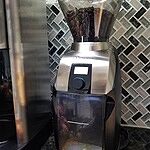 Reviewed on 4/14/2021 by Darin W.
Was This Review Helpful?
I love it. It goes
I love it. It goes coarse enough for my french press and cold brew. Def a winner. Don't use it for expresso. I have a mignon for that.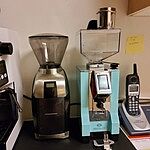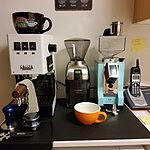 Reviewed on 2/12/2021 by Renee M.
Was This Review Helpful?
Excellent machine. Grinds the coffee
Excellent machine. Grinds the coffee to a uniform blend. Easy to assemble and looks great in the kitchen.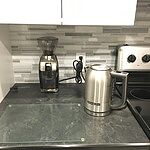 Reviewed on 1/21/2021 by Jon A.
Was This Review Helpful?
the best!
it's perfect! ❤️❤️❤️ i love my burr grinder so much! thank you
idrinkcoffee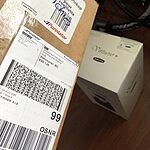 Reviewed on 8/16/2020 by Dianne A.
Was This Review Helpful?
Good grinder
Works well very consistent, some said it was very loud, it's quiet compared to the one I had before, thanks iDrinkcoffee very happy with my purch...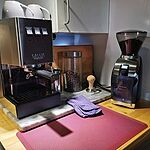 Reviewed on 5/16/2020 by Bruce R.
Was This Review Helpful?
Great grinder
I bought the Baratza Virtuoso Plus Grinder to replace a 12 year old Krups burr grinder that had worn out and could could no longer be adjusted. I regu...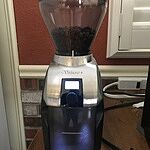 Reviewed on 3/2/2020 by Malcolm G.
Was This Review Helpful?
An excellent - and consistent - burr grinder
After a year with an electric Bodum burr grinder - and years more with a Hand ground hand grinder - I thought it was time to get a higher-grade coffee...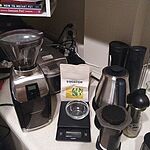 Reviewed on 7/25/2020 by Kelvin P.
Was This Review Helpful?
Great Coffee Grinder
This makes some incredible coffee! I've tried three different beans and each has a lot more distinct flavor than before. The grind is very consis...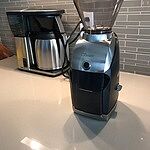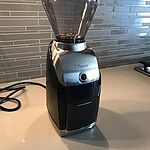 Reviewed on 4/23/2019 by Paul K.
Was This Review Helpful?
Baratza Virtuoso
I recently purchased the Baratza Virtuoso on sale, and I am really glad I did! Shipping was free, and fast, and I was updated from order to final deli...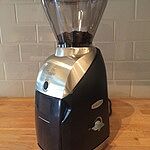 Reviewed on 4/6/2019 by Jared O.
Was This Review Helpful?