Baratza Forte Brew Grinder
CG-BAR-FORTE-BG
Baratza Forte Brew Grinder
See More by Baratza
Earn

3897

Reward Points worth

CA$38.97

!
Free Shipping
Ships Today if you order in 6 hours and 56 minutes
Premium Care
Free additional warranty benefits
Quality First
This item is covered by our Premium Care Program.
Expectations are meant to be surpassed. Raising the bar with the goal of excellence in every cup is the bare minimum that coffee should be achieving. Limits are meant to be pushed and further explored or tested.
The Baratza Forte BG grinder is a fantastic friend for the coffee explorer. With the Forte being small and petite, it fits seamlessly into a home coffee station or coffee shop. Actually wonderfully as a primary grinder, or a secondary grinder, it will excel at any brew method thrown its way.
Description
Overview
The Forte BG offers the best of the best for multipurpose grinders. A variety of brew methods easily dialed in from your usual morning brew to your special once in a while treat. Easily shifting between grind settings makes these results simply repeatable.
Baratza started off with a simple mission in 1999. They wanted to provide high quality grinders to ensure coffee is being freshly ground for optimal performance and enjoyment. Over 20 years since the creation of their first grinder, they are known for their innovations to grinder for easy to replicate grinding and dosing.

The Forte BG is an easy to use multipurpose grinder. With its macro and micro adjustor it's simple to change the grind size for many different brew methods. To help you not waste beans, the Forte AP comes equipped with 3 programmable grind times or change it over to 3 programmable grind weights and the Forte will weigh out your grinds accurately to 0.5 grams. With specially designed burrs, this grinder will not produce as many fines with coarser brew method.

In keeping true to Baratza's mission, the Forte BG is incredibly easy to repair and maintain with accessible, affordable parts and a comprehensive troubleshooting guide.
Key Features:

Multipurpose                                       
Stepped macro and micro adjustor                 
54mm flat stainless steel burrs
Features
3 programmable weight or time doses for consistency
Integrated grinds bin to catch ground coffee without creating a mess
Stepped macro and micro adjusters for a total of 260 grind settings
Frequently asked questions
(3)
What's Inside The Box
User Manual
125 gram Grinds Bin
300 gram bean hopper
Portafilter holder
Warranty
Warranty: 1 year of parts and labour
Who provides the warranty for this product?: iDrinkCoffee.com is an authorized service centre for Baratza
Premium Care Eligible: Yes! - This product includes our amazing Very Important Machine Service. Should your product require service during the warranty period we will pay for the shipping charges to ship the product to us. We will issue you a prepaid label and arrange for a courier to collect the package. Your machine will then be repaired by our skilled technicians and returned to you at our cost. With our Premium Care program your machine also gets priority service for the repair. All we ask is that you keep the original packaging material for safe transport.*

* Click here to get full details of the Premium Care program
Questions & Answers
Customer Reviews
(7)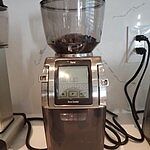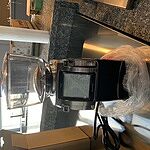 best purcase, worth every dollar spent
I recently purchased Baratza Fote Brew Grinder, and my family have been enjoying our coffee a lot more than ever before. The grind is perfect and prec...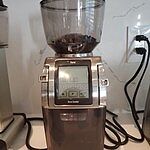 Reviewed on 6/21/2020 by Ada L.
Was This Review Helpful?
Consistency is very important
I've used Baratza Virtuoso for few months, good grinder is its price, but still create a bit more fines and I am not a big fan of plastic parts. ...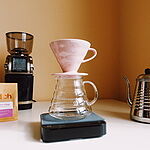 Reviewed on 6/24/2019 by Leon L.
Was This Review Helpful?
Compact Brewer
Nice size for an all purpose grinder when space is tight. Great addition to our appliances for a small cafe.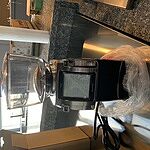 Reviewed on 6/5/2020 by Gayle L.
Was This Review Helpful?
Tank of a grinder
This is a tank of a grinder. I bought it almost two years ago and I have had zero issues. So nice to have my programmed weights and just press go.
Reviewed on 1/20/2023 by Roger B.
Was This Review Helpful?
Great grinder for brew
Great grinder for brew method so you get the best out of nice coffee beans. The grinder was missing two rubber feet but Baratza support is amazing. Th...
Reviewed on 3/18/2021 by Thierry P.
Was This Review Helpful?
Best grinder I have had.
Best grinder I have had. It's quiet, easy to set up and use. Grinds perfectly every time.
Reviewed on 3/24/2020 by Bob S.
Was This Review Helpful?
Great coffee made effortless
Purchased this grinder about a month ago as an upgrade from a Breville Smart Grinder Pro (which broke after 2 yrs of daily use). I use the grinder exc...
Reviewed on 5/2/2018 by Calin S.
Was This Review Helpful?