Wiedemann Barista Cloth
WIE-BARCLTH
Wiedemann Barista Cloth
See More by Wiedemann
Earn

135

Reward Points worth

CA$1.35

!
Fast Shipping
Ships Today if you order in 7 hours and 5 minutes
Return Policy
This item is an accessory and is subject to our return policy with a restocking fee
Description
Overview
The barista towel is designed to simplify the barista's job. The towel is divided into three sections: the barista corner for wiping out the portafilter, a basic cloth for polishing the machine, and a double-layered corner for cleaning the steaming wand. It is made of 80% polyester and 20% polyamide and measures 35 cm square.
Washing instructions:
Handcrafted in Southern Germany by Wiedemann Manufaktur
Questions & Answers
Customer Reviews
(3)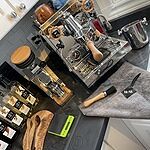 Great cloths!
I bought these because I like my stuff to match, but was pleasantly surprised when they turned out to be more effective for cleaning out my portafilte...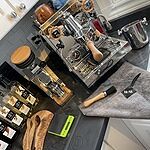 Reviewed on 2/15/2022 by Aaron E.
Was This Review Helpful?
Very nice cloth, but a bit on the pricey side.
Its a very nice cloth and all the touches on it do really well. The steam wand cleaner, portafilter drier/cleaner are all great. All the ends are hem...
Reviewed on 11/17/2022 by Ibr
Was This Review Helpful?
Good design and material!
Good design and material!
Reviewed on 2/17/2022 by Andre F.
Was This Review Helpful?