Urnex SuperGrindz Grinder Cleaner for Super Automatic Espresso Machines - 12oz
URN-SGRINDZ-12
Urnex SuperGrindz Grinder Cleaner for Super Automatic Espresso Machines - 12oz
See More by Urnex
Earn

120

Reward Points worth

CA$1.20

!
Return Policy
This item is classified as a consumable and is not subject to our return policy.
Description
Overview
Founded as Royal Urn Bag Company in Manhattan in 1936, Urnex started creating powerful bagged cleaning products for coffee urns. Their motto "No More Bitter Coffee" prevailed and they eventually developed specialty cleaning products to prolong the life of your coffee equipment.

Urnex SuperGrinds is the first grinder cleaner designed for use in superautomatics.

Removes coffee particles that are stuck on grinder burrs, while also absorbing coffee oil residue.
Formulated from all-natural, completely food safe and gluten-free ingredients.
Hydrophobic formula that allows for safe and convenient use in superautomatic espresso machines as well as in espresso and shop grinders.
Questions & Answers
Customer Reviews
(11)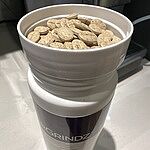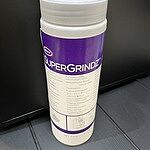 Superautomatic grinder cleaner
Great product, probably contains 12 portions of cleaning.

Excellent customer service at the store!!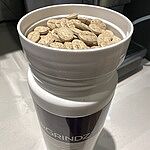 Reviewed on 1/29/2023 by Peter B.
Was This Review Helpful?
Great Cleaner for Miele Automatic Coffee Machine
Cleaner works great, you'll definitely notice a difference in quality and taste after cleaning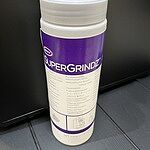 Reviewed on 12/12/2022 by Ali A.
Was This Review Helpful?
Regarding the grinder cleaner I
Regarding the grinder cleaner I must admit it did the job, removed all the impurities and the best was that all the oil from the coffee bins just vani...
Reviewed on 4/10/2023 by John D.
Was This Review Helpful?
Urnex super Grindz
I was so happy to find a product that I could use with my semiautomatic espresso machine with built in grinder. The product is easy to use, you can se...
Reviewed on 12/13/2022 by Elaine F.
Was This Review Helpful?
Urnex SuperGrindz
I have had my DeLonghi Prima Donna espresso machine for 3 years and didn't even realize this product existed. It cleaned my grinder nicely and I ...
Reviewed on 6/3/2022 by Annie B.
Was This Review Helpful?
Good Product
I asked iDrink if there was a product for cleaning automatic express machine grinder. They suggested this and it worked great
Reviewed on 3/17/2022 by Robert C.
Was This Review Helpful?
Wow
Finally a way to clean the Grinder in my super-automatic
Reviewed on 3/28/2021 by Greg T.
Was This Review Helpful?
Refreshed our Saeco
We have used Grindz with delight for grinders. SuperGrindz for the fully automatic was excellent for the grinder and safe for the brew process. Excell...
Reviewed on 8/31/2020 by Mathew B.
Was This Review Helpful?
Big helper
It is very good helper. You don't need to pay service
Reviewed on 7/3/2020 by Marcel N.
Was This Review Helpful?
Worked well for my Philips Saeco 3200 Series
Ended up using a couple bags of pretty oily beans so wanted to give the grinder a clean. These cleaner "beans" worked really well, just made...
Reviewed on 3/21/2023 by Daniel E.
Was This Review Helpful?