Lavender Earl Grey Tea
TEA-FLAV-LE-50
Lavender Earl Grey Tea
See More by Tea
Earn

15

Reward Points worth

CA$0.15

!
Return Policy
This item is classified as a consumable and is not subject to our return policy.
Description
Overview
Welcome to the gardens of Provence. An uplifting and floral blend, fit for an afternoon at Buckingham Palace. The lavender and bergamot make a particularly memorable combination. Black teas have shown to protect against heart disease, stroke and to lower cholesterol. Ingredients: Black tea, lavender, natural flavour, cornflower blossoms.
Recommended Steeping Time and Temperature
Use 1 tsp. per 10 oz of water - water at 100

C

Steep 3-5min
Questions & Answers
Customer Reviews
(5)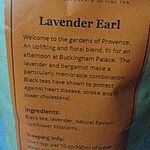 Earl grey is one of
Earl grey is one of my favorite tea. But this one has a subtle lavender flavor that blends well with the earl grey. I like it!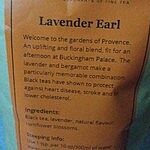 Reviewed on 12/12/2022 by Eva W.
Was This Review Helpful?
Tastes great!
Love the flavour of this tea!
Reviewed on 2/21/2023 by NICOLAS C.
Was This Review Helpful?
First time I purchased off a not great review
This is the first time I purchased because what someone said in bad review. Love lavender, when I read the review how they would never buy again becau...
Reviewed on 9/18/2022 by Cindy B.
Was This Review Helpful?
Soothing
This tea is not overpowering, just a nice hint of lavender and very smooth to drink.
Reviewed on 11/22/2021 by Kurtis M.
Was This Review Helpful?
Lavendar overwhelms and muddies the flavour
I was excited to try this tea, which is why I ordered the large which I now regret. This tea has great potential but does not follow through. It is no...
Reviewed on 11/30/2018 by Mic
Was This Review Helpful?