La Marzocco Linea Mini Connected - Yellow
COM-LM-LINEA-MINI-Y
La Marzocco Linea Mini Connected - Yellow
See More by La Marzocco
Earn

23985

Reward Points worth

CA$239.85

!
Free Shipping
Ships Tomorrow if you order in 17 hours and 60 minutes
Return Policy
This is a commercial product and not subject to our return policy.
Owning a La Marzocco machine is akin to owning a piece of espresso history. Founded in 1927 by brothers Piero and Giuseppe Bambi in their home city of Florence, La Marzocco has been manufacturing some of the highest quality commercial machines available since that time.
La Marzocco primarily builds commercial machines, but in the spring of 2015 introduced what has since become one of the most sought-after home machines available: the La Marzocco Linea Mini.
Description
Overview
The La Marzocco Linea Mini is one of the most capable and prestigious home machines available on the market today.
Based on the full-sized, commercially available Linea Classic, this compact version of a cafe machine sets a new standard for the home barista.
Commercial power meets Florentine beauty in this incredible piece of espresso history.
La Marzocco was founded in 1927 by brothers Bruno and Giuseppe Bambi in Florence, Italy. Innovation and originality set La Marzocco apart from the competition, and their past contributions to the manufacturing of espresso machines have helped to shape today's industry standards. Set up your favourite cafe in your own kitchen with the Linea Mini, one of the most powerful home espresso machines on the market.
Combining a saturated brew group with a powerful 3.5L steam boiler, saturated coffee boiler, PID for temperature control, and smartphone compatibility, this fully equipped commercial quality machine provides the best experience in terms of quality and convenience.
A programmable start time, remote on and off, temperature control, and pre-infusion setting are just a few of the many features available through the Linea's smartphone app, making it one of the more advanced machines we carry while still preserving the analog beauty of a traditional commercial espresso machine.
An extremely large 3.5L service boiler means cafe quality steam power every time, providing you with the best possible tool to make lattes, cappuccinos, and more. A small, saturated coffee boiler means there is no travel time between the boiler and the group, preserving perfect temperature consistency throughout the entire extraction process.
Key Features
The Linea Mini combines the features below in order to provide you with cafe-quality milk drinks and espresso shots and even plumb your machine directly into a water line for more convenient use.
3.5L steam boiler
Saturated grouphead
Commercial grade rotary pump.
PID (or digital thermostat) controls for temperature
La Marzocco's 'connected machine' smartphone connectivity
Customization Option:
Make your Linea Mini look even more stunning with wooden and chrome accents - Walnut, Maple, Oak, Black + Chrome and White + Chrome options are available.
Note: Please allow 2 to 4 weeks for customization.
---
Please note that we cannot ship La Marzocco products into the United States.
Features
A large, 3.5L steam boiler combined with a small but extremely efficient 0.17L integrated coffee boiler provides you with an almost limitless amount of steam power and perfectly temperature-controlled espresso shots. These revolutionary features give you the tools to craft perfect espresso shots.
A combined grouphead and coffee boiler creates superior temperature stability. This style of the group is one of the most advanced available and is just another way the Linea Mini separates itself from the competition.
The Linea Mini uses a commercial-grade rotary pump. With a plumb-in kit (note: this is a separate purchase) you can avoid the inconvenience of having to refill a water reservoir daily. Without one, the reservoir is accessible from the front of the machine so you can refill the Linea without having to move it out from under your cupboards.
The machine's PID (or digital thermostat) control monitors boiler temperature, holding it within a couple of degrees all day long so the machine is always ready to brew the perfect shot.
The Linea Mini now comes standard with La Marzocco's 'connected machine' feature. Using their smartphone app, you can program the machine to automatically turn on or off, adjust brewing temperature, adjust the pre-brewing feature, and more.
Frequently asked questions
(3)
What's Inside The Box
Breakaway double spouted portafilter with standard rubber handle
7 gram, 14 gram, 17 gram, and 21-gram portafilter baskets
58mm convex La Marzocco tamper
12oz frothing pitcher
Purocaf backflushing powder
Blind basket for backflushing
Installation guide/user manual
Warranty
Warranty: 1 year of parts and labour
Who provides the warranty for this product?: iDrinkCoffee.com is an authorized service centre for La Marzocco
Specifications
Tech specs and other details
Questions & Answers
Customer Reviews
(42)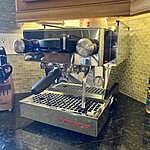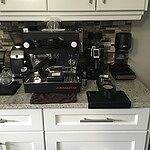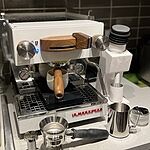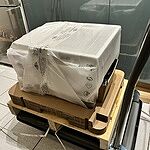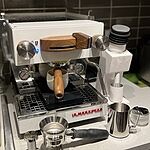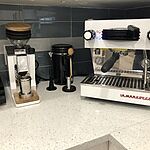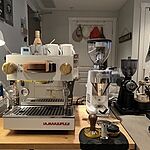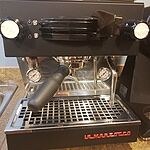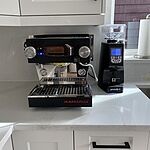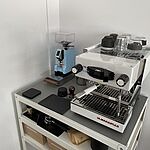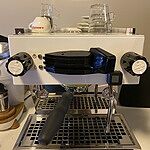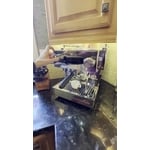 The ultimate espresso machine for the home
A seriously powerful espresso machine for folks that want to have the true cafe experience at home. We purchased the stainless steel with chrome+black...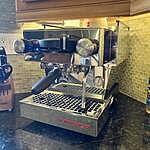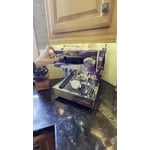 Reviewed on 5/27/2023 by Loni S.
Was This Review Helpful?
Great machine!
Fit perfectly under cabinets. After previous espresso machines, this one outperforms all of them. Allows me to pull my shot and steam at the same time...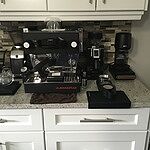 Reviewed on 4/30/2023 by Dean S.
Was This Review Helpful?
Great product great delivery service
I'm very happy to receive the LM Linea Mini. I had my phone in silent and didn't hear the delivery arrived at my home. The delivery driver stayed and ...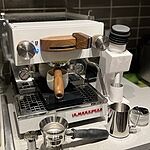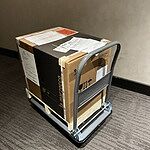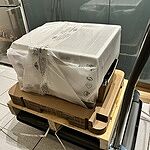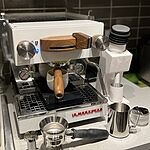 Reviewed on 2/3/2023 by Lawrence H.
Was This Review Helpful?
Linea mini review
Best espresso machine ever bought. The linea mini is very convenient for home. The application works very well.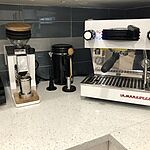 Reviewed on 1/31/2023 by Eric M.
Was This Review Helpful?
Absolutely love the machine with
Absolutely love the machine with the walnut and copper accents. The steam is so powerful and save so much time. Best part is I have a white Mazzer gri...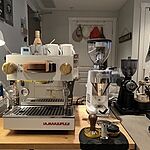 Reviewed on 8/4/2022 by Irene S.
Was This Review Helpful?
La Marzocco Linea Mini - Black
It makes great espresso and its performance has not disappointed. I love the water tank access. Fits beautifully under my cabinets. The app was more ...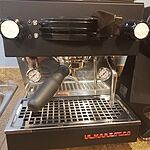 Reviewed on 6/20/2022 by Mark B.
Was This Review Helpful?
The quality of this machine
The quality of this machine is incredible. Well built! The steam is excellent. Overall very happy with my purchase.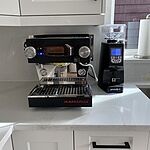 Reviewed on 2/20/2021 by Pawel M.
Was This Review Helpful?
Absolutely amazing!
Absolutely love this machine. Steam power is extremely strong so takes practice. Shots come out amazing as long as you have a good grinder to pair it ...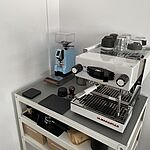 Reviewed on 2/13/2021 by Gabriel Z.
Was This Review Helpful?
LMLM - Worth it!
The cost of this machine is totally worth the investment. I was coming from the flagship Breville Oracle Touch, but this LMLM is at a whole other leve...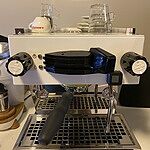 Reviewed on 6/19/2020 by Michael M.
Was This Review Helpful?
Linea Mini and IDC….5 stars!
What to say about the Linea Mini that hasn't already been said? Commercial grade machine for the home. Amazing espresso and steams milk in seconds. Se...
Reviewed on 12/7/2023 by Tyler B.
Was This Review Helpful?