Fellow Stagg Pour-Over Kettle v1.2 - Polished Steel
STAG-PO-POL
Fellow Stagg Pour-Over Kettle v1.2 - Polished Steel
See More by Fellow
Earn

300

Reward Points worth

CA$3.00

!
Quality First
This item is covered by our satisfaction guarantee.
Description
Overview
The Pour-Over, Perfected.
Stagg generation 1.2.

Stagg Pour-Over Kettle 's beautifully functional design kicks your brewing up a notch. Enjoy an intuitive, steady pour with Stagg 's precision pour spout. Keep track of temperature with a built in brew-range thermometer. Pour at an even, slow pace with Stagg 's counterbalanced handle that moves the center of mass back towards your hand.

The Details:
Gas, electric, and induction range compatible.
1.0 Liter boiling capacity.
Stainless steel body.
*New v1.2 stainless steel lid.
*Slight discoloration on bottom of copper Stagg will occur when used on gas and electric stove.

Design Features:

BREW-RANGE THERMOMETER
The red range highlights optimal brew temperature between 195 and 205 degrees fahrenheit.

PRECISION POUR SPOUT
A slow and steady pour wins the race. Stagg 's spout is designed for the optimal pour-over flow rate.

COUNTERBALANCED HANDLE
Back that mass up. Stagg 's weighted handle shifts the center of mass closer to your hand for an easier pour.

304 18/8 STAINLESS STEEL
High grade stainless steel for the best build quality. Comes in matte black and polished steel to intimidate your other kitchenware.
Warranty
Warranty: 1 year of parts and labour
Who provides the warranty for this product?: iDrinkCoffee.com is an authorized service centre for Fellow
Specifications
Tech specs and other details
Questions & Answers
Customer Reviews
(37)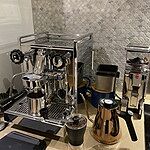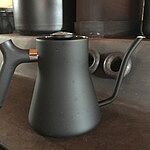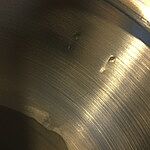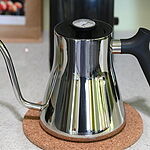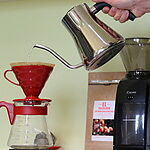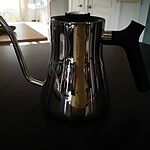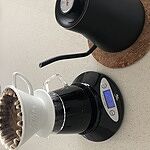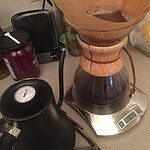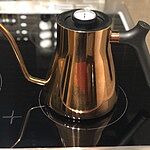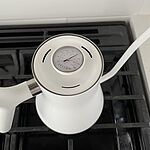 As if I needed another boiler...
wish i had bought this earlier, for all hot beverages and especially for how well it helps with the pour over bloom. Lovely decorative piece as well. ...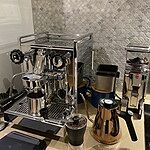 Reviewed on 2/12/2022 by Richard H.
Was This Review Helpful?
Very nice kettle - we'd buy it again.
We bought the flat black Fellow Stagg kettle for use at our cabin - on our wood stove and our gas stove. We've had it for a couple of weeks and w...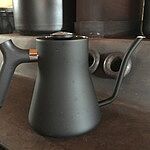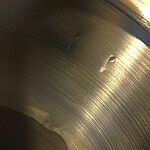 Reviewed on 11/3/2021 by Rob G.
Was This Review Helpful?
You get what you pay for!!
This pour over kettle is by far the best feeling one I've used, it is weighted perfectly and it feels substantial in the hand. It's also qui...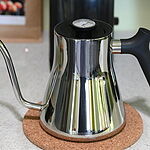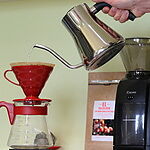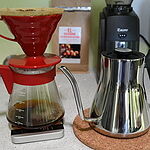 Reviewed on 9/25/2020 by Zachary S.
Was This Review Helpful?
Pretty kettle
Pricy but pretty for pour over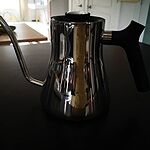 Reviewed on 6/26/2020 by Haoxuan Y.
Was This Review Helpful?
Didn't know what I was missing
This is an essential piece of equipment if you're serious about a precise pour over. Was using a regular kettle before with French press, but this is ...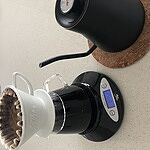 Reviewed on 4/13/2020 by Mark B.
Was This Review Helpful?
New Best Friend
This svelt Black Pot has been a desire of mine for over a year now. When I first opened it there was a note saying "hello, to your new best friend..."...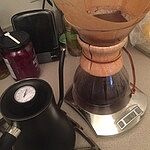 Reviewed on 12/28/2018 by Toby W.
Was This Review Helpful?
Excellent Kettle!
Had been eyeing the Stagg Kettle for a while now and found it on iDrinkCoffee.com for a way better price than at Bergo. Bought the copper model. The k...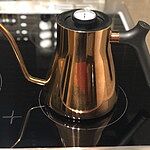 Reviewed on 3/24/2018 by Kelvin K.
Was This Review Helpful?
Fellow Stagg is great. Does
Fellow Stagg is great. Does exactly what it is suppose to…and in fine style. Only reason I didn't give it 5 stars is because it will not fold my laund...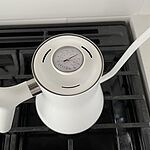 Reviewed on 8/8/2021 by Dominic T.
Was This Review Helpful?
Beautiful and functional Kettle will improve your pour over!
This kettle design is amazing - deserves to be in museum nice to have in my home! it is not as fast as an electric kettle but it allows me time to per...
Reviewed on 10/16/2023 by Taylor S.
Was This Review Helpful?
Kettle works great and is
Kettle works great and is designed well. Exterior finish is fantastic (polished stainless). Weld seam on the inside could be better, but should not ef...
Reviewed on 3/29/2023 by Chris K.
Was This Review Helpful?