Eureka Mignon Silenzio Grinder - Amaranth
CG-EUR-MIG-SZ-AM
Eureka Mignon Silenzio Grinder - Amaranth
See More by Eureka
Earn

2037

Reward Points worth

CA$20.37

!
Free Shipping
Ships Today if you order in 0 hours and 31 minutes
Premium Care
Free additional warranty benefits
Quality First
This item is covered by our Premium Care Program.
Amongst a multitude of home espresso grinders, the Mignon Silenzio stands out as one of the sharpest, quietest, and best looking grinders available.
Early risers know there's nothing better than a fresh grind first thing in the morning, and light sleepers know there's nothing worse than being woken up before their alarm clock.
The Silenzio is the grinder for both. It's available in 14 different colours to match everyone's style and built to be as quiet as possible to match everyone's sleep schedule.
Description
Overview
The Silenzio is everything the Facile offers with added style. Simply adjust the grind to the right size using its precise, infinite adjustment dial, activate the switch using your portafilter, and with an added mechanical timer the grinder will stop automatically based on your programmed setting.
"Eureka has been a leading company in designing and manufacturing modern and elegant coffee grinders since 1920". No other manufacturer offers the same combination of performance and quality design as Eureka. The Mignon Silenzio is a sleek espresso grinder that will bring a touch of Eureka's modern elegance to your home coffee bar. With 14 different colours to choose from, you'll be able to match your kitchen or spice things up a little with something unique.

The Silenzio, like the Facile, has been designed specifically for espresso. It's faster, quieter, and more compact than most other grinders at this price point, and provides a fluffier grind too. In addition to what its younger sibling the Facile offers, the Silenzio has a built-in mechanical timer. Using the grey dial on the side, you can program the switch to run between 2 and 14 seconds, or set it to manual mode. Simply press the switch with your portafilter to begin grinding, and it will stop automatically based on your timer.

On top of its incredible grind quality, the Silenzio, just like the rest of the Mignon lineup, is remarkably quiet. Perfect for early risers and light sleepers alike.

Key Features:

Espresso                 
Stepless/Infinite Adjustment         
50mm Flat, Stainless Steel Burrs
Features
50mm Burrs: A
large set of flat, stainless steel burrs designed to get consistent fines for better espresso shots.
Mechanical Timer: Built into the side of the grinder, set your dose between 2 and 14 seconds, or switch to manual mode with the rectangular button.
14 Available Colours: Match any aesthetic with a variety of choice.
Silent Technology: The anti-vibration solution to noise. This grinder runs 20 dB quieter than the average, and is one of the quietest on the market.
ACE System: Eureka's Anti-Clumps and Electrostaticity is designed to prevent clumping and spraying of ground coffee, giving it yet another edge over the competition.
Frequently asked questions
(3)
What's Inside The Box
User Manual
Portafilter fork
250 gram bean hopper
Warranty
Warranty: 1 year of parts and labour
Who provides the warranty for this product?: iDrinkCoffee.com is an authorized service centre for Eureka
Premium Care Eligible: Yes! - This product includes our amazing Very Important Machine Service. Should your product require service during the warranty period we will pay for the shipping charges to ship the product to us. We will issue you a prepaid label and arrange for a courier to collect the package. Your machine will then be repaired by our skilled technicians and returned to you at our cost. With our Premium Care program your machine also gets priority service for the repair. All we ask is that you keep the original packaging material for safe transport.*

* Click here to get full details of the Premium Care program
Specifications
Tech specs and other details
Questions & Answers
Customer Reviews
(143)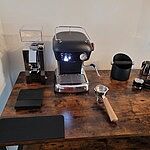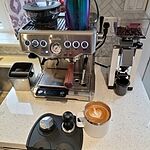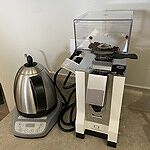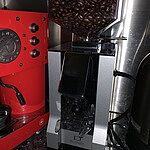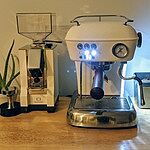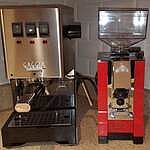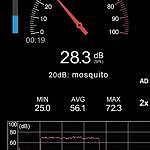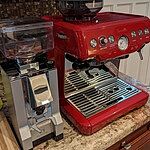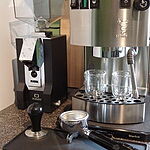 So Quiet!!!
Omg it is soooo quiet compared to my Lelit Fred Grinder!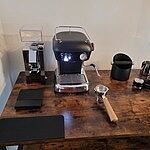 Reviewed on 1/20/2022 by Martin G.
Was This Review Helpful?
Beautiful and well made
So far, so good. The consistency in my shots have improved two fold. Now, if only my wife would let me upgrade my Breville. Excellent experience with...
Reviewed on 1/18/2022 by Matthew H.
Was This Review Helpful?
High quality & consistent results
Very consistent and produces fluffy grinds. Its way quieter than my old OXO burr grinder. Out of the box you'll be shocked with how heavy it is, ...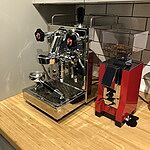 Reviewed on 1/11/2022 by Evan B.
Was This Review Helpful?
Great quiet grinder
This is our first espresso grinder and it was a great buy! Easy to use, quiet, and gets use the grinds we need to the perfect size and consistency for...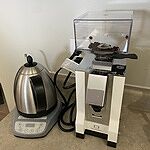 Reviewed on 12/24/2021 by Nicol L.
Was This Review Helpful?
Beautiful, nearly silent, nearly perfect grinds, every time!
Beautiful piece of home coffee equipment! Grind quality is incredibly good and very consistent. The only minor con to this is the relatively high rete...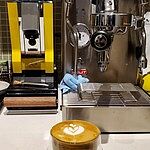 Reviewed on 11/2/2021 by Saj Z.
Was This Review Helpful?
Great looks and grinding performance,
Great looks and grinding performance, and impressively quiet. Very satisfied. Thanks to Preston at idrinkcoffee for the recommendation.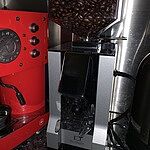 Reviewed on 10/15/2021 by Steven T.
Was This Review Helpful?
Quiet, efficient and precise
I love it! I upgrade from Ascaso Imini Grinder... it's game changer! It's quiet, efficient and precise. The output flow is steady, fluffy an...
Reviewed on 9/30/2021 by Michael M.
Was This Review Helpful?
Low noise, quality grind !
The output is great, the fine settings are great. But for me, the noise level was very important as my wife work on evening shif and I need my fresh c...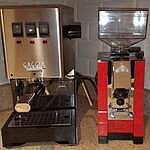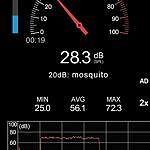 Reviewed on 9/3/2021 by Sylvain F.
Was This Review Helpful?
Fantastic Quiet Grinder for the Price
I've had my Silenzio for just under 2 weeks and I'll be making comparisons between the Silenzio and my built-in stepped 40mm conical burr grinder on t...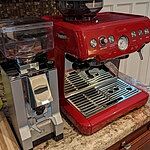 Reviewed on 7/27/2021 by Main M.
Was This Review Helpful?
Great combo
After years of store bought espresso pods, I decided to go all in and experience true fresh ground. My research led me to the Eureka brand grinder and...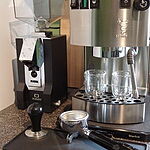 Reviewed on 7/26/2021 by David R.
Was This Review Helpful?