Delter Coffee Press
RHI-DELTER
Delter Coffee Press
See More by Delter
Earn

135

Reward Points worth

CA$1.35

!
Fast Shipping
Ships Today if you order in 8 hours and 17 minutes
Quality First
This item is covered by our satisfaction guarantee.
Description
Overview
Delter Coffee Press has been designed to solve one of the biggest problems in coffee brewing - agitation. To avoid a bitter and inconsistent extraction caused by uncontrolled agitation, the Delter Coffee Press uses a unique jet-seal. This seal keeps the brew water and the coffee grounds separated until the brew commences, preventing uncontrolled agitation. When pressure is applied to the plunger, water and coffee contact is activated, allowing agitation to occur for the first time. This design allows the user to have complete control over the water flow and agitation, resulting in a brew with less bitterness and more clarity.
Features:
- Jet Seal: Unique seal that prevents any unwanted agitation of the coffee bed during brewing.
 - Injection Brewing: The water and coffee are separate until you're ready to start brewing using injection brewing.
 - Simple to Clean: All you need is a few minutes to wash with water
 - Portable: Weighing less than 250g (8.8 oz), the Delter is ideal for camping, plane, travel, office or home.
 - Pocketable Design: Compact and portable for coffee anywhere
To Brew:
To brew with the Delter Coffee Press, you need freshly roasted ground coffee and water just off the boil. 
 1. Place a filter in the Delter cap and rinse with water and discard.
 2. Add freshly ground coffee into the Delter coffee chamber (max. capacity 30g/1.1 oz).
 3. Twist on the Delter cap.
 4. Flip the Delter over onto your cup and start pouring your hot water into the brew chamber, filling to the line markings.
 5. Raise the plunger to dose the exact amount of water required for your brew.
 6. Push down on the plunger to activate water and coffee contact.
 7. Raise the plunger again to redose or refill the brew chamber for larger, double-batch servings.
 8. Enjoy!

Specifications:
- Capacity: 400ml (13.5 oz)
- Materials: BPA-free plastic
- Weight: <250g (8.8 oz)
Inclusions:
- Delter Coffee Press x 1 (Chamber / plunger / cap)
- Paper Filters x 100pk 
- 6g (o.2 oz) Dosing Cup x 1 
Questions & Answers
Customer Reviews
(4)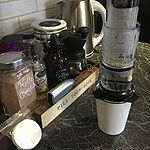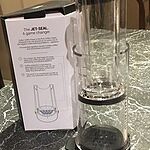 Definitely worth a buy!
I am not an Aeropress owner, nor have I ever tasted coffee from one, so I don't have the typical hardcore enjoyment to compare it to the Delter. I wi...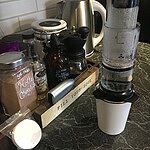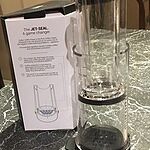 Reviewed on 2/8/2020 by Paul W.
Was This Review Helpful?
Cool coffee maker
I bought this to compare with my Aeropress. One thing that Aeropress owners might find helpful is, the metal filters made for the Aeropress work for t...
Reviewed on 3/28/2020 by Opal L.
Was This Review Helpful?
Definitely not an Aeropress. Definitely tastes different.
The design which consists of a water chamber separated from the grounds chamber by a rubber disc full of holes where the water gets pushed through mak...
Reviewed on 3/27/2020 by Mahmoud B.
Was This Review Helpful?
Ingenious, but occasionally leaks
The idea is good. I especially like removing the variability associated with stirring the aero press. Maybe it doesn't matter, but I can't p...
Reviewed on 4/2/2022 by Alan
Was This Review Helpful?