Compak E6 Digital Burr Grinder - Polished
CG-COM-E6-P
Compak E6 Digital Burr Grinder - Polished
See More by Compak
Earn

5085

Reward Points worth

CA$50.85

!
Free Shipping
Estimated shipping: 3 to 5 business days
Return Policy
This is a commercial product and not subject to our return policy.
Description
Overview
FEATURES

1350 RPM Motor
Powerful Motor that allows you to work continuously in situations of high demand, maintaining all the properties of the coffee thanks to the cold grinding at low revolutions.
Flat Burrs 64 mm
Ensures accurate particle size for Espresso and spectacular productivity: 7 gr in 2.1 seconds. Special pre-wear treatment is applied to ensure optimal performance from the first use. Durability of 500 Kg.
Multifunction Display
Multilanguage, 3 working modes, Refill Button, Changing burrs alarm, Absolute and relative coffees counting, Activate pad and end of service sound, Password
Micrometric Grinding Setting System
Set the grind point with maximum precision in a very simple and intuitive way. The new Parallel locking system provides an extra level of security ensuring parallel positioning between burrs at all times.
Adjustable Porta-Fork
The fork is adjustable, so it perfectly fits for the most common portafilter sizes, which also allows for hands-free usage.
Three Position Switch
Offers total control to the Barista without been necessary to use the electronical system of the grinder.
Warranty
Warranty: 1 year of parts and labour
Who provides the warranty for this product?: iDrinkCoffee.com is an authorized service centre for Compak
Questions & Answers
Customer Reviews
(3)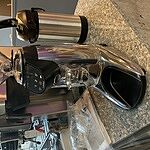 Great customer service
First commercial grinder works great for our small cafe. Rec'd order with no hopper which was odd, however, called & hopper was shipped the next d...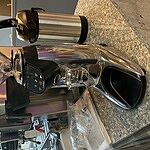 Reviewed on 6/5/2020 by Gayle L.
Was This Review Helpful?
Amazing in Polished Aluminum!
Best all around grinder I've ever owned. Speed, consistency, style, quality. Could not be happier with my purchase.
Reviewed on 12/17/2015 by E6 E.
Was This Review Helpful?
Excellent buy!
Bought this grinder used on eStore. It came in in perfect shape and with not even 1 kg of used on the burr. It is VERY sturdy and made of solid metal...
Reviewed on 11/14/2017 by Marc
Was This Review Helpful?