1883 Roasted Hazelnut Syrup - 1l (Glass Bottle)
ACC-1883-ROAH-1L
1883 Roasted Hazelnut Syrup - 1l (Glass Bottle)
See More by 1883
Earn

51

Reward Points worth

CA$0.51

!
Fast Shipping
Ships Today if you order in 8 hours and 13 minutes
Return Policy
This item is classified as a consumable and is not subject to our return policy.
Description
Overview
Syrup Colour: Clear amber brown
Nose: Delicious aroma of freshly roasted hazelnut
Palate: Intense flavour of roasted hazelnut with round smooth taste
Made With Pure Water From The French Alps
Free from artificial preservatives
Kosher Certified
Suitable For Vegetarians & Vegans
High Quality Glass Bottle
This barista flavouring syrup contains only natural extracts with no artificial flavourings, no fat and no cholesterol. Only fresh, pure water direct from the French Alps is used to create this wonderful product.
Please note: We cannot ship this item to the United States
Questions & Answers
Customer Reviews
(9)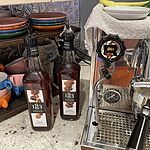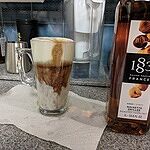 Love the hazelnut!
Strong potency! The Hazelnut syrop is my favorite, adds an extra dimension to any milk drink.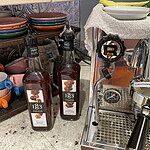 Reviewed on 12/2/2021 by Paul L.
Was This Review Helpful?
1883 1 L Roasted Hazelnut Syrup is good
1883 Roasted hazelnut syrup is good. The taste certainly embodies the flavour profile of lightly toasted hazelnut. That's where I'm a bit sa...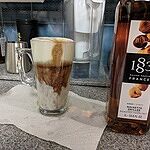 Reviewed on 7/16/2020 by Jason K.
Was This Review Helpful?
My wife's favourite syrup
My wife loves this roasted hazelnut syrup. She uses it almost every day in her latte or iced coffee. We like the glass bottle over other plastic optio...
Reviewed on 7/8/2022 by Michael M.
Was This Review Helpful?
Roasted Hazelnut...delicious
Using this for the lattes which gives it a nice taste. This even works with just adding frothed milk
Reviewed on 9/18/2021 by Wayne T.
Was This Review Helpful?
Lots of Hazelnut flavour.
Great flavour and nice complement to our Cappuccinos. Highly recommend.
Reviewed on 7/23/2020 by Dean F.
Was This Review Helpful?
The best brand of syrups
The best brand of syrups I've found, the flavors don't taste fake, are high quality and a little goes a long way.
Reviewed on 6/7/2020 by Matthew R.
Was This Review Helpful?
Great coffee complement
This does not disappoint although the taste lacks a bit of definition. The taste is long in the mouth, very aromatic and makes for a great aftertaste ...
Reviewed on 8/26/2019 by Benoit D.
Was This Review Helpful?
Stronger flavour than just Hazelnut
Nice strong flavour, better than regular hazelnut in my opinion
Reviewed on 3/25/2021 by Mar
Was This Review Helpful?
A little more roasty than I prefer
I find this syrup to be just a bit too strong flavoured, in my opinion. But with just a very small amount it does add a nice flavour. I think that nex...
Reviewed on 3/17/2021 by Dwayne W.
Was This Review Helpful?