Breville The Barista Pro BES878 Espresso Machine - Black Stainless Steel
SA-BRE-BES878-BSS
Breville The Barista Pro BES878 Espresso Machine - Black Stainless Steel
See More by Breville
Earn

3600

Reward Points worth

CA$36.00

!
Free Shipping
Ships Tomorrow if you order in 23 hours and 48 minutes
Quality First
This item is covered by our satisfaction guarantee.
Buy this machine before Dec 31st and get a free barista kit as a bonus! To redeem your gift, visit https://www.breville.ca/redeem after your purchase.
Description
Overview
The Next Generation of Breville Espresso Machines - The Barista Pro offers Barista-quality performance with a new intuitive interface that provides all the information you need to create café quality coffee at home.
The built-in grinder delivers the right amount of ground coffee on demand, for full flavour. With a 3 second heat up time and precise espresso extraction, you go from bean to cup, faster than ever before.
Please note that we cannot ship Breville products to the United States
Features
Intuitive Interface
LCD display with grinding and extracting progress animations. The screen provides you all the precise information you need to make coffee exactly the way you like it, every time.
Very Fast Heat Up Time
Innovative ThermoJet heating system achieves the optimum extraction temperature in 3 seconds with instantaneous transition from espresso to steam. Ready to make your best coffee without the wait.
Precise Espresso Extraction
Digital Temperature Control (PID) delivers water at the right temperature +/- 2°c, ensuring optimal espresso extraction. Low pressure pre-infusion gradually increases pressure at the start and helps ensure all the flavours are drawn out evenly during the extraction for a balanced tasting cup.
Micro-Foam Milk Texturing
The powerful steam wand performs at the level that allows you to hand texture micro-foam milk that enhances flavour and enables creation of latté art.
Integrated Burr Grinder
With a single touch, the integrated conical burr grinder with dose control delivers the right amount of coffee on demand, for maximum flavour. Adjustable grind size and dose.
Extract up to a 22 gram dose
Achieve a consistent and balanced espresso using the right amount of ground coffee. The 54mm porta-filter with 19-22 grams is the key for full flavour and café quality coffee.
What's Inside The Box
Single & Dual Wall (1 & 2 Cup)

Filter Baskets

The Razor™ Precision Dose Trimming Tool

480 ml Stainless Steel Milk Jug

Cleaning Kit

Water Filter

Warranty
Warranty: 2 years
Who provides the warranty for this product?: The warranty for this product is provided directly by Breville.
Specifications
Tech specs and other details
Questions & Answers
Customer Reviews
(84)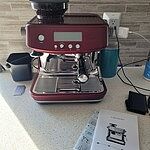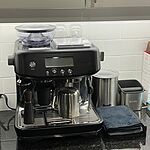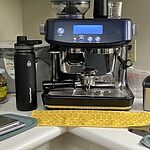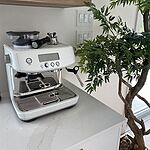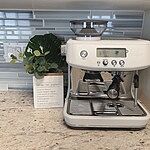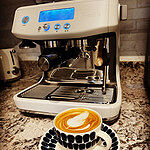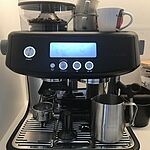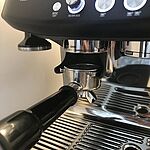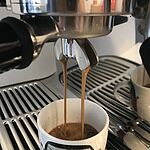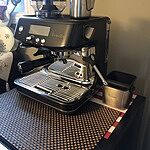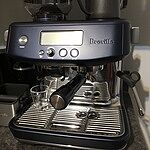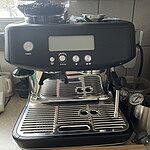 Very Happy
I recently acquired this machine through a trade-in of an older machine and grinder with idrinkcoffee. The staff were informative and great to deal wi...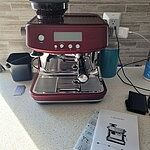 Reviewed on 4/29/2023 by Bradley C.
Was This Review Helpful?
Great for a beginner!
This has been a great espresso machine as a beginner who is learning about espresso and how to make it for the first time. It makes it easy not to hav...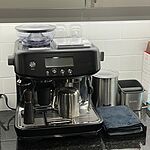 Reviewed on 12/25/2022 by Mounir E.
Was This Review Helpful?
This Breville Barista Pro is
This Breville Barista Pro is a very modern looking machine .I purchased the one in Crimson Blue and is a real eye opener.The quality is very good inde...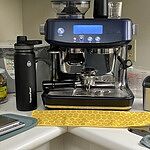 Reviewed on 8/16/2022 by Herman R.
Was This Review Helpful?
Amazing machine
In love with my new breville barista pro! The colour is amazing. I used to have the Breville Barista Express and I have to say that the pro version is...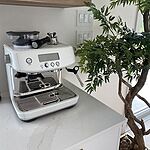 Reviewed on 7/1/2022 by Dolores R.
Was This Review Helpful?
I love it! Best purchase
I love it! Best purchase of the year. Beautiful and user friendly.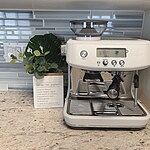 Reviewed on 5/12/2022 by Chenli Z.
Was This Review Helpful?
breville 878 sea salt
Love this machine. I had a very old espresso machine that I bought years ago. I decided to upgrade to a better one now that I am spending more time at...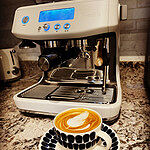 Reviewed on 3/30/2022 by ye w.
Was This Review Helpful?
Great Machine for an Intermediate Barista
A great machine for the intermediate barista who is trying to improve their espresso skills. The machine is large, measuring 35.4 Wx 41D x 40.6H (cm),...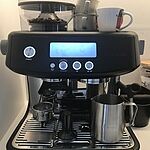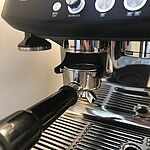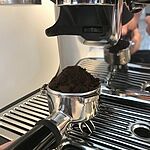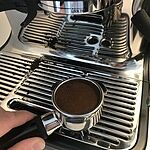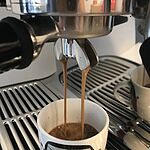 Reviewed on 12/29/2021 by Graeme Q.
Was This Review Helpful?
Working great
I am a beginner but find this unit easy to use. Good quality unit.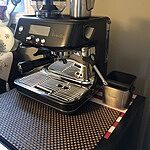 Reviewed on 12/9/2021 by Mike M.
Was This Review Helpful?
Highly recommend
Love this machine so far. Arrived within a week of ordering. Heats up for use immediately. Great steaming power. Pre infusion. Built in grinder. After...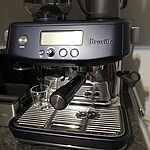 Reviewed on 12/2/2021 by Kyle M.
Was This Review Helpful?
Great features, consistent results
Great company to deal with, prompt delivery. There was a lot of self debate about spending the price of this Breville. I was replacing a 25 year old D...
Reviewed on 11/30/2021 by Dwight D.
Was This Review Helpful?