Cafelat Milk Pitcher - 750ml
CL-MPIT-750
Cafelat Milk Pitcher - 750ml
See More by Cafelat
Earn

131

Reward Points worth

CA$1.31

!
Fast Shipping
Ships Tomorrow if you order in 19 hours and 3 minutes
Return Policy
This product is in the Glassware & Pitchers category and is not subject to our return policy.
Description
Overview
Our new milk jug is an absolute beauty. Designed on and off by Paul Pratt over a few years to incorporate all the features needed to create an awesome jug.
-Mirror finish, thick 304 stainless steel walls

-An absolutely amazing spout for latte art

-A rolled rim for holding it handle free

-The handle itself was designed to be as comfortable as possible

-Stamped logos on both the handle and the base

-No ugly spot welds, the handles are laser welded
Probably the best milk pitcher on the market today.
Product Information:
Material :Stainless Steel
Colour options : Mirror Finished
Packaging : 1 milk pitcher per box
Questions & Answers
Customer Reviews
(8)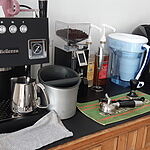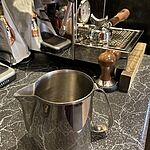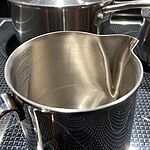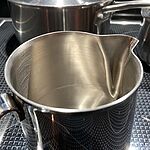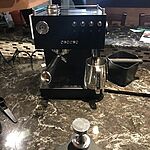 I love lattes. This jug
I love lattes. This jug helps me make lattes. Well made, perfect size and cleans up well.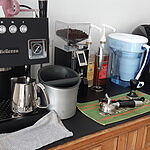 Reviewed on 10/15/2023 by Christopher C.
Was This Review Helpful?
Perfect for large lattes
The Cafelat Milk Pitcher works great for frothing milk. Feels good in your hand, looks great.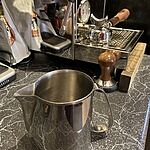 Reviewed on 11/27/2020 by Paul W.
Was This Review Helpful?
Solid!
Solid Build. Handle and lip design works well for both grips as described.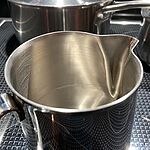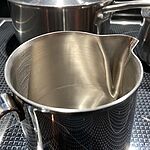 Reviewed on 8/14/2021 by Gary S.
Was This Review Helpful?
Heavy Duty
Very nice milk pitcher for frothing! Didn't realize how big it actually was, I will need to downsize to a smaller one.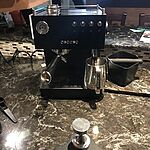 Reviewed on 6/12/2019 by Caleb C.
Was This Review Helpful?
Great Size!
Purchased smaller version which is great for everyday use but bought this for when we wanted to make larger beverages and its great quality good heft.
Reviewed on 4/30/2023 by Victoria
Was This Review Helpful?
This is a beautiful milk
This is a beautiful milk pitcher. It is very heavy and holds a lot of milk
Reviewed on 2/16/2023 by Tracy R.
Was This Review Helpful?
Large pitcher
Making large lattes this size is perfect for my needs. The big volume gives enough room to swirl without making a mess.
Good quality and nice looking.
Reviewed on 2/4/2023 by Gilles T.
Was This Review Helpful?
Solid
Solid build. Good to make 2-3 milk base drinks.
Reviewed on 12/3/2020 by Manu
Was This Review Helpful?