Cafelat All-In One Portafilter - E61 Bakelite
CL-P-E61
Cafelat All-In One Portafilter - E61 Bakelite
See More by Cafelat
Earn

396

Reward Points worth

CA$3.96

!
Return Policy
This item is an accessory and is subject to our return policy with a restocking fee
Description
Overview
The new Cafelat all-in-one portafilter (International Patents Pending) is the first and only portafilter that is both regular and naked. Not only that but's it made entirely of stainless steel making it much easier to use than standard brass and easy to maintain clean.
Complete Portafilter Set (with gift box) includes -
Portafilter body with bakelite or rubber handle and basket spring clip

bottom plate with silicone o-ring, a spout and a fixing grub screw

1 x spout (wide double)

1 x 2mm allen key for fixing the grub screw

1 x spare silicon o-ring

Available for E61 Groups, Bezzera Strega, Rancilio, La Spaizle, La Marzocco and Nuova Simonelli
Questions & Answers
Customer Reviews
(5)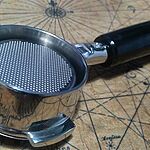 Practical product
I really like this Portafilter because I can make two large cups of espresso at one time with a filter basket (20g).
https://imgur.com/a/TyJ8wcE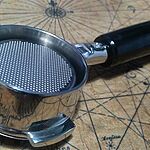 Reviewed on 12/4/2018 by Chen L.
Was This Review Helpful?
Great portafilter to accompany my
Great portafilter to accompany my La Spaziale Mini Vivaldi. The angled handle is a subtle difference in ergonomics over the OEM straight handle. One i...
Reviewed on 4/14/2021 by Kelvin L.
Was This Review Helpful?
versatile and clever portafilter
I've owned the bakelite handle La Marzocco version for a month and use it for my Mini. It's a perfect fit as expected. I mostly use this por...
Reviewed on 2/11/2020 by KT
Was This Review Helpful?
Versatile and solid
I was originally going to purchase the OEM La Marzocco bottomless portafilter but was on the fence due to it's high price tag and low availabilit...
Reviewed on 5/30/2019 by Alan F.
Was This Review Helpful?
Yowza
20 minutes after FeDex came by I was pouring my first ever bottomless shot (Rancilio Silvia, 18 gram VST ridgeless basket). A little splashing and spu...
Reviewed on 7/13/2016 by Grimley
Was This Review Helpful?