Fellow Stagg EKG+ Pour-Over Kettle 0.9L
STAG-EKGP-09
Fellow Stagg EKG+ Pour-Over Kettle 0.9L
See More by Fellow
Earn

825

Reward Points worth

CA$8.25

!
Free Shipping
Ships Tomorrow if you order in 23 hours and 37 minutes
Quality First
This item is covered by our satisfaction guarantee.
Description
Overview
Variable temperature control, optional Acaia Bluetooth app connectivity, and a stunning, minimalist design. The pour-over, perfected.
Winner of

 the Red Dot Design Award for 2018
Main Features:
Variable Temperature Control – By turning the knob, you select your desired temperature ranging from 135°F to 212°F, and Stagg EKG does the rest. No more guessing degrees.
LCD Screen – See the temp. Be the temp. A discreet, black LCD screen indicates the desired "Set Temperature" and the "Real Time Temperature" with an illuminating element to show the heating progress.
Hold Option – When the toggle on the back is switched to HOLD mode, the Stagg EKG will maintain your desired temperature in either Fahrenheit or Celsius for 60 minutes. You know, for when you overestimate your ability to run two miles. When the toggle is not in HOLD mode, the kettle will go to sleep after reaching the set temperature.
Brew Stopwatch – After your water has heated, use EKG's built in Brew Stopwatch to time your extraction.
More Cool Features:
Precision pour spout and counterbalanced-handle just like our original stovetop kettle
Celsius/Fahrenheit option
0.9 liter capacity or 0.6 liter capacity (EKG only)
Small, minimalist base
STAGG EKG+ ADDED FEATURES
Ready to kick your brewing up even another notch? Stagg EKG+ powered by Acaia has all of Stagg EKG's features and then some using Bluetooth magic.
Turn on/off remotely – turn EKG+ on or off using Acaia's Brewbar Tablet App
Set Goal Temp – set your goal temp from the Brewbar Tablet App when you're busy in the kitchen doing something else.
Keeps Track of Recipes – Brewbar Tablet App keeps track of your recipes. So you know exactly how to make that bomb 20 gram, 330 mL, 201°F pour-over coffee from last week.
Real Time Temp Updates – Brewbar Tablet App tells the current temperature of EKG+ when the kettle is connected to the base
Warranty
Warranty: 1 year of parts and labour
Who provides the warranty for this product?: iDrinkCoffee.com is an authorized service centre for Fellow
Questions & Answers
Customer Reviews
(9)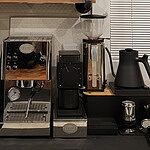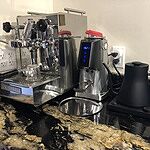 Beautiful, functional
It looks amazing in my coffee station adding style to my morning routine, i really enjoy the maintain heat tempature feature as it brings the kettle b...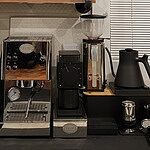 Reviewed on 4/5/2022 by Virginia s.
Was This Review Helpful?
Love our new Kettle!
Bought for pour overs and Matcha, heats up quickly, and love that I can have it hold heat until I'm ready to go, or want a second pour. Great st...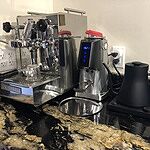 Reviewed on 11/25/2021 by Wade K.
Was This Review Helpful?
Fantastic kettle
Mostly a fantastic kettle. Heats up quickly having the ability to start it remotely is amazing. Only design complaint: They have a maximum fill line i...
Reviewed on 3/4/2022 by Greg H.
Was This Review Helpful?
I love it's looks and funcitons!
I love how this kettle looks very minimalist and ease to use! Also, it reminds me to set temperature based on my altitude. Bluetooth connection and ap...
Reviewed on 6/18/2020 by Alan W.
Was This Review Helpful?
Perfect Tool for Drip Coffe
Good looking kettle on the counter...the fact that i set temperature and let kettle do the work of bringing water up to temp makes the routine in the ...
Reviewed on 5/16/2020 by Jimmy F.
Was This Review Helpful?
Excellent Pour Over Kettle
Great looking, durable, intuitive controls, but the key aspect to this kettle vs others (imo) is the controlled flow rate. This makes for an easier ti...
Reviewed on 5/7/2020 by Adnan F.
Was This Review Helpful?
Perfect Kettle
Pretty much everything that they advertise for. Precise temperature setting and fast. You can turn the + version of this kettle with an iPhone app (I ...
Reviewed on 4/4/2020 by Filipe L.
Was This Review Helpful?
Great temperature control
This kettle has proven very useful. It heats very quickly and accurately. The gooseneck is well-designed so that you can control flow accurately.
Reviewed on 4/29/2019 by Alex S.
Was This Review Helpful?
Work good but feel cheap
Control are good, style is very nice but in my opinion the quality of the material feel very cheap for a boiler of nearly 300$. Especially the base an...
Reviewed on 1/7/2022 by Nicolas L.
Was This Review Helpful?