Inker 14.5 cm Saucer - Cappuccino - Pack of 6
INK-640-BK-6
Inker 14.5 cm Saucer - Cappuccino - Pack of 6
See More by Inker
Earn

30

Reward Points worth

CA$0.30

!
Fast Shipping
Ships Tomorrow if you order in 35 hours and 37 minutes
Return Policy
This product is in the Glassware & Pitchers category and is not subject to our return policy.
Description
Overview
Inker is a European company specializing in porcelain tableware. They are known for their high-quality and design with cafes and increasingly, consumers for their exceptional durability and stylish European design capable of great heat-retention - perfect for coffee.
A Saucer for "The Perfect Cup of Coffee"
All Inker Saucers Feature:

Zero Porosity
Making them extremely easy to clean
Dishwasher Safety
Not only are the saucers dishwasher safe, they are also safe to use worry-free in microwaves and ovens.
Stackability
A valuable space-saving feature in Cafes, also makes the saucers cups easy to transport
Crack and Scratch ResistanceThe Luna saucers can withstand temperatures up to 400ºC without suffering thermal cracks. They are also scratch-resistant.
Compatible Cup: Inker Luna Cappuccino Cups - 8oz / 250ml
Note: This product is ceramic and hand made. Imperfections such as bumps and variations in weight are normal. It's impossible for them to be identical
Please note: We cannot ship this item to the United States
Questions & Answers
Customer Reviews
(4)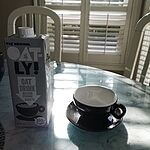 Perfect match for 5.75oz of
Perfect match for 5.75oz of cup. I like it.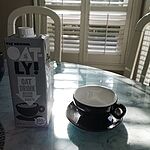 Reviewed on 9/10/2021 by Andy L.
Was This Review Helpful?
Delivered as described
Works well with cups (same).
Reviewed on 2/23/2023 by Mark K.
Was This Review Helpful?
Awesome
They go perfect with my 8oz inker cups
Reviewed on 7/13/2022 by Virginia s.
Was This Review Helpful?
Same as cups-
Great match to Cappuccino cups
Reviewed on 1/10/2022 by Frank S.
Was This Review Helpful?