Gaggia Classic Pro Espresso Machine - Thunder Black
SA-GG-CLASSIC-PTB
Gaggia Classic Pro Espresso Machine - Thunder Black
See More by Gaggia
Earn

1947

Reward Points worth

CA$19.47

!
Premium Care
Free additional warranty benefits
Quality First
This item is covered by our Premium Care Program.
How iconic, to be well known enough to last throughout the ages. Synonymous with an entire part of an industry. You know its name. Easily pulling espresso shots, with perfect, syrupy consistency in 30 seconds. Effortlessly steaming milk with an exquisite texture, a delightful drink to experience will soon be yours.
Introduce yourself to the Gaggia Classic Pro. A familiar feeling, with redesigned parts to help propel itself into modern espresso. Reminisce while feeling reminded of Italian cafes. Beautiful, sunny weather with the sun lightly warming your face while sipping lightly on your latte.
Description
Overview

The Gaggia classic pro combines a timeless design with simple technology. All of the components of an espresso machine are neatly tied together in a small, compact machine. Perfect for the budding home barista.

Founded in 1938 by Achille Gaggia, the brand became synonymous with espresso. Take for example, the Fellini move from the Orchestra Rehearsal, which was created on a Gaggia Lever machine. An icon in the industry, the original Gaggia Classic was created in 1991. Over 30 years later, it's still a favourite machine amongst home espresso enthusiasts.

With some well thought out updates to modernize the Gaggia Classic Pro in 2019 such as the visible water tank and tactile rocker switches, it's a surefire machine designed to grow with the user. Using a commercial size 58mm portafilter, finding accessories is simplified and provides the ability to really grow into the machine.

The Gaggia Classic Pro's petit single boiler allows for near continuous hot water once the machine has adequately heated up. Perfect for the individual user for a first espresso machine or solo espresso lover

Key Features:

0.1L Single boiler
Gaggia's Saturated Grouphead
Compact vibratory pump
58mm commercial sized portafilter
Rocker toggles
Features
Small boiler that's designed to quickly heat up water for optimal espresso or steam.
58mm commercial sized grouphead makes it easy to find additional accessories
A small, compact machine able to fit in the tightest of spaces
An easy to access water tank from either the top or front of the machine.
Frequently asked questions
(4)
What's Inside The Box
Double spout portafilter
Single and double shot pressurized and unpressurized baskets
58mm Plastic Tamp
Crema cap
Detailed manual
Warranty
Warranty: 1 year of parts and labour
Who provides the warranty for this product?: iDrinkCoffee.com is an authorized service centre for Gaggia
Premium Care Eligible: Yes! - This product includes our amazing Very Important Machine Service. Should your product require service during the warranty period we will pay for the shipping charges to ship the product to us. We will issue you a prepaid label and arrange for a courier to collect the package. Your machine will then be repaired by our skilled technicians and returned to you at our cost. With our Premium Care program your machine also gets priority service for the repair. All we ask is that you keep the original packaging material for safe transport.*

* Click here to get full details of the Premium Care program
Specifications
Tech specs and other details
Questions & Answers
Customer Reviews
(450)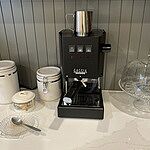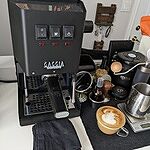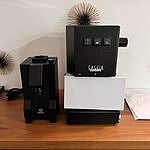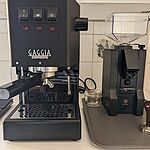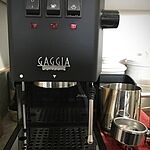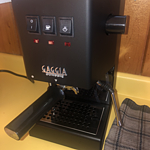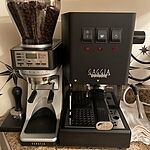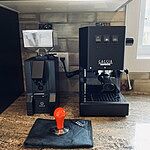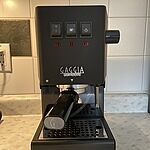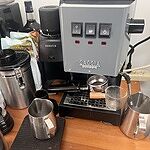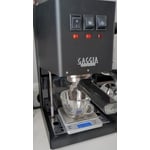 The Gaggia classic pro i
The Gaggia classic pro i purchased is easy to work with and enjoyable to use. Thank you!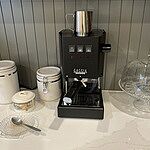 Reviewed on 4/18/2023 by Steve M.
Was This Review Helpful?
Perfect espresso machine
This machine is absolutly great. I can now make coffee as good as the local coffee shop ! The look of the Gaggia is splendid, the unit is solid and t...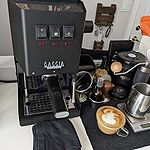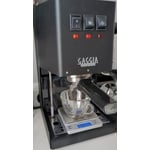 Reviewed on 1/28/2023 by Alexandre L.
Was This Review Helpful?
Amazing machine, super easy to
Amazing machine, super easy to use, and taste of espresso is fantastic.
Requires just few minutes to get that perfect espresso shot.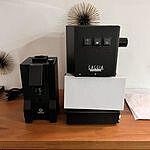 Reviewed on 12/22/2022 by Predrag B.
Was This Review Helpful?
Great machine at a decent price
Really loving my gaggia, my espresso are surprisingly good.
Reviewed on 7/28/2022 by Sebastien D.
Was This Review Helpful?
First off I was extremely
First off I was extremely happy at how quickly my order came. My Rancilio Sylvia of 20+ years finally gave out on me. So I decided to try this sligh...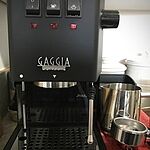 Reviewed on 4/28/2022 by Brieta Z.
Was This Review Helpful?
Simply great coffee
Since getting this machine as a gift, I have not made a single regular drip coffee. Every cup I make with the Gaggia Classic Pro is delicious. This i...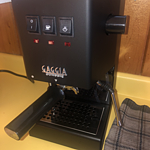 Reviewed on 12/29/2021 by Shayden S.
Was This Review Helpful?
We absolutely LOVE our new
We absolutely LOVE our new Gaggia Classic Pro! I would also like to add that dealing with iDrinkCoffee has been a pleasure as well. Quick response, ea...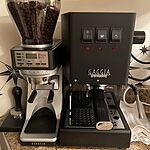 Reviewed on 5/14/2021 by Kevin O.
Was This Review Helpful?
Excellent and stylish machine
Excellent espresso machine, especially when beginning your adventures in the non-appliance version of home barista life. The Gaggia Classic Pro is eas...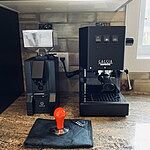 Reviewed on 5/4/2021 by Julian F.
Was This Review Helpful?
Great espresso machine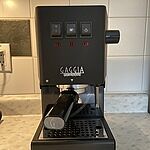 Reviewed on 11/23/2020 by Kiril Z.
Was This Review Helpful?
Love my Gaggia
After years of hand grinding my espresso then brewing it with a fully manual level machine, I'm really loving my upgrade to encore esp and gaggia...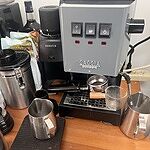 Reviewed on 8/1/2023 by Nathaniel S.
Was This Review Helpful?