Compak E5 OD Digital Burr Grinder - Black
CG-COM-E5-BL
Compak E5 OD Digital Burr Grinder - Black
See More by Compak
Earn

3585

Reward Points worth

CA$35.85

!
Description
Overview
FEATURES



1370 

RPM Motor
Powerful Motor that allows you to work continuously in situations of high demand, maintaining all the properties of the coffee thanks to the cold grinding at low revolutions.
Flat Burrs 58 mm
Ensures accurate particle size for Espresso and spectacular productivity: 7 gr in 2.5 seconds. Special pre-wear treatment is applied to ensure optimal performance from the first use. Durability of 400 Kg.
Multifunction Display
Multilanguage, 3 working modes, Refill Button, Changing burrs alarm, Absolute and relative coffees counting, Activate pad and end of service sound, Password, Shot counter
Micrometric Grinding Setting System
Set the grind point with maximum precision in a very simple and intuitive way. The new Parallel locking system provides an extra level of security ensuring parallel positioning between burrs at all times.
Adjustable Porta-Fork
The fork is adjustable, so it perfectly fits for the most common portafilter sizes, which also allows for hands-free usage.
Three Position Switch
Offers total control to the Barista without been necessary to use the electronical system of the grinder.
Warranty
Warranty: 1 year of parts and labour
Who provides the warranty for this product?: iDrinkCoffee.com is an authorized service centre for Compak
Premium Care Eligible: Yes! - This product includes our amazing Very Important Machine Service. Should your product require service during the warranty period we will pay for the shipping charges to ship the product to us. We will issue you a prepaid label and arrange for a courier to collect the package. Your machine will then be repaired by our skilled technicians and returned to you at our cost. With our Premium Care program your machine also gets priority service for the repair. All we ask is that you keep the original packaging material for safe transport.*

* Click here to get full details of the Premium Care program
Questions & Answers
Customer Reviews
(5)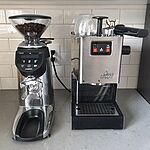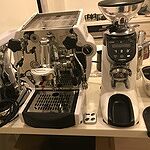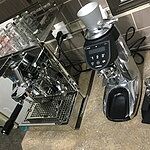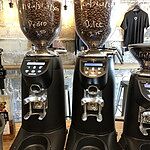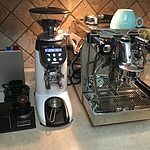 Compak E5 OD Polished Review
Being a newbie I cannot compare the performance with any other grinders, however my personal findings are: The good: -Looks and all touch points feel...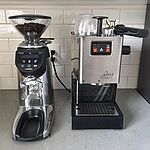 Reviewed on 10/10/2020 by George F.
Was This Review Helpful?
Great grinder and thing of beauty
Make a great cups of expresso, and so easy to dial in. Also, my white e5 is a thing of beauty and match up great with my white Cuadra!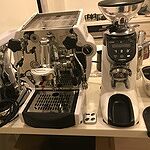 Reviewed on 3/9/2019 by Teruhiko W.
Was This Review Helpful?
Compak E5 OD Polished
I have previously bought the Eureka Atom and returned it because I was not quite happy with a few things on it even though the sound was very pleasing...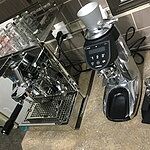 Reviewed on 3/2/2018 by Viktor B.
Was This Review Helpful?
Our best friends!
This grinder is easy to use, to clean and to work with. Very reliable machine : day after day, 7 days/ week since 3 years and no problems never came u...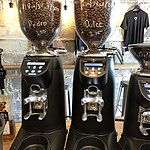 Reviewed on 11/4/2020 by Martin R.
Was This Review Helpful?
A lot to love
-Super fast! (21g in 6 seconds) -3 programs programmable to hundredths of a second plus manual grind -Noise level is acceptable, quieter than many, no...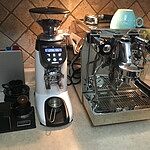 Reviewed on 7/17/2020 by jonathan l.
Was This Review Helpful?