Bottomless (Naked) Portafilter for Ascaso - 57mm
ACC-PORT-ASC-BL
Bottomless (Naked) Portafilter for Ascaso - 57mm
See More by Ascaso
Earn

270

Reward Points worth

CA$2.70

!
Free Shipping
Ships Today if you order in 8 hours and 41 minutes
Return Policy
This item is an accessory and is subject to our return policy with a restocking fee
Description
Overview
The Bottomless (Naked) Portafilter is a must-have tool, if you want to watch perfection of coffee extraction at its best. A bottomless portafilter clearly exhibits how the extraction is progressing, so that you could make required changes on time to achieve the perfect extraction. This equipment is simply marvelous for training purpose since you can easily notice if channeling occurs - a sign of uneven tamping or grind levels. Its excellent for pulling a perfect shot of espresso every time. This chrome-plated 57mm portafilter can be used with a single, double or triple shot basket.
Basket not included.
Compatible with
: all Ascaso 57mm machines such as the Ascaso Basic, Dream, Steel (non professional) and Arc.
Questions & Answers
Customer Reviews
(5)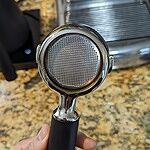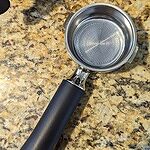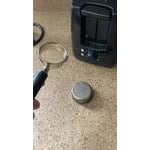 Perfect
Fits perfectly, there's a spring inside the holder make sure that's there to hold the basket tight!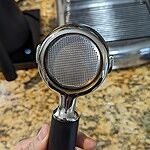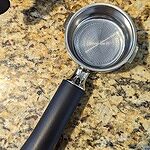 Reviewed on 4/8/2022 by Yu-hsuan C.
Was This Review Helpful?
Muchas Gracias !!!, Thank you very much !!
You save me, was very difficult to find a replacement until I found Idrinkcoffee.com. arrives perfectly and on time !!!! Now back to do my precious e...
Reviewed on 5/26/2022 by Nelson G.
Was This Review Helpful?
Perfect for my Dream
Reviewed on 12/29/2020 by Jean C.
Was This Review Helpful?
Loose around basket
Does its job well for practicing shots. However, the basket fits much more loosely in the portafilter than the traditional one that comes with the esp...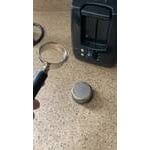 Reviewed on 6/9/2020 by Paul H.
Was This Review Helpful?
OEM portafilter and it's too big
This is a genuine Ascaso portafilter but the inner diameter is a smidge wide, meaning the baskets sit loose. It works ok, but knocking out pucks is tr...
Reviewed on 4/4/2021 by Raymond T.
Was This Review Helpful?